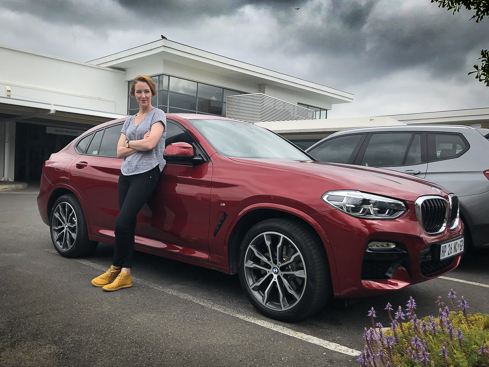 On Wednesday 6 February 2019 at 21h30, the first episode of my brand new tv series #Klankbord will air on VIA (DSTV channel 147). If you haven't seen the promo video, watch it here. To many people's surprise, this is not a cooking show! It is, however, a multi-sensory showcase of incredible food, beautiful music, breathtaking destinations, and the people and stories behind it.
I'd love to tell you more about this journey and how it came about. As many of you know, at the end of 2010 I realized that I wanted to change careers from the music industry as a booking agency owner and event organizer, to something in the food world. At that time, I was hooked on watching food television, and while watching another few hours of Bill Granger, Ina Garten and Jamie Oliver on BBC Food (now BBC Lifestyle), I suddenly knew that I had found my calling: food tv. At the time, I wasn't sure how to approach it or precisely where I would fit within this industry. I decided to start a food blog in January 2011 to get a foot in the door, meet some people in the industry and build up a decent online audience. Early in 2011, I set up a meeting with a friend and tv producer, Carien Loubser (now the producer of the award winning Republiek van Zoid Afrika on kykNET), and shared my vision for a tv series. She agreed to help me put together a concept and produce a pilot. We didn't manage to get it commissioned by a channel, so I started the difficult journey of trying to find a sponsor for the show. Time passed as we received many "sorry, not at this time of the year" or "our marketing budget just won't allow for a production of this scale" or "we've just committed to another project – maybe next time".
I continued to write my blog, met some incredible people on the way and became quite good at networking. People started respecting my opinion on food and I got a few opportunities to do short tv cooking inserts on SABC2's Expresso & Pasella, SABC3's Top Billing and kykNET's breakfast show. My blog won the Fair Lady Consumer Awards for Best Food Blog in 2014. I served on the Eat Out review panel twice. I even started to film, produce and edit short cooking videos all by myself – I loved every second, but I never lost sight of my pursuit to host a tv series.
In March 2017, with renewed vigor, I vowed to finally get the show on the road for a cooking show. I knocked on the door of local food icon, experienced PR specialist and inspirational food writer Errieda du Toit for some feedback as a friend, and as a sounding board for my ideas. At Errieda's home, we agreed that I should be creating something that is absolutely unique to my background and set of skills. Errieda was adamant that I focus of the idea of something "multi-sensory", and told me that she feels there is magic somewhere in my link to Schalk, my husband, who is a seasoned musician. Her words kept lingering in my mind…
At the end of 2017, I attended the launch of Jan Hendrik van der Westhuizen's tv series, Jan, on VIA. After the screening, I bumped into Izelle Venter, channel head at VIA, who mentioned that we should "do something together". I jumped at the opportunity and emailed her the next day to schedule a meeting. Izelle suggested that I conceptualize a cooking show for kids and young families for VIA. I saw the opportunity as another foot in the door, although I never envisioned myself within this niche environment of cooking with kids. A few weeks after, having already met with a new potential production team that Izelle introduced me to, I tore my ankle ligaments after jumping from a small flight of stairs. This stupid accident set our planning back a bit, and I was constricted to my home for quite a few weeks with loads of frustration (and a lot of time to think). A few new food shows like Chef's Table, Mind of a Chef, Parts Unknown, Ugly Delicious and Somebody Feeds Phil made a huge impact on me during that time. By chance, I came across a short Youtube video by Bon Appetit where one of their female editors drove a vintage mustang somewhere in New York and visited a Michelin star chef in his kitchen, drinking beer with him while he made his world famous tiramisu. The chef was also a drummer in a well-known band. It was a casual conversation – there were even a few swear words, but it was so incredibly entertaining and spoke to my soul. Something clicked: I was not going to make a cooking show for kids (well, not this time). I was going do something that is 100% unique to who I am and what I'm inspired by. Strangely, I didn't want to be the one cooking in this series. I wanted to be the host. I wanted to drive a kick-ass car. I wanted to travel with my music friends of way back to incredible restaurants and visit the chefs in their kitchens while they cooked something for us. I phoned Carien and told her my new plan. She liked my idea and immediately added that the chefs should then do a music and food pairing using one of the artist's songs. Yes! We were on to something and the feeling was tangible. After our first intensive planning meeting where we were throwing around titles like "Rockers, Roadtrips & Resepte", I came across the more classic-sounding Afrikaans title "Klankbord" on my way back in the car. It's a mash-up between music and food, but also means "sounding board" – and apt name for the role that I would be playing and what we were planning to film. Carien introduced me to Hannahmi Alfredo of Whippet Films (the perfect fit for this project) as she only had the capacity for being consulting producer at the time, and she pitched the concept shortly after to VIA. It was a done deal.
As content producer and presenter, I phoned and emailed dozens of musicians and chefs, pairing them up to form a story with a theme for each episode. Many weren't available but everybody wanted to participate. Some of the best chefs in the country opened their restaurants to our crew and hosted us with the utmost generosity. Top musicians spent their rare off days with us, all on their own time. We filmed episode 1 in September, and episodes 2-13 in October/November 2018. It felt like everything I had done in my life has led me to this project, bringing together my previous music career, my current food career, my relentless networking, my love of writing, my intense affinity for connecting with people, and the ability to work in a fantastic team where everyone had the same creative goals. It was a more rewarding experience that I could ever have asked for – I loved every single second.
Episode one of #Klankbord is about to air on Wednesday (VIA, DSTV channel 147 at 21h30). After 8 long years, it is my turn to shine (15 minutes, as they say!). Although I really hope that viewers from all over will love this show as much as I love it, it has already been enough for me in terms of personal fulfillment. May this rodeo be the first of many – I have found my game and I'm going to keep on playing!
My vision for this series is that it will inspire people to get into their cars and make the beautiful drives to these destinations – visit the restaurants, meet the chefs and enjoy the fabulous food. Fall in love all over again with South African music and make a playlist for the road. This country has so much to offer.
Thank you Carien Loubser and the super team from Whippet Films (Hannahmi, Michelle, Johan, Geoff, Nic, Sarah, Parfait, Pieter etc.) for guiding me through this journey. Thank you VIA for giving us a chance. Thank you to all the musicians and chefs who gave their time and creative input. Thank you BMW South Africa for providing me with that fantastic X4 during the filming of the series. Thank you Albert Frost, Francious Kruger & Schalk van der Merwe for the use of your music for the theme song. Thank you Pieter Steyn from The Oculus for the awesome sunglasses. Thank you Grant Munro of Freestyle for the stunning shoes. And thank you to all my friends and family who've been cheering me on along the way. I truly appreciate it.