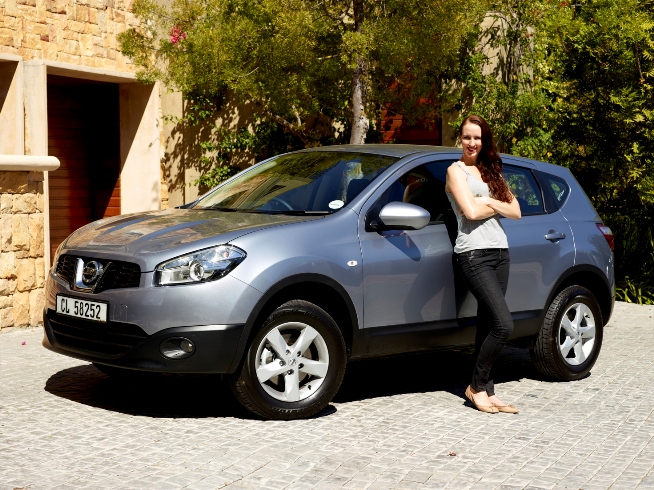 My fabulous food life involves many lifestyle aspects, one of which is traveling. Earlier this month, I worked on set of a recipe book shoot in Cape Town for a few days, doing food preparation for the shoot and testing some of the recipes that I had developed. It was long days and hard work, getting up at 05h00 each morning to sort and pack my 3 very heavy crates of ingredients and kitchen tools, then heading towards Cape Town on the N1 from 06h00-08h00 (in traffic). The schedule involved preparing about 10 dishes per day, so I motored away in the kitchen like a freight train each day, then headed back to Stellenbosch's supermarkets to shop for the next day's ingredients.
Group1 Nissan in Stellenbosch made 3 of these trips to Cape Town a lot more fun by providing me with 3 different Nissans to drive over 3 days: a Qashqai 2.0 dCi, an X-Trail 2.5 D, and a Micra 1.2. I've always been a bit of a petrol head. So after selling my car about a year ago, I've been longing for a ride of my own again. My husband had been kind enough to share his car with me over the past year because I was fortunate enough to be working from home (most of the time). But things have changed a lot for me, and I've been doing a lot more work on set and out of my office, meeting with clients, and setting up a new business in a neighbouring town. I seriously need a car again!
To be honest, I had been eyeing the Qashqai for a few months now, and I was super happy when Mannie Wiggett from Group1 Nissan handed me the keys to the Qashqai on day 1. It was like being handed a delicious full cream artisanal ice cream at the start of a 3 course meal – not having to wait till the end of the meal to taste it. What a treat!
The Qashqai is a luxurious car, without being a brat. It provides the feeling of an SUV (you sit much higher on the road than an average sedan) without feeling like a proper outdoor utility vehicle. The interior is very spacious (I'm 1.9 metres tall, so I need some more leg room than the average person), and there was enough room in the boot to fit all 3 of my very large food crates alongside each other. The car handled like a dream and was absolutely stable on the road (even while competing with a strong side wind). The Qashqai  is a silent ride, so listening to the radio was an absolute pleasure without having to crank the volume. I'm not going to bore you with suspension, traction, torque or electronics. But take note that it has an impressive 6 airbags, and the fuel economy is remarkable (6.6 litres/100km for the 2.0 dCi, 7.1 litres/100km on the 1.6 petrol).
I was very reluctant to hand the keys back to Mannie at the end of day 1. I had completely fallen in love with the Qashqai. But a new ride awaited: the X-Trail 2.5 D. This car is seriously spacious, even more than the Qashqai. The windows are very big, and I immediately got the feeling that this car might just be the perfect vehicle for a safari or an outdoor adventure. Although it is much longer in base than the Qashqai, it also handles very easily and clings to the road with superior stability. Its power on steep hills is just amazing, and I can see that this car will be a dependable workhorse for family outings or adventurous outdoor activities. The X-Trail felt heavier than the Qashqai, but it sure is a lot bigger.
I enjoyed my trip in the X-Trail, but I immediately knew that it wasn't the car that would steal my heart. I went back to Group1 Nissan to exchange the keys for a nifty little Micra with a 1.2 litre engine. I have driven many small cars before, so I was quite interested to see what this car would do on the road. Given the size of the engine, this little car moved! Because it is so light, you get very much the same feeling that you would get from a larger car with a 1.6 litre engine. Nippy, responsive and feather light. The driving experience is not as silent and you sit much closer to the ground than the bigger Nissans. But it is a much more involved ride, and you will be saving thousands on petrol each month. The Micra managed to put a smile on my face, and I was very impressed. Did my crates fit? Yup, one in the boot, and the other 2 on the back seat. Sorted.
While on my way back from Cape Town on the last day, I landed behind a large bronze SUV. On closer inspection, I saw it was a Nissan Murano – the "head boy" of the Nissan SUV family. I felt like a teenager watching an attractive older man that was totally out of my league. What a beautiful car, maybe the best-looking SUV on the road. Might have to twist someone's arm to get a "kiss" from that "older man" some time soon. Mister Murano, you'll be mine one day. Watch me.
With the keys of the Micra handed in, I sat contemplating in Mannie's office. I knew the Qashqai would impress my socks off, and it overshot my wildest expectations. The X-Trail would be a fabulous car for my husband, or maybe the perfect choice for our African road trip safari (a bucket list item). But the little Micra was the surprising star of the trio, being an extremely economical (4,7 litres/100 km) and comfortable little city bug.
So what would be my personal choice? The Nissan Qashqai. Because I just feel fantastic in that car!
Contact Group1 Nissan Stellenbosch for more info and prices.