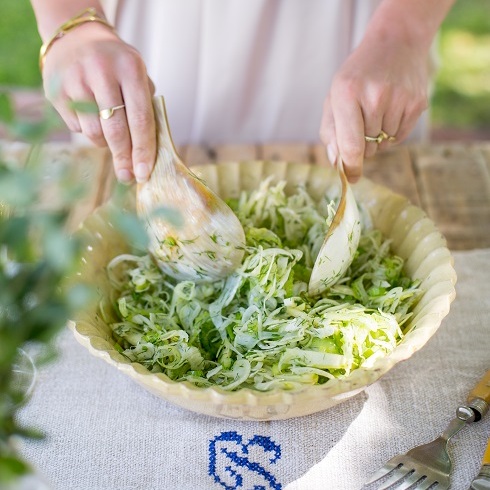 This recipe must be one of my favourite "finds" of last year – a crispy, texture-rich salad that bursts with fresh green flavours. It contains only 3 ingredients (except for the dressing), and it is so very simple to make. It goes splendidly with grilled trout, salmon or other fish, and is a must on any summer lunch table.
This was my last recipe for The Pretty Blog in 2013, and what an amazing year it was for our food team! Thank you so much Nicola and Tasha for amazing days of inspiration, dedication, patience, food chatter and of course lots of eating. I absolutely love every second of putting together recipes and dishes with you girls! Here's to many more in 2014, and hopefully even doing something in print in the near future…
Ingredients: (serves 4-6)
2 large fennel bulbs
2 celery sticks
1 large green apple (Granny Smith)
juice of half a lemon
good quality extra virgin olive oil
salt & pepper
Method:
Slice the fennel bulbs horizontally into very fine shavings, preferably using a mandolin cutter or a food processor slicer. Finely cut some of the fennel fronds as well (about 1 cup), and place it all in a large salad bowl.
Now also slice the celery finely, and cut the apple into fine julienne strips.
Toss it all together, then drizzle with lemon juice & olive oil, season with salt and pepper, and toss to coat well. Serve immediately.
Note: This salad can be made about 1-2 hours in advance, if covered and chilled. It is the dressing that prevents the apple from discolouring, so don't forget to toss the salad in the dressing before storing it.
Credits:
This post was originally written for The Pretty Blog by Ilse van der Merwe from The Food Fox.
Recipe, food preparation and text: Ilse van der Merwe
Photography: Tasha Seccombe
Styling: Nicola Pretorius