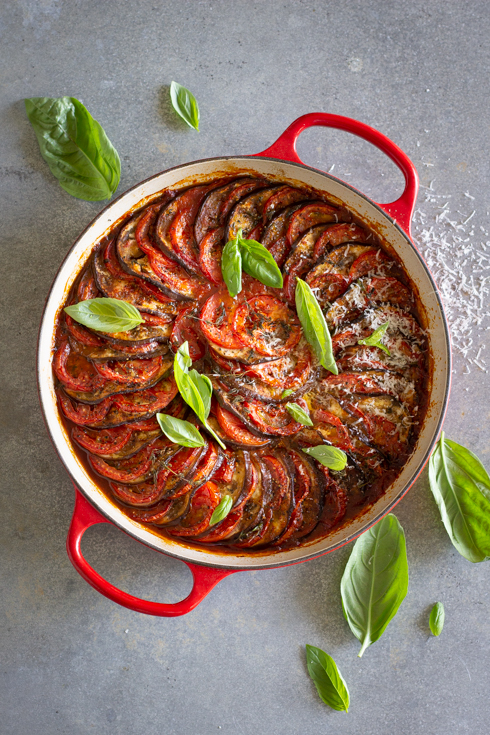 These days I cannot get enough of roasted vegetables – whether it's in a salad, on a pizza, in a curry or just on its own. I think our bodies go through phases, needing different things, and mine is telling me that I need vegetables. It's probably also to counteract the countless croissants and almond pastries that I consume every morning, so it's only a good thing!
If you are not familiar with ratatouille, it is a popular French vegetable stew mostly made with tomatoes, aubergines, courgettes, onions, garlic and bell peppers. There are many different ways of making ratatouille, varying from stewing the cubed vegetables to a very soft and marrow-like consistency, to a fresher version that will allow some texture. The purists even say that you need to cook all the vegetables separately before cooking them together, so that every vegetable truly tastes of itself.
The other day we visited my sister for a lazy, chilled-out dinner. They cooked steak on the fire and served it with a beautiful fanned-out baked ratatouille – simple perfection.  I decided to make my own version at home after they gifted me an enormous courgette from their garden. After buying tomatoes and aubergines, I found the giant courgette to be a bit tough on the skin-side for this dish, so I left it out completely (it did however turn out to make an incredible courgette coconut curry soup, though!) – you can definitely add some courgette slices if you want to. Starting with a rich tomato sauce at the bottom of the baking dish, I layered thinly sliced vegetables on top – I promise it's a lot easier than it looks. I added a generous amount of smoked paprika to the sauce and over the top of the vegetables, which certainly isn't traditionally French, but it lends a great smokey flavour and a deep red colour. Fresh thyme and lots of extra virgin olive oil completed the picture. I baked it for an hour and 20 minutes, but you can up the baking time to 2 hours for an even softer result.
You can serve ratatouille as a main dish, or as a side with grilled meat/chicken/fish, or even with pasta or rice. It's also great at room temperature served as antipasti, or top it with a grilled egg over toast for breakfast. Leftovers can also be used as a pizza topping – absolutely delicious. It is a relatively inexpensive dish that really goes a long way, and it only improves in flavour the next day (and the next).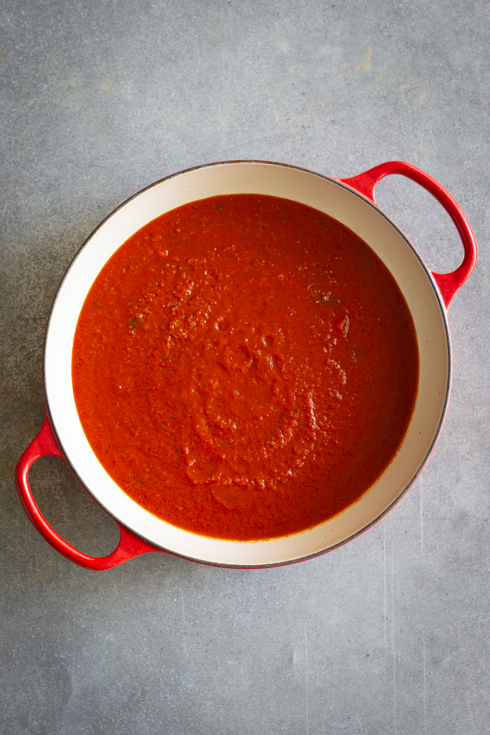 Ingredients: (serves 6)
For the sauce:
45 ml extra virgin olive oil
3 cloves garlic, finely chopped/grated
2 x 400 g cans whole tomatoes, pureed in a blender
about 10 ml (2 teaspoons) fresh thyme leaves (woody stalks discarded)
10 ml (2 teaspoons) sugar
10 ml (2 teaspoons) smoked paprika
salt & pepper
In a medium size pot over medium heat, add the oil and fry the garlic for about a minute, stirring. Add the pureed tomatoes, thyme, sugar, paprika and season generously with salt & pepper. Bring to a simmer, then cook uncovered over low heat for 10-15 minutes. Transfer the sauce to a wide casserole or baking dish (I used a 30 cm Le Creuset casserole) for assembling the ratatouille.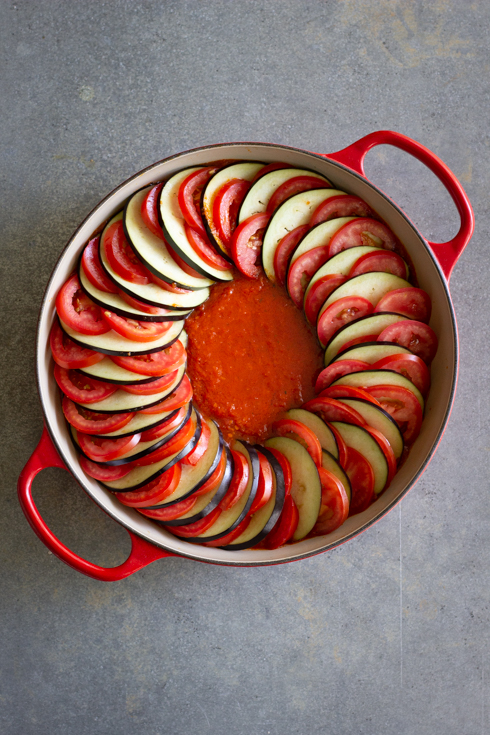 To assemble:
1 very large or 2 medium aubergines, sliced thinly into rounds of about 3 mm thick (I use a knife, but you can also use a mandoline cutter)
about 6-8 ripe tomatoes, sliced thinly into rounds of about 3 mm thick
about 30 ml (2 tablespoons) extra virgin olive oil
about 2,5 ml (1/2 teaspoon) smoked paprika
about 3 sprigs thyme, leaves only
salt & pepper
a handful fresh basil leaves, for serving
grated parmesan cheese, for serving (optional)
Preheat your oven to 180 C. Arrange the sliced aubergines and tomatoes in a circular row (or just in rows) on top of the sauce, making sure the tomatoes peep out behind the larger slices of aubergine – use two slices of tomato to match the width of the aubergines slices if necessary. Continue until the full surface of the dish is covered, then drizzle all over with olive oil and sprinkle with paprika and thyme. Season generously with salt & pepper, then bake for 1,5 – 2 hours until very soft and roasted on top. Remove from the oven and let it cool for 15 minutes before serving (if you have the patience). Top with basil leaves and parmesan cheese. Serve warm or at room temperature.