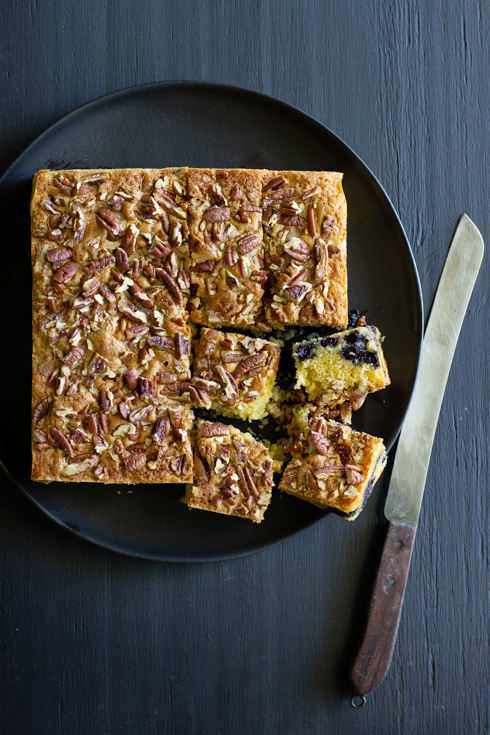 This recipe comes from Food52's Genius Desserts – Blueberry Snack Cake with Toasted Pecans. Since I've bought the book, I've had this page bookmarked as one of the (copious) recipes I knew I needed to try. The cake came out exactly as it looks in the picture, and it is so incredibly good that I finished four slices before even writing this post.
I decided to bake it after picking a batch of blueberries from some of the wild trees that grow adjacent to the cultivated blueberry orchards on the farm that we live on. They're the last few berries of the season, and most of the trees only carry a few shriveled little fruits. But if you look closely, here and there, a few hidden gems remain – perfect, small, plump, matte blueberries that would otherwise just fall from the tree in a few days.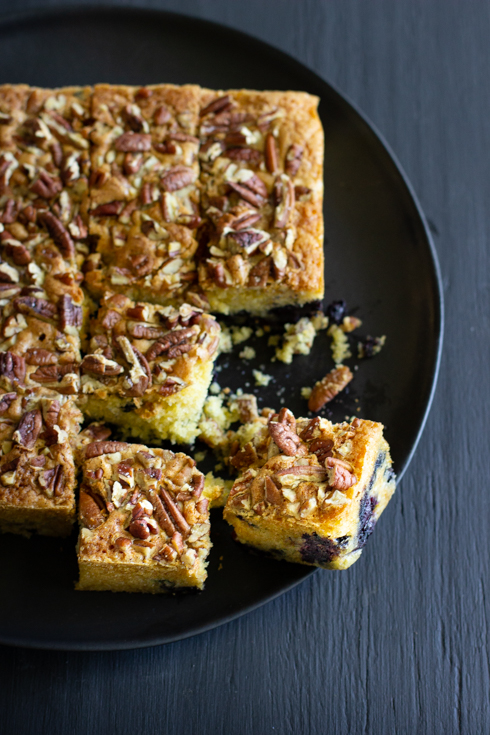 A snack cake, or picnic cake, is a cake without icing that is easy to transport for enjoying elsewhere (like a picnic, camp, the office or school). Originally written by Brooke Dojny, this recipe is "a study in textures" according to Food 52's Kristen Miglore. "There's just enough cornmeal to give it structure and a yellow tint, without weighing down the batter. It bakes up airy and tender, with a crackly sheen and a top dotted with pecans." I have to tell you, I cannot agree more. It's moist en gooey because of the fruit, yet light and airy in the cake department, with a crunchy top that is a delight in itself. Kristen says that smaller blueberries will stay suspended in the cake, while larger berries tend to sink to the bottom – "neither could possibly be bad".
I'm going to keep this one in my repertoire for good. It's an absolute winner – my tweaks are minimal, you'll see if you compare it to the original. I'm confident that you'll love it just as much as I do. Happy baking!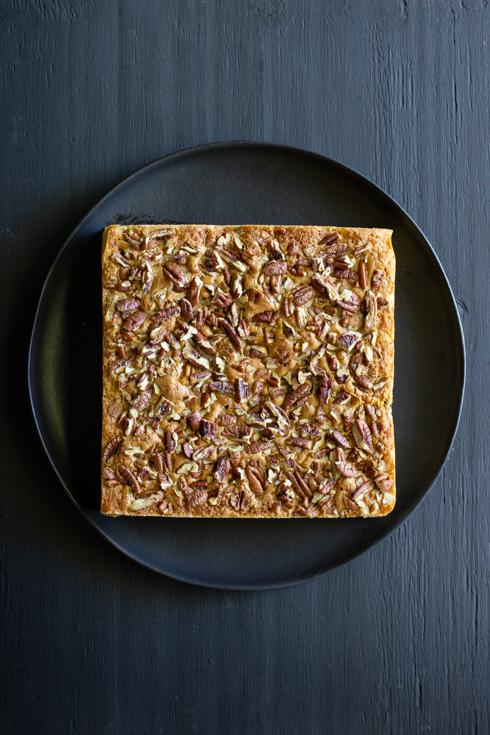 Ingredients: (serves 8)
1 cup (125 g) stone ground white bread flour (or cake flour)
3 tablespoons (45 ml) polenta / maize meal (medium or fine)
1 teaspoon (5 ml) baking powder
1/2 teaspoon (2,5 ml) salt
1/2 cup (110 g) butter, softened
1 cup (200 g) sugar, plus about 1 teaspoon extra for sprinkling
2 XL eggs
1/3 cup (80 g) milk
1,5 teaspoons (7,5 ml) vanilla extract
1-2 teaspoons finely grated lemon zest
2 cups (300 g) blueberries (fresh or frozen)
1 cup (100 g) pecan nuts, coarsely chopped
Method:
Heat the oven to 180 C with rack in the center. Grease and line a 23 cm square deep baking tin (I left some overhang on the baking paper so that the cake is easy to lift out afterwards).
In a medium mixing bowl, use a whisk to stir the flour, polenta, baking powder and salt together.
In a food processor (or bowl with electric whisk), cream the butter and sugar together, then add the eggs, milk, vanilla and lemon zest. Process (or whisk) until it is well combined – it might look a little curdled, that's fine! Add the wet mixture to the dry ingredients and mix with a spoon until just incorporated.
Gently fold in the berries until just combined, then scrape the batter into the prepared tin, smoothing the top. Sprinkle evenly with the nuts, then use your finger tips to sprinkle evenly all over with about 1 teaspoon of sugar.
Bake at 180 C for 45 minutes, or until the cake is golden brown and just cooked (test with a toothpick to see if it comes out clean). Remove from the oven and let it cool complete on a rack.
Once cool, remove from the tin (use the baking paper flaps to lift it out) and cut into squares. Store in an airtight container in a cool place – best eaten within a day. (Can be frozen for up to a month.)