This is a celebratory post: The Food Fox blog is officially nine years old! Happy birthday to my digital baby!
Nine years is a long time, friends. The Food Fox was the start of a crazy ride in 2011, one that I jumped into with blind faith in the hope of carving out a way to create a sustainable income while being surrounded by food and writing. I learned that you can figure out almost anything via Google, made incredible connections online and in real life and actually found my tribe (coming from someone that's fiercely independent, it was quite a revelation). Although the hustle is still very real – you'll know what I mean if you're a self-employed creative in a niche industry – I couldn't have dreamt of a life that would reward me with this amount of freedom: creative freedom, freedom to schedule when and where and with whom I work, freedom to spend time with my family. Freedom, it might seem, turned out to be one of my most valued fundamental needs in life – something that I only realized over the past few years.
Although this blog probably won't live forever, it has already opened so many doors of new possibilities. To celebrate this 9 year milestone, I baked a cake that resembles my journey over the past few years: far from perfect and certainly not as smooth on the surface as I'd hoped it to be, but rich, multi-layered and very rewarding. It's a slight adaptation of a recipe from the book The Italian Baker by Melissa Forti, that I bought in December 2019 before embarking on a two-week catering marathon for an extended Italian family. I bookmarked the recipe for "Torta al cioccolate e lamponi" (chocolate and raspberry cake) because when anyone touts a chocolate cake to be the best they've ever eaten, you've got my attention.
The cake-part is one of the most deliciously moist chocolate cakes I've ever tasted, and I'll definitely keep it in my repertoire. It includes buttermilk, oil and bicarb, and it's very easy to put together. It also features a strained berry coulis made from raspberries blended with a simple sugar syrup and a dash of raspberry eau de vie (which I substituted with mulberries from our tree that I froze in December for a special occasion like this, and a little dash of aged brandy). The coulis makes the cake a little more expensive and time consuming, but it adds even more moistness and some stunning berry flavours that work incredibly well with the dark chocolate. Then, the chocolate frosting was quite a find: Melissa uses less butter than a normal buttercream (I would usually use 1 part butter to 2 parts icing sugar, or in this case 250 g butter for 500 g icing sugar), but she uses 170g butter with 560 g icing sugar, adds a whopping full cup of cocoa powder, and mixes it with 80 ml milk to soften it. This results in a very soft and creamy buttercream that can be refrigerated after you've frosted the cake, without turning brick hard (because with the February heat in Stellenbosch, and a cake topped with fresh berries, you're going to want to store it in the fridge).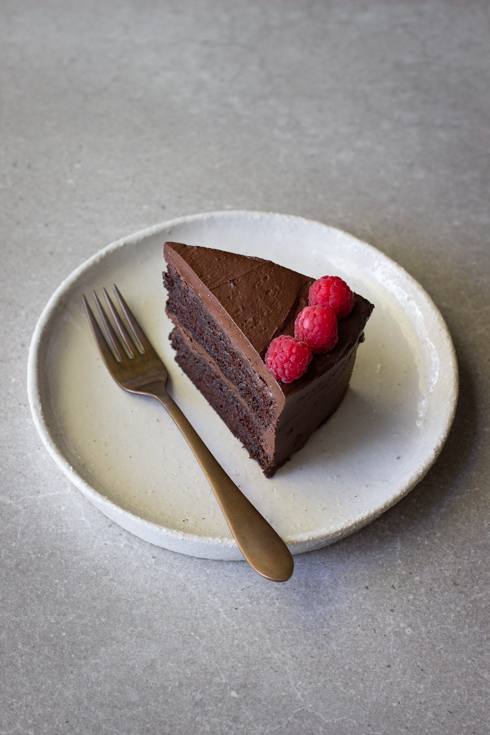 I iced and photographed the cake when it was still a little luke warm, which you shouldn't do. I was just being hasty because I'm a total glutton and couldn't resist tasting the cake. After eating three messy but super delicious slices and then refrigerating the cake, it turned out to be much more stable for slicing (I then photographed the neat slice above). Do refrigerate it in warm weather for a beautiful result when cutting.
I'm feeling ready for renewal and growth in 2020 (definitely still involving a lot of writing, recipes, photographs and videography) and I look forward to sharing the changes and exciting new additions with you as we go along. In the meantime, I'll be honing my photography skills with my new (well, second hand) 100 mm Canon lens – something that I've been yearning to own for years, and finally got to do so end of 2019. I've also enrolled in learning Italian on a nifty little phone app – quite fun, and a sure way of finding inspiration for saving up to FINALLY visit Italy.
I wish you all a year of finding freedom, creative inspiration and the courage to follow your true path.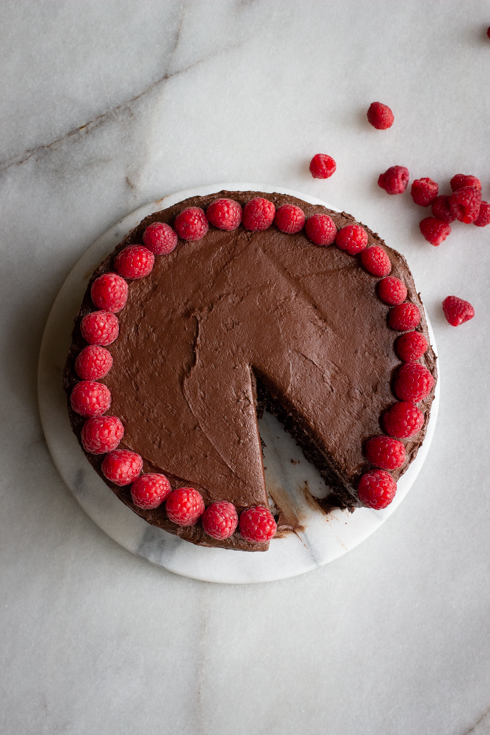 Ingredients (recipe adapted from Melissa Forti's The Italian Baker)
For the cake:
250 g cake flour
400 g (2 cups) caster sugar
80 g (3/4 cup) good quality cocoa powder
10 ml (2 teaspoons) baking powder
5 ml (2 teaspoons) baking soda / bicarbonate of soda
1 ml (1/4 teaspoon) salt
3 XL eggs
250 ml (1 cup) buttermilk
250 ml (1 cup) warm water
125 ml (1/2 cup) vegetable oil or olive oil
5 ml vanilla extract
Preheat the oven to 180 C. Grease 2 x 20 cm loose bottom cake tins and line the bases with non-stick baking paper. In a large bowl, sift the flour, caster sugar, cocoa powder, baking powder, bicarb and salt together. In a second large bowl, add the eggs, buttermilk, water, oil and vanilla and whisk together using an electric whisk (or stand mixer with whisk attachment). Add the dry ingredients to the wet ingredients and whisk until just combined, scraping the bowl. Divide the batter into the two tins, then bake for 35 minutes or until an inserted skewer comes out clean. Remove from the oven and leave to cool in the tins for 15 minutes before turning out to cool completely on wire racks.
For the berry coulis:
100 g caster sugar (use less if your berries are very sweet)
45 ml water
340 g frozen berries, thawed (raspberry or mulberry or mixed red berries)
5 ml raspberry liqueur, optional (or brandy)
Place the sugar and water in a small saucepan and bring to a simmer over medium heat. Cook for 5-7 minutes or until the sugar has completely dissolved, then remove from the heat to cool for 15 minutes. Add the syrup and berries to a blender, process to a puree, then strain to remove the seeds, then stir in the liqueur or brandy (optional). Refrigerate the strained coulis until ready to use.
For the chocolate frosting:
180 g butter, softened
5 ml vanilla extract
105 g (1 cup) cocoa powder
80-100 ml milk, at room temperature
500 g icing sugar, sifted
In the bowl of a stand mixer with paddle attachment, beat the softened butter and vanilla until creamy. Add the cocoa powder and mix for about 15 seconds, then add a little milk and mix. Continue by adding a little icing sugar, then milk, then icing sugar, beating until it is very smooth and creamy and a soft spreadable consistency (if the mixture is too stiff, add a little more milk, if it is too runny, add a little more icing sugar).
To assemble:
about 125 g fresh berries, for topping (or more, if you want to cover the full top surface of the cake)
Slice the rounded tops off both cake layers if you want a neat, flat result (I always ice the off-cuts and eat them while icing the rest!). Place the first layer on a cake plate and top generously with the coulis (it will continue to penetrate the cake on standing). Top with a generous layer of frosting, then place the second cake layer on top. Use the frosting to cover the top and sides of the cake, using a spatula to neatly scrape the sides to form a smooth-ish surface. Cover and refrigerate for best slicing results; best eaten at moderate room temperature.
Note: Melissa spreads the coulis only on one cake layer, before topping it with the other half, but I cut each layer horizontally to spread it with more coulis – it's not necessary but the choice is yours. The cake is very soft when freshly baked, so handle with care.