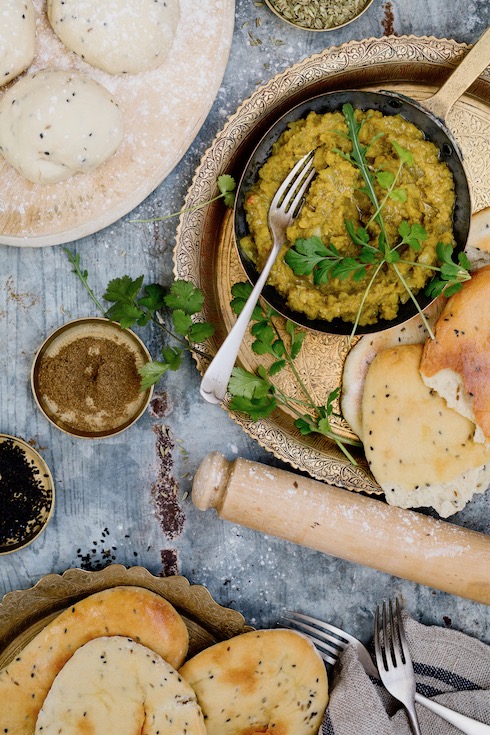 Few smells bring more comfort than that of a fragrant curry – not only in colder months but also at the height of summer. Curry doesn't have to be expensive and complicated though, and it also doesn't need to be meaty.
This simple spicy dhal recipe is absolutely delightful. If you have most of the spices in your cupboard, you'd be amazed at how cheap this hearty meal will work out. If you've never had dhal before, see it as a warm "dip" for naan bread. It is comfort food to the max.
This recipe is by far my favourite starter or side dish when I'm serving Indian food.
Tip: To turn this recipe into a heartwarming soup, add a cup or two of your favourite warmed stock to the finished dhal. Blitz with a stick blender for a smoother result (optional). Adjust seasoning and serve in mugs, topped with a dollop of plain yoghurt.
Ingredients: (serves 6)

about 400 g red lentils
10 ml turmeric
60 ml butter
15-20 ml cumin seeds
15-20 ml garam masala
10 ml ground coriander
1 onion, finely chopped
4 cloves garlic, finely chopped
30 ml fresh ginger, finely grated
1-2 small fresh green chillies, finely sliced (leave seeds in for a more spicy result)
salt & pepper
fresh coriander leaves (to serve)
Method:
Place the lentils and turmeric in a saucepan and cover with enough cold water to come to around 5cm above their surface (no salt added yet). Bring to the boil, then stir in the turmeric. Reduce to a simmer and skim off any scum that rises to the top. Cover partly and simmer gently for about 20 minutes or until tender.
Meantime, in a small frying pan, dry-fry the cumin seeds over a medium heat until toasted and fragrant (just 1-2 minutes). Remove from the pan and set aside.
Melt half the butter in the same frying pan and gently fry the chopped onion, garlic, chilli and the grated ginger. Once the mixture is golden, mix in the toasted cumin seeds, garam masala and ground coriander. Remove from the heat.
Give the lentils a good stir. They should have the consistency of porridge – thicker than soup and looser than hummus. Add more water as necessary and mix in your aromatic fried mixture. Season to taste with salt & pepper, then stir in the remaining half of the butter.
Serve with naan bread, topped with fresh coriander leaves, or with a side of basmati rice and greens.
For the naan bread:
5 ml instant yeast
60 ml warm water
5 ml sugar
300 g (2 cups) white bread flour
10 ml cumin seeds or fennel seeds
5 ml salt
5 ml baking powder
15 ml vegetable oil
60 ml yoghurt
60 ml milk
clarified butter, for brushing
Method:
In a small bowl, mix the yeast with the warm water. Stir in the sugar and leave it in a warm place for five minutes until the yeast is covered with froth.
Meanwhile, mix together the flour, seeds, salt and baking powder. Stir in the oil, yoghurt and milk, then stir in the activated yeast mixture. Mix well and knead until you have a soft, pliable dough (add a little more water if you need to). It should take about ten minutes.
Place the dough in a mixing bowl, cover it with cling film and leave in a warm place to rise for 20-30 minutes.
When doubled in size, divide the dough into 4 balls and place on a floured surface or board. Roll each into a long oval shape about 0.5cm thick. Don't roll them out too thinly. Toast in a dry non-stick pan for 5-7 minutes, turning them over half-way (or bake in a hot oven at 220 C for about 8 minutes). They are ready when they have puffed up and are golden on the outside.
Brush with warm clarified butter as soon as they are cooked. Serve immediately.