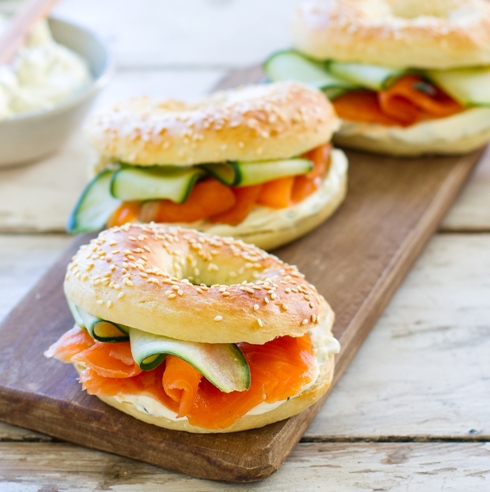 I recently needed to buy 200 bagels for a market where I showcased the trout products of my brother-in-law's trout farming business. I filled them with cold-smoked trout and cream cheese, and they "flew" from my table. During this process, I realised that these beautiful rolls-with-holes weren't so easy to find. After ordering them in bulk at Checkers (the ONLY place that could help me on such short notice in Stellenbosch), I decided to try my hand at baking/boiling them myself – a few weeks later.
Bagels with smoked salmon (or in this case trout) and cream cheese are considered to be traditional American Jewish cuisine. And it is definitely one of my favourite types of sandwiches, if you can call it that. I've always known that a real bagel is boiled, but I could never understand how a boiled bun could become such a golden brown puffy thing, and not a soggy mess. The thing it, it is actually boiled for only a few seconds and then baked. So it all started to make sense!
I think the trick to these bagels is to give them enough time to rise (I don't always have the patience!), and to treat them very "lightly". No hard handling – especially after boiling – or you'll spoil the shape. Otherwise the results are truly satisfying.
Nothing beats the taste of a classic freshly baked bagel filled with locally cold-smoked trout, cream cheese and dill. Simply scrumptious.
Ingredients for bagels: (makes about 10)
(recipe adapted from The Ultimate Snowflake Collection)
 500 g (875 ml) white bread flour
10 ml salt
10 g (1 sachet) instant dry yeast
50 g (60 ml) sugar
about 250 ml lukewarm water
1 XL egg white, lightly beaten
poppy/sesame/caraway seeds for sprinkling on top
a few litres of water for boiling
Method:
Place flour, salt, yeast and half the sugar in a large mixing bowl. Mix well.
Add enough lukewarm water to mix to a soft dough. Turn out the dough onto a lightly floured surface and knead for 5 minutes until the dough is smooth and elastic.
Place the dough in a large, lightly oiled bowl, cover and leave to rise in a warm place for  about 30 minutes, or doubled in size.
Knock down the dough on a lightly floured surface and knead until smooth. Divide dough into 10 pieces. Flatten each piece to about 9-10cm in diameter and press a hold into the middle of each, using the back of a wooden spoon (or roll the pieces out into long strands and twist the ends together to form a circle).
Place the dough on a non-stick baking tray (lined with baking paper), then leave to rise for another 25-30 minutes.
Pre-heat the oven to 220 C.
Fill a large, wide pot/saucepan with water (about 5cm deep), add the remaining sugar and bring to the boil, stirring until the sugar has melted. Submerge each bagel in the boiling water for just a few seconds, then remove carefully with a slotted spoon and drain on a paper towel.
Now place the boiled bagels on greased/lined baking trays and brush them lightly with beaten egg white. Sprinkle with seeds, then bake in the preheated oven for about 15 minutes until golden brown.
Remove from oven and cool on a wire rack. When cooled, slice open and serve with cream cheese, freshly chopped dill and cold smoked trout or salmon.
 Note: These bagels freeze quite well. Thaw for 60 minutes on your kitchen counter, then pop them into a hot oven for 3 minutes.
Credits:
This post was especially written for The Pretty Blog by Ilse van der Merwe from The Food Fox.
Food: Ilse van der Merwe from The Food Fox.
Photography: Tasha Seccombe.
Styling: Nicola Pretorius, Tasha Seccombe and Ilse van der Merwe.