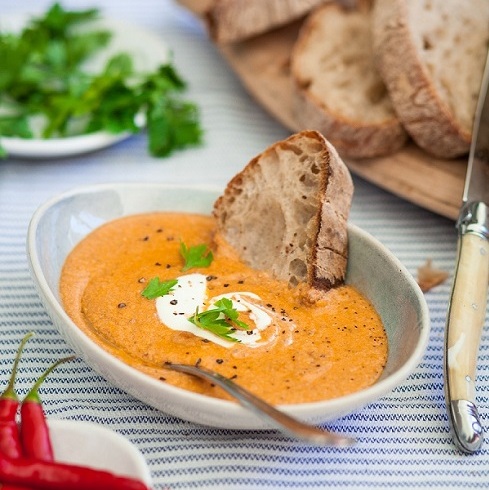 It's time to start planning your Easter menu – no holiday can be complete without some serious culinary indulgence! Over the next 3 weeks I'll be featuring 3 recipes from 3 cookbooks, all available from Poetry stores as part of our special Easter collaboration.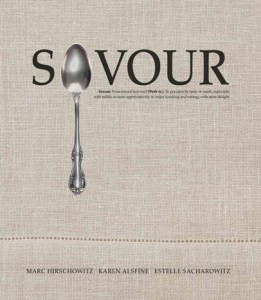 First on the menu is a thick salmon bisque, the recipe taken from Savour by Marc Hirschowitz, Karen Alsfine and Estelle Sacharowitz. This hearty soup is perfect as a starter, but can easily be eaten as a main course served with freshly baked bread. The most interesting part of this recipe is that it is made with tinned salmon and tinned cream of tomato soup – basic pantry ingredients that makes this dish also possible on a camping trip! But if you have access to great fresh salmon, fresh tomatoes and cream, it would take the soup to new heights.
The recipe states that you can serve it chunky or smooth – I prefer a smooth and thick bisque, easily achieved with the help of a stick blender.
Ingredients:
30 ml olive oil
200 g mushrooms, sliced
1 large onion, finely chopped
1 clove garlic, finely chopped or crushed
30 ml cornflour
500 ml milk
2 vegetable stock cubes, crumbled
1 x 415 g tin salmon, deboned and flakes (or 400 g flaked cooked salmon)
1 x 400 g tin cream of tomato soup (or 400 g skinless grated tomatoes with 1/4 cup cream)
5 ml sugar
2,5 ml Worcester sauce
8 spring onions, finely chopped
10 ml finely chopped fresh chilli
30 ml sherry
fresh cream for serving
chopped parsley for serving
salt and freshly ground black pepper
freshly ground red peppercorns for garnish (optional)
Method:
Heat the oil in a large pot, then add the mushrooms, onion and garlic. Fry over medium heat until they are soft.
Add the cornflour, then stir. Now slowly add the milk and stir well. Add the crumbled stock cubes and stir well.
Add the flaked salmon and stir well. Add the tomato soup (or fresh tomatoes and cream), sugar, Worcestershire sauce, spring onions and chilli.
Add the sherry and stir, then simmer for 15-20 minutes until the soup thickens.
If your soup is too thick, add more water of milk. If you like a smooth consistency, use a stick blender to create a smooth texture. Taste the soup and add salt and pepper to taste.
Serve with a swirl of cream and some chopped parsley (and optionally freshly ground red peppercorns).
Credits:
Photography: Tasha Seccombe
Homeware and linen: Poetry stores, ranging from R99-R299.
Recipe from Savour, available from Poetry stores at R350.