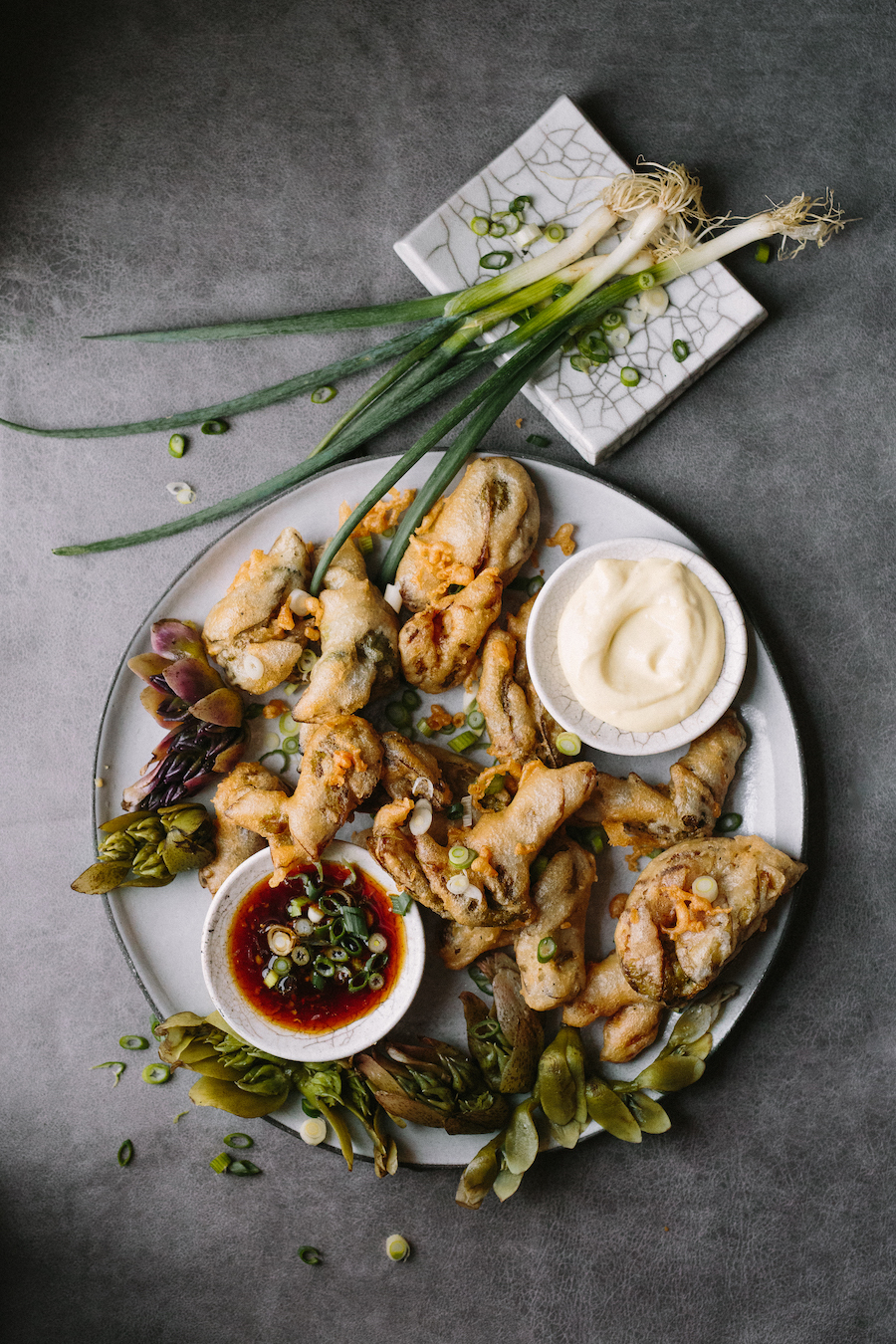 It's been truly icy after a week of intense rain and thunderstorms, forcing me to take out the extra blankets as well as my thickest coat from the back of my closet and gear up for some real deal comfort food. Although I don't regularly deep-fry food, I've been making quite a few batches of donuts and churros over the past week, feeding my need for warm and indulgent sweet treats. So it's been a natural progression to also go towards the salty side of crunchy, hot comfort food. I couldn't be more excited about seeing punnets of freshly picked waterblommetjies (an aquatic water plant native to the Boland area) in various local supermarkets, because since writing this recipe for my book Simply Seasonal in 2020, it's become a seasonal staple in our household.
I know I'm not the first to cook waterblommetjies tempura-style (you'll find quite a few other recipes online), but when my picky eating 11-year old daughter said that she couldn't get enough of these, I realized it's a big deal! You can obviously also use this batter to tempura other vegetables of your choice, like strips of courgettes (no need to blanch them first). It's finger-licking, lip-smackingly delicious, to be honest.
For my book, I served it with two dipping sauces – a thick garlic mayonnaise and a punchy citrus soy dip, but these days we only make the soy dip because it really hits the spot and it's the only thing we need.
Next up on my Winter embrace is some retail therapy with a digital shopping spree for a proper new coat and Winter boots (shop boots online on Superbalist.com) within the comfort of my cosy kitchen. Stay warm, friends!
Ingredients: (serves 4-6 as a snack)
For the soy dipping sauce:
(Note: you can also use store-bought ponzu sauce as is, as a substitute for this sauce recipe)
45 ml (3 tablespoons) soy sauce
45 ml (3 tablespoons) fresh lemon juice
15 ml (1 tablespoon) finely grated fresh ginger
2.5 ml (½ teaspoon) sesame oil
1‒2 spring onions, finely sliced
For the waterblommetjie tempura:
500 g fresh waterblommetjies
125 ml (½ cup) cake flour
125 ml (½ cup) cornflour
salt and pepper, to taste
about 180 ml (¾ cup) soda water
canola oil, for deep frying
Method:
For the soy dipping sauce, stir all the ingredients together in a small mixing bowl. Set aside.
For the tempura, rinse the waterblommetjies under running tap water, then bring 1 cm deep water to a simmer in a wide pot. Add the rinsed waterblommetjies, cover with a lid, and steam for 10 minutes. Remove from the pot and drain off the excess water. Set aside to cool slightly.
In a mixing bowl, mix the cake flour and cornflour, season with salt and pepper, and add the soda water. Mix with a fork or whisk ‒ some lumps should remain.
Heat 4‒5 cm deep oil in a wide pot to 180 °C (most of us don't have a thermometer for this, so test a few drops of tempura batter to see if it sizzles, but don't wait for the oil to become smoking hot). Dip each waterblommetjie into the batter to cover all sides, then place carefully into the oil. Fry in batches on both sides until golden (they won't get very dark because of the cornflour) and fully cooked, then remove with a slotted spoon and drain on kitchen paper. Serve hot, with the  dipping sauce on the side.