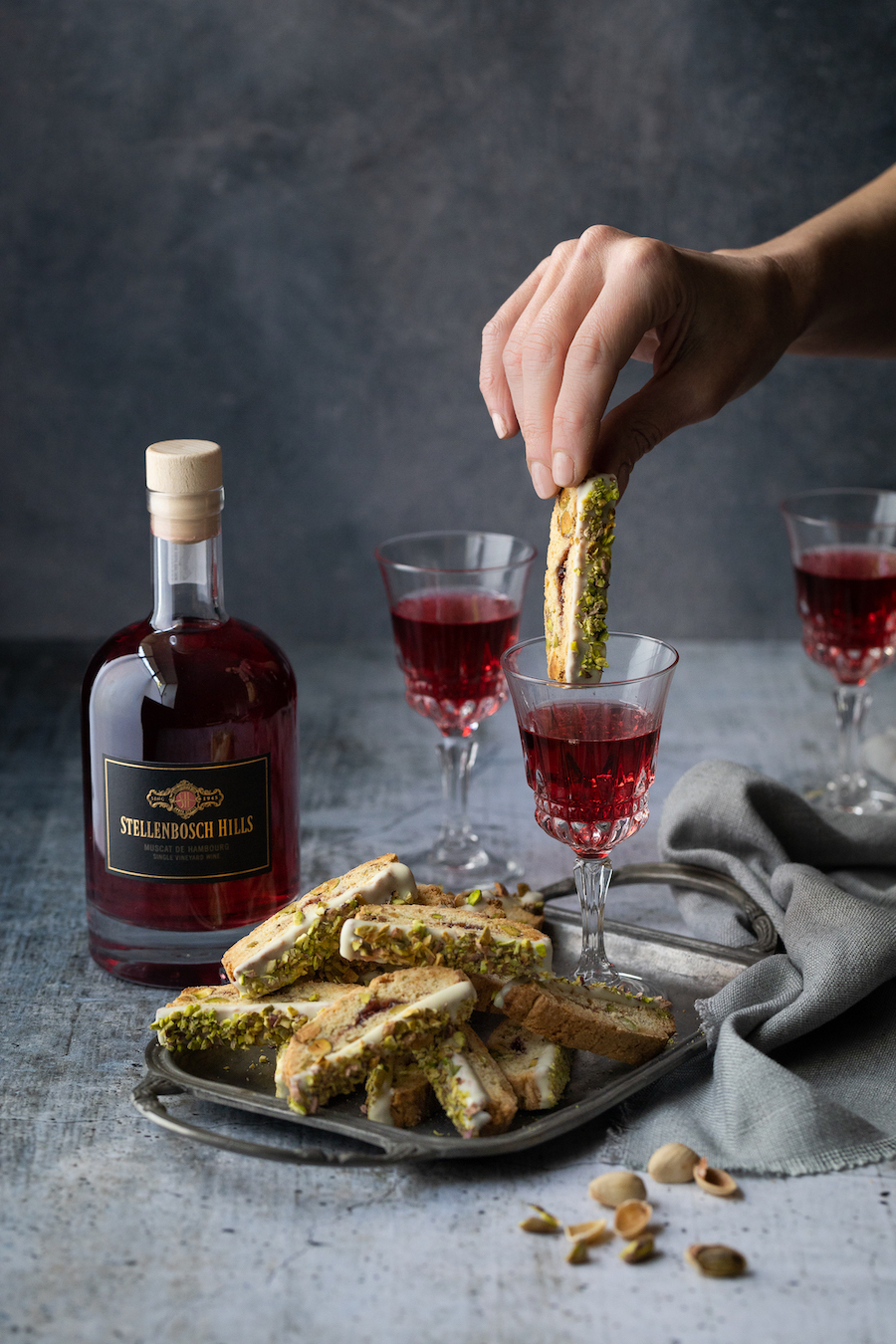 I recently had the privilege to create an exclusive biscotti pairing recipe for Stellenbosch Hills' brand new release Muscat de Hambourg – a collector's item, now with an updated look. The wine is intensely fragrant with aromas of candy floss, boiled sweets, rose petals and violets and is perfect as an aperitif or after-dinner drink, served at room temperature in winter.
White chocolate, pistachio and raspberry is such an iconic combination, and the flavours work exceptionally well with the Muscat. I used raspberry jam in the centre, which creates a delightful, extra chewy texture. Here's my recipe – fit for an icy Winter's evening, dipped into the Muscat as a treat next to a roaring fireplace!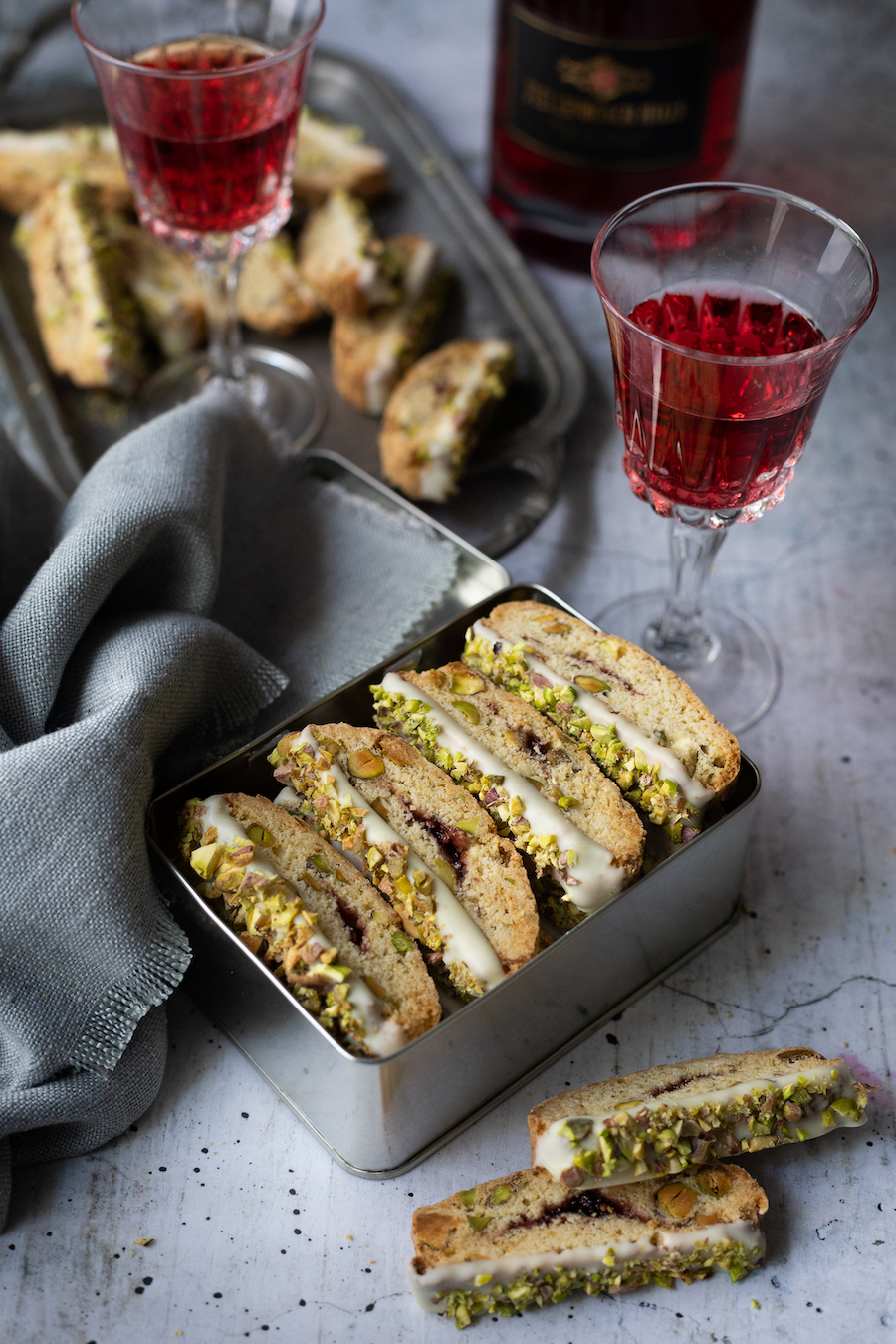 Ingredients: (makes about 60 medium size biscotti)
3 tablespoons (45 g) butter, softened
1 cup (200 g) sugar
2 XL eggs
1 teaspoon (5 ml) vanilla essence
½ teaspoon (2,5 ml) almond essence
1 cup (100 g) peeled roasted pistachios, coarsely chopped
2 cups (280 g) cake flour, plus extra for dusting
1 teaspoon (5 ml) baking powder
¼ teaspoon (1 ml) salt
2-3 tablespoons (30-45 ml) raspberry jam
150 g white chocolate, cut/broken into chunks
3 tablespoons extra pistachios, finely chopped, optional (for decoration)
Method:
Adjust oven rack to middle position and pre-heat oven to 180°C.
Whisk butter and sugar together with an electric mixer until well mixed. Mix in eggs one at a time, then vanilla and almond essence. Stir in the pistachios with a spatula. Sift dry ingredients over egg mixture, then fold in with a spatula until dough is just mixed.
Halve dough and roll each half on a lightly floured surface into a 25cm x 5cm roll. Using floured hands, pat each log gently to flatten it slightly, then spread one log lengthways with jam (leave the edges clean). Place the second log on top of the jam log and press lightly to fuse the two together. Pat out again into one long roll of about 50cm, then cut it into 2 and place the 2 rolls next to each other on a lined baking tray. Bake until the flattened logs are golden brown, about 30 minutes. Remove from the oven and cool for 10 minutes.
In the meantime, lower the oven temperature to 160°C. Slice each log diagonally into 1 cm slices with a very sharp serrated knife. Lay the slices about 1 cm apart on a cooling rack placed over the baking tray and return them to the oven. Bake until crisp and golden, about 15 minutes. Remove from the oven and cool completely.
While the biscotti is cooling, place the chocolate in a microwavable container and microwave for 30 seconds at a time, stirring in-between. Stop when the chocolate is warm but not fully melted – it will continue to melt on standing. Dip the cooled biscotti in the chocolate, then in the finely chopped pistachios and leave to set on non-stick baking paper. Store in an airtight container for up to 1 month.
To serve: dip the biscotti in Stellenbosch Hills Muscat as a special after-dinner treat – it will soak up a little of the wine, but remain characteristically crisp on the inside.