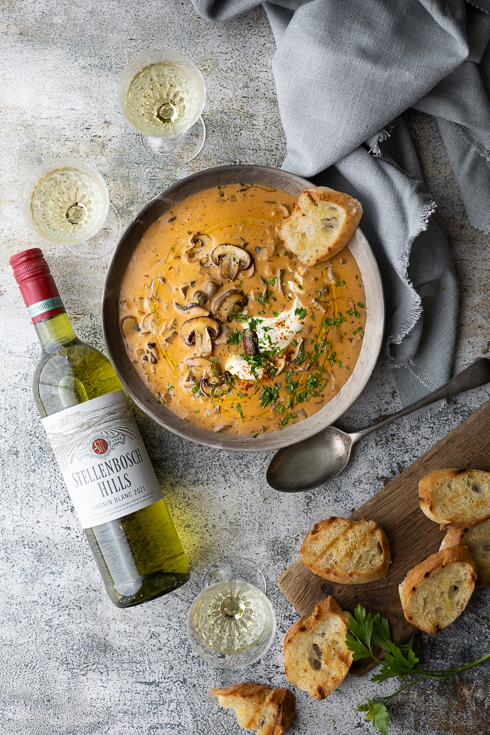 This creamy, hearty mushroom soup is the perfect way to welcome the magnificent cooler days in the Cape. Made with earthy paprika, fresh cream, dry white wine and lots of herbs, it is a versatile dish and pairs beautifully with Stellenbosch Hills' Chenin Blanc, or if you're more of a red wine drinker, their Merlot. The soup can be served as a starter in smaller quantities, or as a hearty main course with lots of toasted bread or chunky croutons.
The main reason that I love this recipe is because of the fabulous texture of the soup. To me, a mushroom soup should be lusciously creamy with a generous amount of chunky mushrooms, not a grey "porridgey" puree.
Note: This is a Hungarian-style soup and therefor the best choice of paprika would be "sweet", not hot or smoked. If you do prefer hot or smoked paprika, feel free to experiment.
Ingredients: (serve 3-4 as a main, or 6 as a small starter)
60 g (4 tablespoons) butter30 ml (2 tablespoons) extra virgin olive oil
2 large onions, chopped
500 g brown or portabellini mushrooms, sliced3-4 garlic cloves, finely grated/chopped
20 ml (4 teaspoons) paprika
30-45 ml (2-3 tablespoons) fresh thyme leaves, stalks discarded
10 ml (2 teaspoons) dried origanum
500 ml (2 cups) chicken/vegetable stock
125 ml (1/2 cup) dry white wine
30 ml (2 tablespoons) soy sauce
250 ml (1 cup) milk
45 ml (3 tablespoons) flour – cake or white bread flour
250 ml (1 cup) fresh cream
salt & pepper
15 ml lemon juice
a handful Italian parsley, finely chopped, to serve
fresh bread/baguette, buttered & toasted, to serve (or chunky croutons)
a few dollops sour cream or thickened cream, to serve (optional)
Method:
In a large wide pot over medium-high heat, melt the butter and add the oil. Add the onions and fry until soft (about 5 min). Add the mushrooms, garlic, paprika, thyme and origanum and continue to fry for about 10 minutes, stirring, until the mushrooms have softened and the bottom of the pot starts to become sticky. Add the stock, wine and soy sauce and bring to a simmer – cook for 5 minutes. In a medium jug or mixing bowl, add the milk and flour and whisk to mix thoroughly, then add the mixture to the pot along with the cream. Stir well and bring to a simmer, seasoning with salt & pepper. Simmer for 5-10 minutes until the soup has thickened, stirring often. Remove the pot from the heat and stir in the lemon juice, then taste and add more salt & pepper if needed. Serve hot in bowls, scatter with chopped parsley, toasted bread/croutons, and if you wish, a dollop of sour cream or cream.
Created exclusively for Stellenbosch Hills Wines.