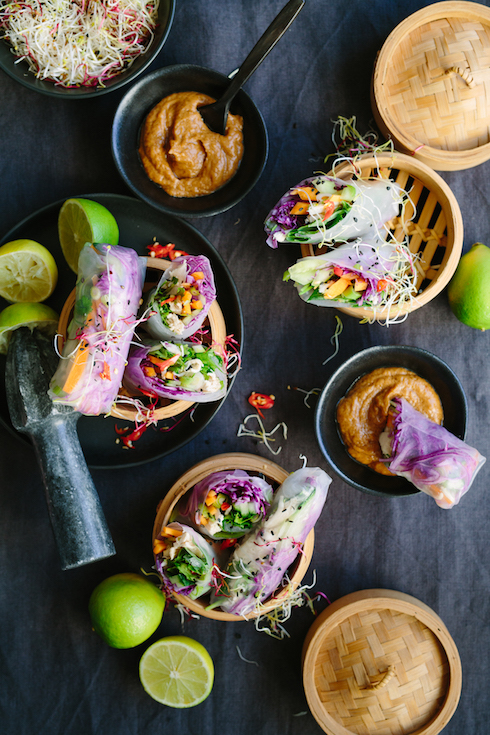 If you have never eaten these translucent rolls before, you just have to give it a try. Unlike deep-fried Chinese spring rolls, Vietnamese-style spring rolls are made with water-soaked rice paper. They are absolutely beautiful to look at and such a joy to eat: tender and moist on the outside (yes, it's a weird kind of texture), packed with all the freshness that resembles Vietnamese cuisine on the inside.
But the star of this show is the peanut sauce – a deeply savoury, complex dip that will make you fall in love with it, bite by bite. This sauce is so good that I can eat it with a spoon. So much more than "just" a peanut sauce.
Note: Although Asian pantry ingredients might not be cheap, they go a very long way. Invest in these few pantry ingredients (like hoisin sauce, fish sauce and soy sauce) and you'll be able to cook up some magic for quite a few meals.
For the peanut sauce:
1 cup unflavoured, natural, smooth peanut butter
1/3 cup water
1/4 cup hoisin sauce
1/4 cup good quality soy sauce (I use Kikkoman)
5-10 ml fish sauce
juice from 2 limes
1 knob of ginger, peeled and finely grated
1 medium size garlic clove, finely grated
1 small red chilli, finely chopped
Method:
Place all the ingredients in a mixing bowl and mix with electric beaters until smooth (or give it some elbow grease with a wooden spoon). Taste and adjust seasoning if necessary – it should be deeply savoury, nutty and a little sweet and sour all in one.
For the spring rolls: (serves 4-6 as a starter)

16 Vietnamese-style large rice paper rounds
water, for soaking
1 baby red cabbage, finely sliced
2 medium carrots, finely julienned
1/2 cucumber, finely julienned
2 bunches spring onions, finely sliced
a few red chillies, finely sliced (optional)
1 punnet mint leaves, roughly chopped
1 punnet basil leaves, roughly chopped
1 punnet coriander leaves, roughly chopped
2 chicken breasts, steamed/grilled and shredded with 2 forks
1 small bunch fine bean sprouts (optional)
Method:
Prep all the ingredients according to the list, then place each one separately in bowls in the correct order, as listed, from left to right (place about 5cm deep clean room temperature water in a bowl that is wider than the surface of the rice paper). Place a clean damp folded tea towel next to the water bowl on a clean work surface.
Soak one rice paper at a time for about 30 seconds or until just soft. Remove from the water, then place on the tea towel to drain slightly while you fill it.
Place a small amount of cabbage, carrots, cucumber, spring onions, chilli, mint, basil, coriander, chicken and sprouts horizontally in the middle of the soaked paper. Carefully but firmly fold over the bottom of the paper, then the sides, then roll it up to form a stuffed roll. Set aside and cover with a damp clean tea towel to prevent it from drying out. Refrigerate, covered with plastic wrap, until ready to serve (not more than 2 hours, preferably) or serve immediately with the peanut dipping sauce.
Note: "Julienned" vegetables is a style of cutting that resembles very fine strips. If you have trouble doing this, rather use a coarse grater to produce similar strips in long strands.
And: Omit the chicken for a just-as-good vegetarian option.