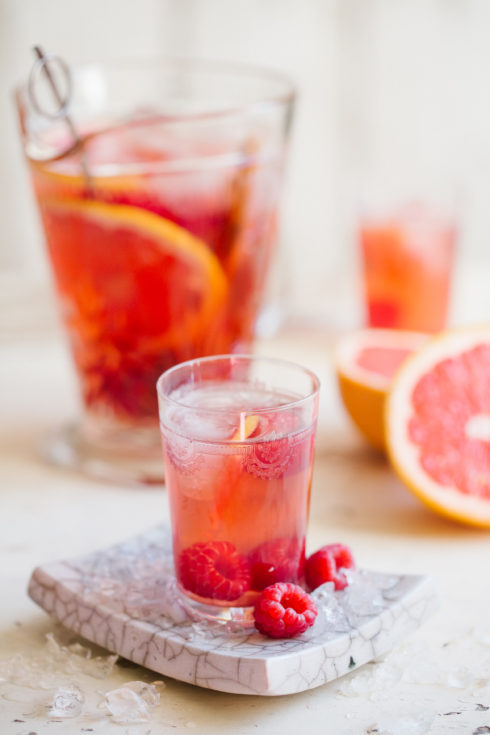 My sister has two boys aged 8 and 10. They live on a farm and she is very consistent in providing them with nutritious, balanced, delicious meals every day (unlike most of us, although we have the best intentions). After realising that they were going through about 3 litres of apple juice per day (these boys get super thirsty from playing outside in their big yard all afternoon), she decided to try her hand at making iced tea for them instead.
In the beginning they missed their daily dose of juice (always mixed with water), but after a few days they took to the iced tea like ducks to water. She sweetened the tea lightly with honey and sometimes added a few aromatics and infusions like cinnamon stick or fresh prunes. Upon visiting them, we also enjoyed the iced tea and it now is a staple in my home and when I cater for functions.
Although my sister makes many different versions of iced tea, I want to introduce you to the prettiest pinkest one – in line with one of the Pantone colours of 2016: rose quartz. It is made with Woolworths's Pick-Me-Up Cranberry Cinnamon & Apple Tea – I use about 4 teabags on 5 litres of water.
You can brew it on the stove top in a large pot, then add a few fresh slices of cucumber, grapefruit or mint when it has cooled down. Remember to only add honey when the tea is lukewarm and not while it is boiling hot. But if you're adding sugar as a sweetener you can add it at any stage – easier to dissolve while the tea is hot.
Use any tea that you like – rooibos (for a deep orange tea that is caffeine free), honeybush, early grey, green tea – the possibilities are endless. The tea will last in your fridge for at least 3 days.
Ingredients: (makes 5 liters)
5 litres fresh water
at least 4 tea bags  – I've used Woolworths's Pick-Me-Up Cranberry Cinnamon & Apple Tea (use any tea that you love if you don't specifically want pink tea)
honey or sugar, to taste
sliced grapefruit, as garnish
ice, to serve
Method:
Pour the water in a large pot, add the tea bags and cover with a lid. Bring to a boil, then simmer for 5 minutes.
Remove from the heat, then let it stand to infuse until it reaches room temperature. If you are using sugar to sweeten, add it now and stir to dissolve. If you are using honey to sweeten, add it when the tea is luke warm and stir well.
Pour into containers (large glass jars or bottles work well), screw lids on and refrigerate.
Serve cold, with grapefruit/lemon/cucumber/mint and lots of ice.