It's no secret that I adore the way that the Italians entertain, so when the team of Galbani approached me to develop two new recipes for their soft mozzarella featuring a caprese theme, I was over the moon!
This is the first recipe of our collaboration: roasted tomato caprese bruschetta. These roasted tomatoes are so very versatile and they keep in the fridge for at least a week. Serve them at room temperature with Galbani mozzarella and fresh basil on bruschetta, over freshly cooked pasta, on a large flatbread, or any way you want. The flavour of the roasted tomatoes are so sweet and intense, and it works wonderfully with the milky mozzarella and zippy basil.
Buon appetito!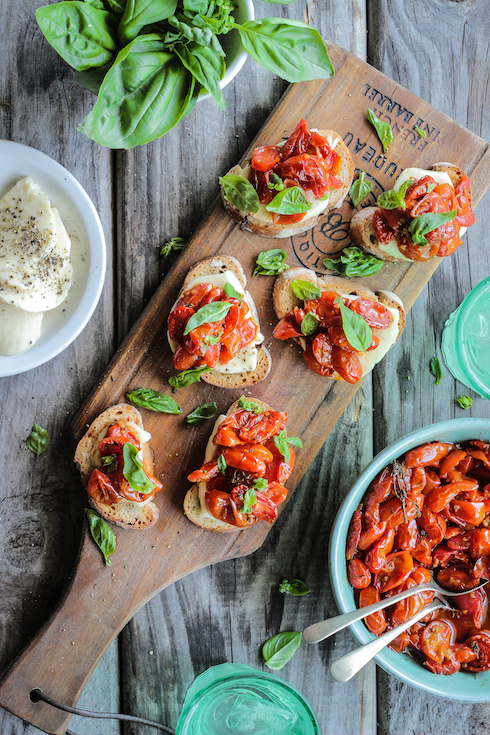 Ingredients: (serves 6 as a snack)
600 g small tomatoes, halved
salt & pepper
5 ml sugar
60 ml extra virgin olive oil
15 ml red wine vinegar
a few sprigs thyme, stalks removed
1 baguette loaf, sliced
olive oil for brushing
1 clove garlic, for rubbing
2 x 125 g Galbani mozzarella balls, sliced thinly
fresh basil leaves, for serving
Method:
Preheat oven to 180 C.
Place halved tomatoes on a baking tray and spread out in a single layer. Season with salt & pepper, sprinkle with sugar, olive oil, vinegar and thyme. Give it a gentle shake, then roast at 180 C for 50 minutes or until it starts to go sticky and brown on the edges. Remove from the oven and transfer to a jar.
Turn the oven's temperature up to 200 C. Arrange the sliced baguette on another baking tray. Brush the slices with oil and season with salt & pepper, then bake for 8-10 minute or lightly golden. Remove from the oven and quickly rub each slice with the garlic.
Arrange slices on a serving board, top with sliced mozzarella, some roasted tomatoes and a few basil leaves. Serve immediately.
Note: These are best served at room temperature, using freshly toasted baguette. Make the tomatoes ahead and keep them in the fridge. Bring the tomatoes and mozzarella to room temperature before serving.