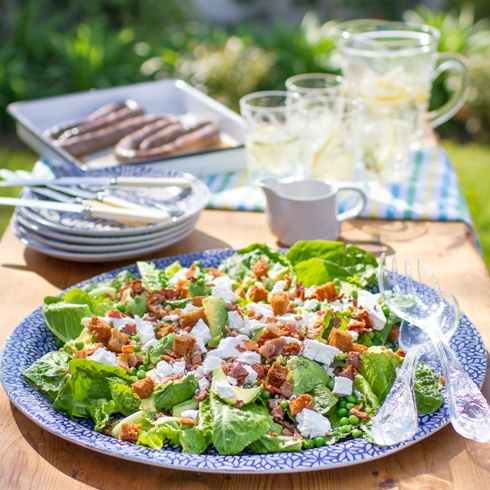 This year on the 24th of September, I want to place more emphasis on side dishes than the braai meat. Of course I love a great piece of steak, chop and wors, but sometimes the side dishes can be bland and rushed. At the end of the party, you're often left with a massive bowl of unimaginitive boiled potatoes covered in mayonnaise and a "mixed salad" which no-one paid any attention to.
So what are my suggestions for the ultimate braai day side dishes? I think a freshly baked bread is always a winner. I prefer Franck Dangereux's oil bread when I'm hosting a party – magnificent to keep the guests happy while the meat is still on the fire. Secondly, I would serve a warm potato salad made with baby potatoes, asparagus and gruyere cheese, dressed with a tangy mustard vinaigrette, or a creamy potato bake made with fresh cream, black pepper and lots of parmesan cheese. And then of course we need a bowl of fresh and crips cos lettuce leaves: my ultimate braai day salad with avocado, crispy bacon, peas, croutons, danish feta and a thick green goddess dressing. This salad is great because it keeps meat eaters happy but also scores points from the green veg lovers.
I always serve my large salads on a big tray rather than a deep bowl – this way none of the goodies can sink to the bottom and everyone can see exactly what they're dishing up. And it looks generous!
PS: Don't forget the traditional tomato/cheese/onion/chutney "braaibroodjies"! Everyone loves them!
Ingredients for salad:
a bag of fresh, crisp, small cos lettuce leaves
2 ripe avocados, scooped out into rough chunks with a teaspoon
2/3 cup of fresh green peas*
200 g danish feta, crumbled into large chunks
1 cup of croutons **
200 g lean bacon, chopped and fried until crisp
* I buy frozen peas and leave them to thaw, but use them uncooked.
** I make my own croutons by frying cubed sourdough bread in Canola oil for about a minute, then drain on kitchen paper.
Method:
Arrange all the ingredients in the listed order on a large serving platter. End off with the bacon, then drizzle with green goddess dressing just before serving.
Ingredients for green goddess dressing:
2 heaped tablespoons mayonnaise
2 heaped tablespoons Greek yoghurt (or plain)
1 generous teaspoon Dijon mustard
juice of 1/2 lemon
1/2 teaspoon dried tarragon
1 handful chopped flat-leaf parsley
1 handful chopped chives
Method:
Mix all the ingredients together in a cup with a fork – this makes a thick, luxurious dressing. Add a teaspoon of warm water if dressing is too thick. Serve extra dressing on the side.
Credits:
This post was especially written for The Pretty Blog by Ilse van der Merwe from The Food Fox.
Food: Ilse van der Merwe.
Photography: Tasha Seccombe.
Styling: Tasha Seccombe & Nicola Pretorius