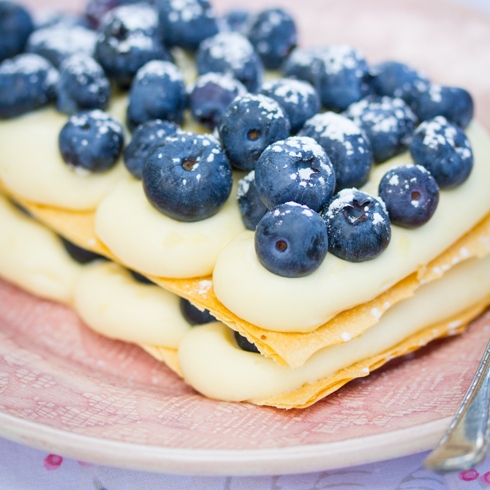 I've seen this breathtaking French pastry so many times, and still cannot pronounce it perfectly without doubting myself. "Meel fay" is the closest that I come to the real French!
Whichever way you pronounce it, this is a glorious dessert or teatime treat. Traditionally it has 3 layers, but it all depends on the thickness of your filling and the size of your fruit. It works so well with seasonal berries, and the elements can be made in advance so that you can just quickly assemble before serving time. I used crème pâtissière for this recipe, but you can also use whipped cream with a little vanilla essence and a touch of sugar.
These days you also get some fantastic savoury mille feuille recipes, so be adventurous and create your own masterpiece! Some recipes also use good quality puff pastry as an alternative to a few layers of filo.
Ingredients for pastry:
3 layers of filo pastry, thawed
100 g butter, melted
30 ml caster sugar
Method for pastry:
Pre-heat oven to 180 C.
Line a baking tray with baking paper. Now put one layer of filo on the paper en brush with butter. Sprinkle this buttered layer with 10 ml caster sugar (it helps the layers to stick to one another). Cover with another layer of pastry, butter and sugar. Repeat with last layer.
Using a pizza cutter (or sharp knife), cut filo layers into rectangles of about 12 x 8 cm.
Top the prepared pastry layers with a sheet of baking paper, and then another baking tray (to weigh it down).
Bake for about 10 minutes until golden brown,  remove from oven, then remove covering baking tray and paper and cool completely.
Ingredients for crème pâtissière:
375 ml milk
1 vanilla bean, slit open
75 ml sugar
60 ml cake flour
2 eggs
2 egg yolks
Method:
Bring 300 ml milk to the boil with vanilla pod. Remove from heat and leave to infuse for 15 minutes. Remove pod, squeezing out the vanilla seeds into the milk.
Mix flour, Canderel and remaining milk to a paste, then gradually add milk and mix until smooth. Now add mixture gradually to eggs, mixing well.
Return mixture to stove and cook over low heat, stirring constantly, just until boiling point. Mixture will thicken. Remove from heat and continue to stir for 1 minute. Cool, covered, until ready to use.
To assemble, place the pastry on a plate and cover with crème pâtissière (I used a piping bag, but you can also just use a teaspoon), then top with berries. Repeat with another layer or even 2 more layers. Serve immediately.
Credits:
This post was especially written for The Pretty Blog by Ilse van der Merwe from The Food Fox.
Food: Ilse van der Merwe.
Photography: Tasha Seccombe.
Styling: Tasha Seccombe & Nicola Pretorius