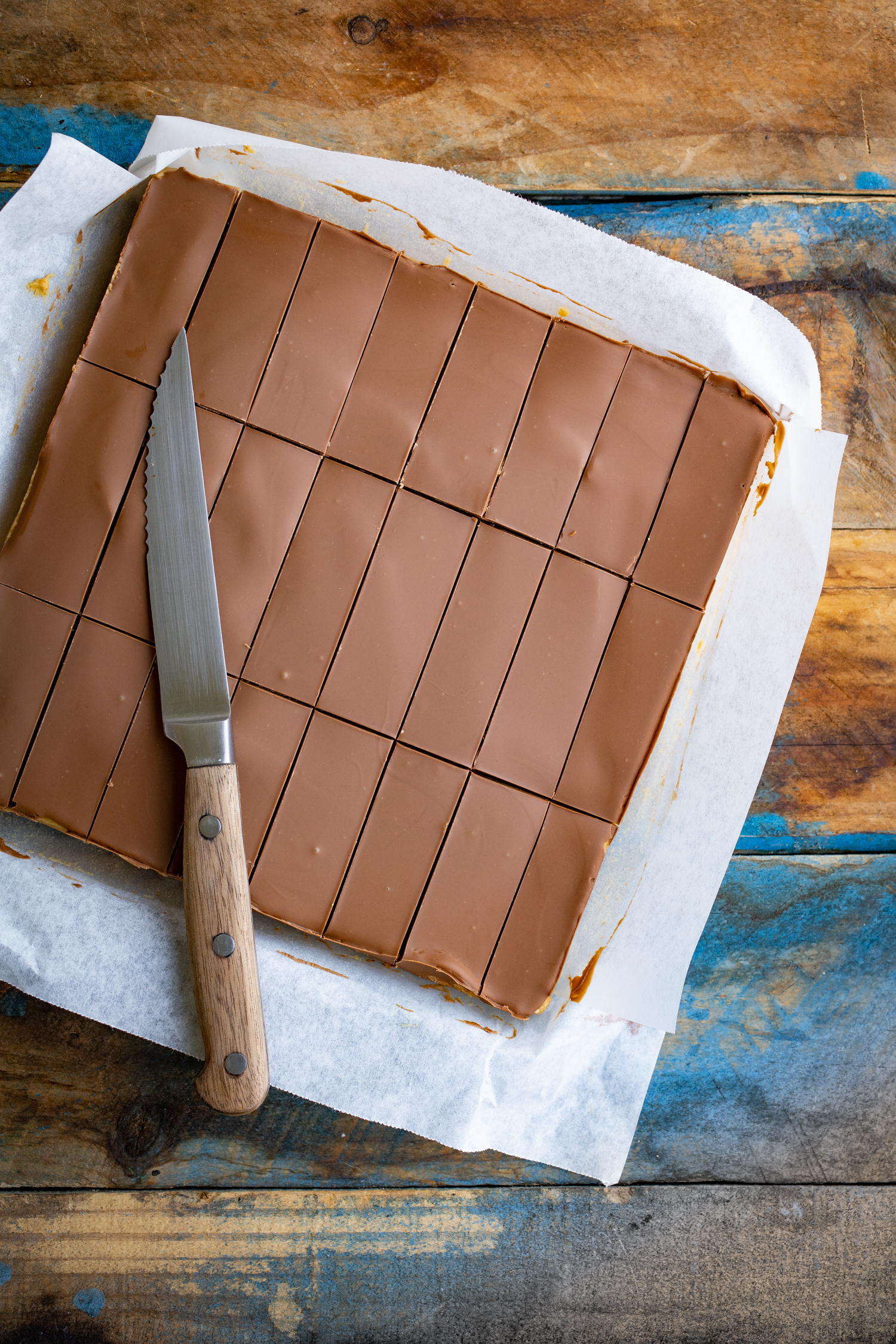 It's only in recent years that I discovered a much loved American classic – Reese's Peanut Butter Cups. If you've tasted it, you'd know that it is completely addictive, with a layer of smooth set peanut butter filling encased in milk chocolate. It's the perfect combination of delicate salty, nutty and creamy, especially for peanut butter lovers, of course. I do love peanut butter, although I'm not that huge on sandwiches – I'd rather just eat it straight from the jar. But if you want your peanut butter fix in a treat form, this is it.
A few years ago, I joined a book club for the first time. It was a small group of friends that all had the same goal in mind – more quality time with like-minded friends. One of the first books we read was Kitchens of the Great Midwest by J. Ryan Stradal, a great read for anyone with a palate for a great story (multiple storylines at the same time) and American food culture. In the book, "Pat Prager" makes these award winning peanut butter squares that end up (spoiler alert) on a world class menu. Well, I tried making my own version of those exact squares, and they are magnificent. The thing is, I knew that the American palate is slightly different to the South African palate, so I adapted it to include less butter, less sugar and more salt. "Pat" specifically used milk chocolate, although I would have chosen dark, and I have to say it works perfectly in this setup.
So here is my version of Reese's peanut butter cups / Pat Prager's peanut butter squares, sliced in a bar format (disclaimer: it's rich, so we did slice a few into squares afterwards for the folks that can't stand the magnificent overload). It's an easy no-bake recipe that only requires a food processor. Fabulous treats in a few minutes! Keep these in the fridge, because they set beautifully when colder and melt in your mouth very quickly.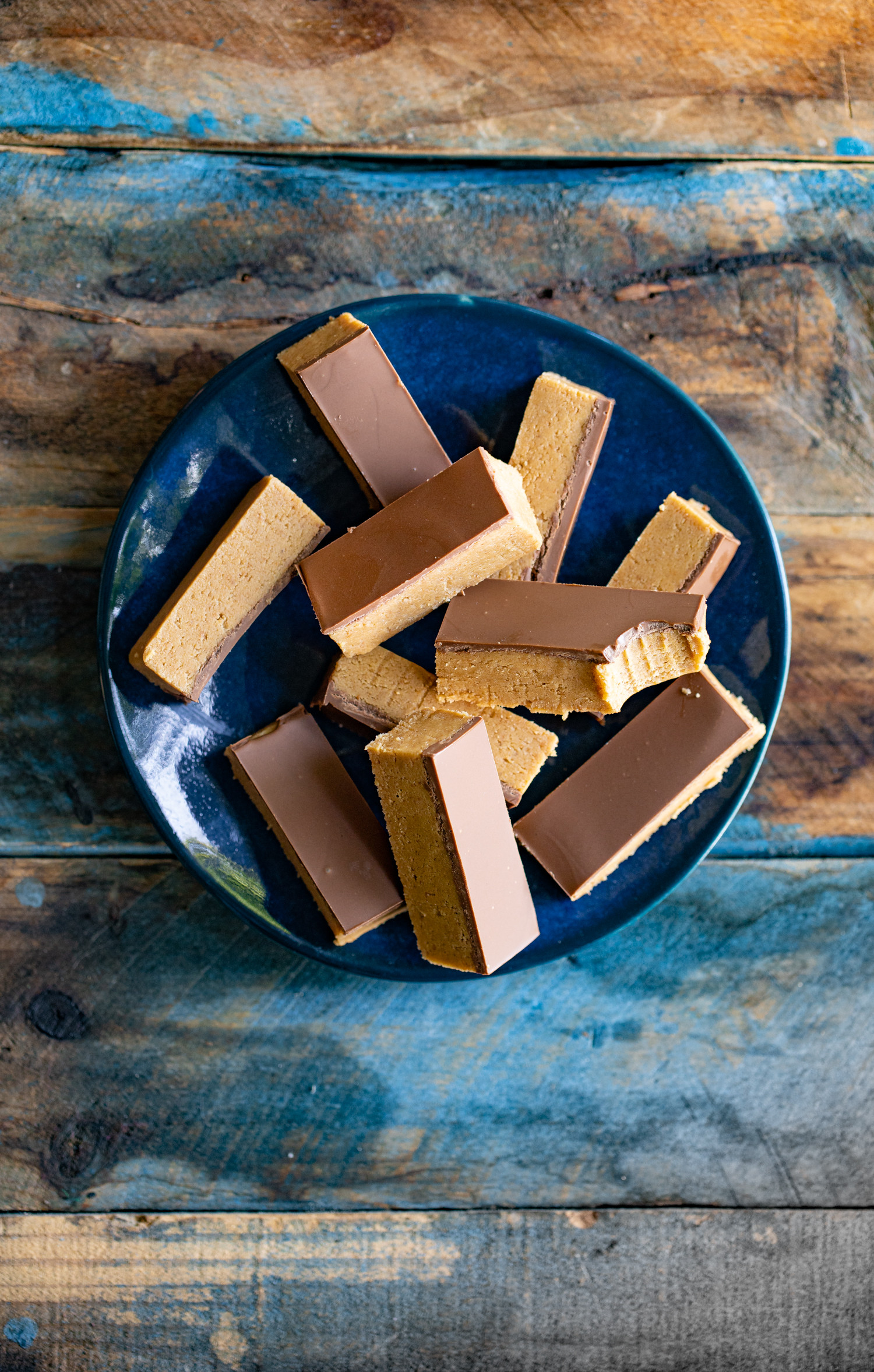 Ingredients:
1 x 200 g packet digestive biscuits
80 g butter, melted
1 cup (250 ml) smooth unflavoured peanut butter
1 and 1/4 cups (310 ml) powdered icing sugar (loosely packed)
1 teaspoon (5 ml) salt
150 g milk chocolate
Method:
In the bowl of a food processor, add the biscuits and process to fine crumbs. Add the melted butter, peanut butter, icing sugar and salt, and process until well mixed. Turn the mixture out into a medium size square (or rectangular) tin lined with baking paper – mine was 20 x 20 cm, but I've also used a 30 x 20 cm for a shallower end result. Use a spatula to distribute it evenly and smooth the top. Refrigerate for 30 minutes. In the meantime, break the chocolate into blocks and place in a microwavable jug/bowl. Microwave for 30 seconds, stir gently, then repeat until the chocolate is almost melted. Let it stand to warm through and stir until completely melted and smooth. When the peanut butter filling is cold, pour the warm melted chocolate over the top and smooth it all over with a spatula, working quickly before it sets. Regrigerate for 10-15 minutes, then cut into bars or squares before the chocolate hardens too far. Store in a container with lid in the refrigerator.