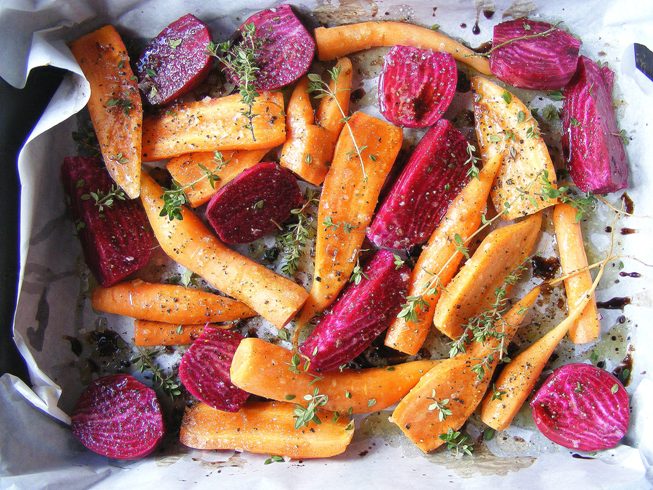 Every now and then my good friends at Genesis Organic Farm provide me with a box full of their latest seasonal produce. And every time it feels like Christmas! A box full of amazing, fresh, organic vegetables and herbs, still damp from the earth.
In my latest basket, John and Jo gave me some red spinach, beetroot, carrots, broad beans and peas. I experimented with a baked red spinach tart in filo pastry (which was packed with umami, it was out of this world), and then I roasted the root vegetables in olive oil, balsamic vinegar, fresh thyme, salt and black pepper. It is amazing how something this humble can be transformed into a meal fit for a king, if you use amazing ingredients.
I find that roasted veg have much more flavour than boiled veg. Just don't ever overcook them, and only use the freshest produce you can find. You can also add some sweet potato, butternut, onions and garlic – use whatever is fresh and seasonal. This is an excellent side dish to any main meal, or enjoy as a meal on its own.
I'll publish a post on the bright green broad beans and peas soon – watch this space!
PS: Genesis Farm also delivers weekly veg baskets on order. To be added to their mailing list, or for further queries, Contact John House on 082-215 6968.
Ingredients: (no specific quantities are given, just roughly eye it!)
a bunch of beetroot, washed and peeled
a bunch of carrots, washed and peeled (I keep the ends in tact, it looks beautiful)
a few sprigs of fresh thyme
a good squirt of balsamic vinegar (I used about 2 tablespoons)
a generous drizzle of olive oil (I used about 3 tablespoons)
flaked salt
freshly cracked black pepper
Method:
Pre-heat oven to 160 C.
Slice large veg in half lengthways, so that all the veg are roughly the same thickness. Keep smaller veg whole. Arrange them in a lined roasting dish, preferable in one layer.
Scatter with thyme, drizzle with olive oil and balsamic vinegar, then season well with salt and pepper.
Bake for 60 -90 minutes until they start to get a golden roasted colour. Test the thicker parts with a small sharp knife to see if it's cooked through.
Remove from oven, shake the pan carefully to coat the veg with the juices, then serve immediately.