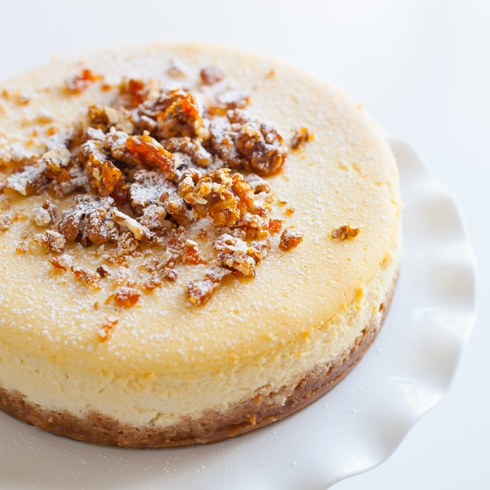 I have several recurring cravings, every week or so. They are my regular sweet must-haves, my soul-soothing treats. I don't chase them away, I welcome them with open arms – and a cup of frothy cappuccino or steamy earl grey tea on the side.
So who are these regular "visitors"? Dark chocolate brownies, decadent chocolate mousse, baked crème caramel, real Italian gelato, saucy cinnabons, and of course baked cheesecake.
I've made quite a few cheesecakes in my life, but this recipe seems to be the one I return to. It was featured in the Sarie Kos Magazine of Autumn 2010 – a 6-page cheesecake feature, filled with various beautifully photographed versions of this delightfully creamy teatime treat. This was their classic baked cheesecake recipe: light-textured, delicate and very creamy. In my opinion, it's the queen of cheesecakes.
PS: I sometimes serve this cheesecake with caramelized walnuts, like in the photograph, but it is completely optional.
Ingredients for base:
200 g digestive biscuits
50 g (60 ml) sugar
100 g butter, melted
Method for base:
Place biscuits and sugar in food processor, and process to crumbs.
Add melted butter and mix well. Pour into base of greased spring form cake tin, and press down firmly to coat base and sides (go as far up the sides as you can). Place in fridge for about 1 hour.
Ingredients for filling:
1 kg creamed cottage cheese
210 g (250 ml) caster sugar
45 ml flour
5 eggs (at room temperature)
125 ml cream
15 ml grated lemon zest
5 ml vanilla essence
Method:
Pre-heat oven to 180 C.
Place cottage cheese, caster sugar and flour in a large bowl and beat well with an electric mixer for about 2 min. Scrape sides.
Add eggs one by one, beating well after each addition. Add cream and beat for 5 minutes. Add lemon zest and vanilla and mix well.
Place chilled base on a baking tray. Pour cheesecake mixture onto base, then bake for 15 minutes.
Turn temperature down to 120 C, then bake for 1 hour and 45 minutes. Remove from oven and let it cool. To prevent the top from cracking, carefully run a small sharp knife around the sides to prevent the cake from sticking to the sides of the tin. When cool, place in the fridge to cool overnight, for best results.
Tip: Remember to slice the cake with a knife that is dipped in hot water, otherwise it might crumble.
Credits:
This post was especially written for The Pretty Blog by Ilse van der Merwe from The Food Fox.
Food: Ilse van der Merwe.
Photography: Tasha Seccombe.
Styling: Tasha Seccombe & Nicola Pretorius