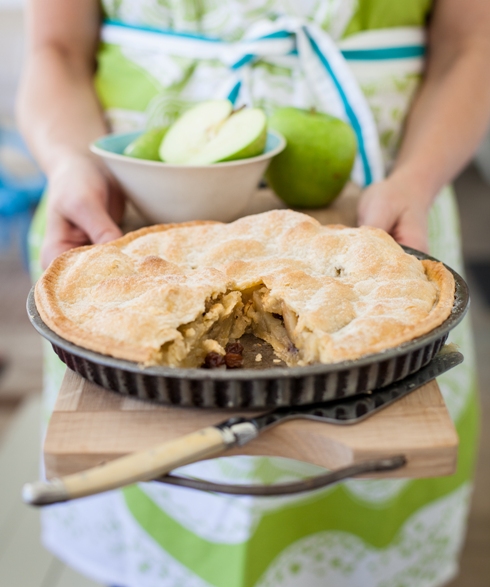 For the last course in my 3-part Easter collaboration with Poetry stores, I am featuring a recipe for "Good Old-fashioned Apple pie" from Annie Bell's Baking Bible.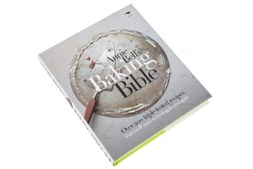 Annie Bell is an award winning and respected food writer, and every recipe in her book is triple-tested.
Apple pie is such a classic favourite and suitable for almost any occasion. There are literally thousands of recipes out there to choose from, but this recipe really is just what it claims to be: good and old-fashioned. The flavours are simple, yet perfectly balanced. With very little sugar added, the apples retain their tart flavours. And with a dollop of clotted cream, I felt like I was sitting on someone's grandmother's porch, delighting in the comfort of my old-fashioned pie.
It was quite interesting to find that Annie doesn't add any spices to her pie – no cinnamon, no cloves, no nutmeg. BUT, hang in there, there's a good 2 tablespoons of rum in there (left to soak into the raising) which adds fabulous flavour.
Ingredients for pastry:
450 g flour
250 g cold butter, cut into cubes
100 g icing sugar
1 egg yolk
some cold water
Ingredients for filling:
50 g raisins
30 ml dark rum
600 g cooking apples (like Granny Smith or Bramley) – skinned, cored and thickly sliced
300 g eating apples (like Pink Lady) – skinned, cored and thickly sliced
100 g golden caster sugar (I used light brown sugar)
15 ml flour
Method:
Place the flour and butter in a food processor, and pulse until it looks like fine breadcrumbs.
Add the icing sugar and give it another quick pulse, then add the egg yolk and process for a few seconds. Add a tablespoon of water to the mixture, then pulse until it just starts to come together. Add more water if needed, but not too much.
Wrap the pastry in clingfilm, then refrigerate for 30 minutes.
Pre-heat the oven to 180 C.
Place the raisins and dark rum in a small bowl, then microwave for 30 seconds. Let it stand to soak. (Annie prefers to soak the raisins overnight without adding any heat, I just use a microwave to speed up the process.)
In a large bowl, toss the apples with the sugar and flour, then add the soaked raisins and brandy. Mix well.
Remove the pastry from the fridge, then roll out 2/3 of it on a lightly floured surface. Use the rolled out pastry to line a greased baking tin/dish of about 30 cm (oval) or 25 cm (round).  The edges should hang over the sides of the tin.
Tip the filling mixture into the pastry base, then spread it out evenly.
Paint the edges of the pastry with milk (where it would meet the top layer). Now roll out the remaining 1/3 of the pastry, and use it to cover the top. Now trim the excess pastry, and use a fork to lightly press the 2 layers together.
Brush all over with milk, then dust with sugar.
Bake for 45 minutes until the top is golden brown. Remove from the oven, then let it stand for 10 minutes before serving hot with whipped or clotted cream.
Credits:
Recipe from: Annie Bell's Baking Bible (available from Poetry stores)
Photography: Tasha Seccombe
All homeware: Poetry stores (ranging from R159-399)