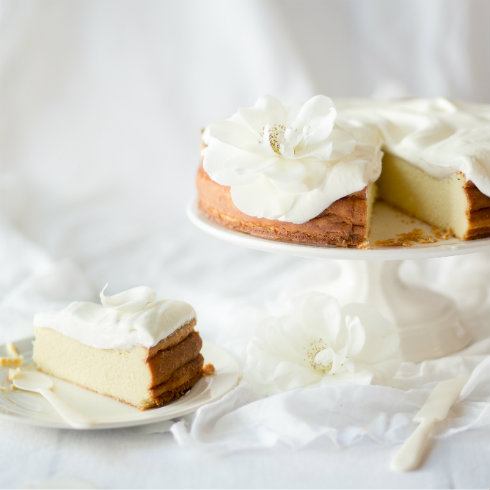 Many years ago, long before I started writing my food blog, I saved a few pages from a Pick 'n Pay Fresh Ideas booklet before it became Fresh Living Magazine (not sure the exact date, it wasn't included in my cut-out). Strangely, I never got around to making their recipe for an Italian baked ricotta cheesecake – although the picture had astounded me each time I saw it.
I recently paged through my saved cut-outs again and decided to finally give it a go. I love a good cheesecake any day and I'm always keen to try out new variations. This one is great because it doesn't have any crust at all (a little less effort and more than a little less kilojoules) and it is made from ricotta cheese, not cream cheese or cottage cheese. The cake is slightly firmer than most other cream-cheese-based cheesecakes, with a delicate almost-crumbly texture. The smoothness of the texture completely depends on the smoothness of the ricotta that you are using, so look for a creamy and smooth ricotta product. The flavour is surprisingly light and not too sweet – a welcome alternative to heavier cream-based versions.
This Italian-style cheesecake is really easy to make, low in carbs and delicious topped with a layer of unsweetened softly whipped cream. It is best kept refrigerated. Dust with a little icing sugar if necessary.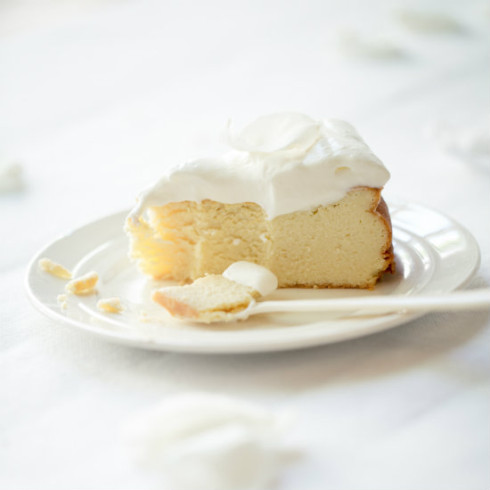 Ingredients: (makes 1 x 20cm cake)
1 kg ricotta cheese
2/3 cup white sugar
1/3 cup cake flour
6 XL eggs
1.2 teaspoon ground cinnamon
1 tablespoon finely grated orange rind
juice (about 1/4 cup) and finely grated peel of 1 lemon
2 teaspoon vanilla essence
a pinch of salt
for serving: 250 ml cream, whipped
Method:
Pre-heat oven to 150 C. Set oven rack in the middle of the oven. Grease and flour a 20 cm springform cake tin.
Place all ingredients (except cream) in a food processor and blitz until smooth. Pour batter into the prepared tin.
Bake for 1 1/2 hours (90 minutes) until filling is pale gold and centre is firm. Remove from oven and cool in tin.
Remove from tin when completely cool, then top with whipped cream. Slice and serve.
Credits:
This post was originally written for The Pretty Blog by Ilse van der Merwe from The Food Fox.
Food preparation and text: Ilse van der Merwe
Recipe: Pick 'n Pay Fresh Ideas booklet
Assistant: Elsebé Cronjé
Photography: Tasha Seccombe & Ilse van der Merwe
Styling: Tasha Seccombe
Venue for shoot: the demo KITCHEN