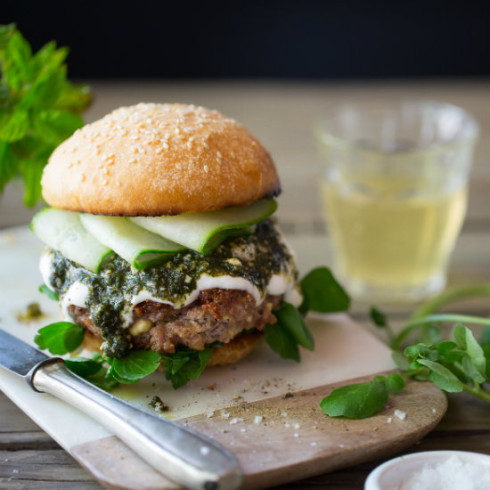 Being able to make a really good burger at home is one of the most satisfying things any meat-lover can do. Many of us grew up having take-away burgers as a special treat on weekends when we were children. My siblings and I loved almost any take-away burger, because the ones we tried to make at home just never tasted as good.
Well, the tables have turned. I now believe that anyone can make a burger at home that can beat the best gourmet burger in most restaurants. If you use care and source the best ingredients you can find, you can make a pretty amazing burger – so amazing that you might not want to get take-aways ever again.
Although I'm a huge fan of the classic beef burger with cheddar cheese and pickles, this juicy lamb burger is a total knock-out for a special occasion.
Here are my top 3 tips for creating an awesome burger:
Buy fresh, soft burger buns, and always toast the sliced sides with butter before assembling your burger.
Use coarsely ground great quality fresh meat for your pattie. That means 100% leg of lamb or 100% pure beef rump.
Don't overcook your meat – it should still be juicy in the middle.
Ingredients: (makes 4 large burgers)
600 g boneless leg of lamb, minced (ask your butcher to do that for you)
2 rounds (about 80g) of feta cheese, crumbled
1 teaspoon salt
1/2 teaspoon ground black pepper
1 punnet fresh mint
1 punnet fresh parsley
50 g cashew nuts
60 ml (1/4 cup) extra virgin olive oil, plus more for frying
salt & pepper
4 round soft hamburger rolls, buttered and toasted in a pan
double cream yoghurt (the thickest you can find)
a handful of watercress
finely sliced cucumber
Method:
Mix the lamb mince, crumbled feta, salt & pepper in a mixing bowl – using clean hands works best. Divide the mixture into 4 balls, then flatten them carefully, shaping the edges to form a round disk. Always make the pattie a bit wider and thinner than the end product that you have in mind, because they shrink back to a thicker, smaller pattie in the pan. Set aside.
For the pesto: in a food processor, add the mint, parsley, cashews and olive oil. Season with salt & pepper, then process to a course paste. Scoop into a smaller serving bowl and set aside.
In a non-stick pan, heat some olive oil over moderately high heat, then fry the patties about 3-4 minutes a side, taking care when you flip them over because the feta tends to stick (use a spatula). You are looking for a crisp outer layer and a juicy center. I prefer my center to still be pink. Remove from the heat and transfer to a plate to rest.
To assemble the burgers: Place the bottom half of a toasted bun on a plate, then add the watercress, burger pattie, some yoghurt, some pesto, some cucumber and then the top half of the bun. Enjoy!
Credits:
This post was originally written for The Pretty Blog by Ilse van der Merwe from The Food Fox.
Recipe, food preparation and text: Ilse van der Merwe
Assistant: Elsebé Cronjé
Photography: Tasha Seccombe
Styling: Tasha Seccombe
Venue for shoot: the demo KITCHEN