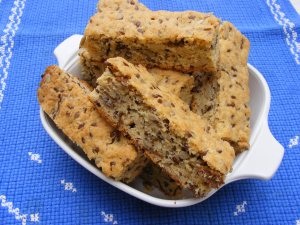 I grew up in a household where we always ate fabulous homemade rusks. My mom was THAT "tannie" who could bake the best  "mosbolletjies" and buttermilk rusks in the whole town. She made the traditional white ones, but also the whole wheat ones with nuts, muesli, raisins and all other goodies. My friends from university still swear that they became fat during those years because of my mother's legendary rusks! (she regularly sent me huge plastic containers full of the good stuff).
Being so spoilt with regular free access to great rusks, I never really thought of baking my own. But then my parents moved to Plett a few years ago, and the rusk waves became fewer and farther between.  So it hit me that it was time to become the "tannie".
I didn't phone my mom for her recipe, but rather turned to my arsenal of local baking books, and came across a great looking buttermilk rusk recipe in "Huisgenoot Top 500 Wenresepte". To me, there are a few uncompromisable things that I need from a great rusk:
1) It has to contain enough fibre and good stuff for me to forget about the fact that I'm jamming a whole block of butter into it.
2) You have to be able to see and taste what is in it (not just a fine brown haze of crumbs)
3) It has to be a great size and shape – grippable and dippable into any standard coffee mug
4) It needs to be easy to prepare: preferably just mixing everything together and chucking it into an oven.
So that is what I found in the recipe for "Neutbeskuit". I changed a few of the ingredients (like swopping the muesli and apple for linseeds and oats), changed the bread pans to flat baking tins, and came up with a DELICIOUS rusk which is now my household brand, and something that my kids hopefully will be proud of one day! To me, it is the new generation of the "best rusk in town", and I would be proud if anyone wants to call me "THAT tannie".
Tannie Ilse's DELUXE RUSKS:
1kg self-raising flour
2 t salt
2 t baking powder
2 cups brown sugar
1 cup sunflower seeds
1 cup linseeds
100g roughly chopped pecan nuts (I sometimes substitute this for 1/2 cup sesame seeds)
1 cup oats
1/2 cup desiccated coconut
2 cups all bran flakes
2 eggs (I use jumbo size)
500g butter, melted
2 cups buttermilk
Preheat oven to 180  degrees Celsius. Mix all the dry ingredients together with a wooden spoon. Whisk eggs and buttermilk together lightly, and add with melted margarine to dry ingredients. Mix well with wooden spoon. Distribute with greased spatula into 2 x greased flat standard baking tins (like the ones you use to bake cookies). Bake for 45 minutes, one pan above the other, swopping the 2 pans around half-time so that both can get the same heat from above and from below. Turn out onto wire racks to cool slightly. Turn heat down to 90 degrees Celsius. Cut rusks into "fingers", arrange on oven racks, and return to oven to dry out for 3 hours. Turn the oven off and open the door to cool completely. Store in an airtight container.