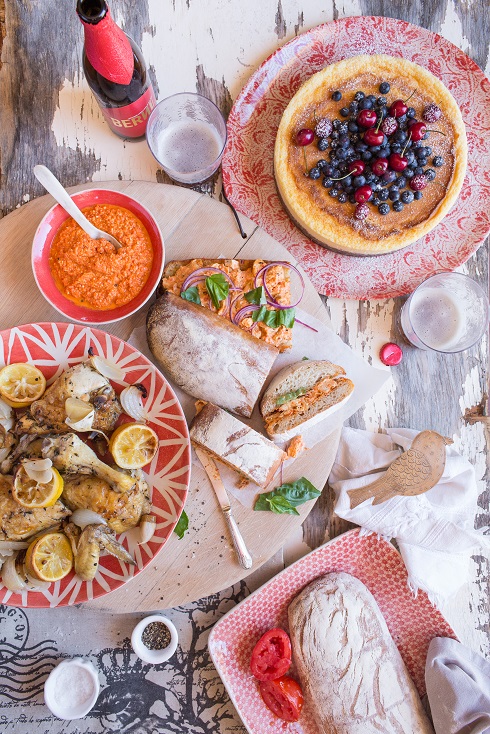 If there is one word that sums up 2013 for me, it would be "inspiration". This year has been a great year of being surrounded by truly inspirational peers, clients and friends, and it is the theme of this 3 part festive series that I have put together in association with Poetry Stores.
We've reached the end of 2013, and we are all starting to get ready for a well-deserved break! I've teamed up with Poetry Stores to bring you fantastic ideas and inspiration for festive meals, recipes, gifts, decor and homeware. With each part of this series I have chosen a recipe book from Poetry's collection, featuring 4 or 5 of the most scrumptious recipes from each book, along with a selection of beautifully festive homeware that you can use to decorate your table or wrap as Christmas gifts to your nearest and dearest. Remember that recipe books also make amazing Christmas gifts, and they keep on giving us fresh ideas right through the year!
For the first feature, I have chosen the theme of "A Casual Summer Holiday Lunch" with recipes from Café Food at Home by Evan Faul from Quivertree Publications (available from Poetry Stores). Evan is a master at baking, so I simply had to try his recipe for ciabatta. He also features a beautiful recipe for a sandwich in his book, made from the same ciabatta, and filled with garlic & thyme roasted chicken, red pepper pesto & mayonnaise, fresh basil leaves and finely sliced red onion, and I couldn't resist. For dessert, I chose Evan's recipe for a white chocolate cheesecake with a chocolate biscuit crust, topped with fresh seasonal berries – a show stopping dessert!
Evan's book is filled with easy, scrumptious recipes of the food that I really love to eat: it is unpretentious, beautifully photographed, and lipsmackingly delicious. Café food, bistro food, inspiration for laid back holiday food. Serve with you favourite beer or some ice cold white wine.
Poetry's range of beautiful wooden boards, Wonkiware platters and inhouse tableware will make any feast look picture perfect.  Here's what we've used in the pictures:
Baguette board:  Small baguette board R199
Large Wonkiware regtangular trough: R599
Wonkiware bowl: R140
Tumbler glass: R40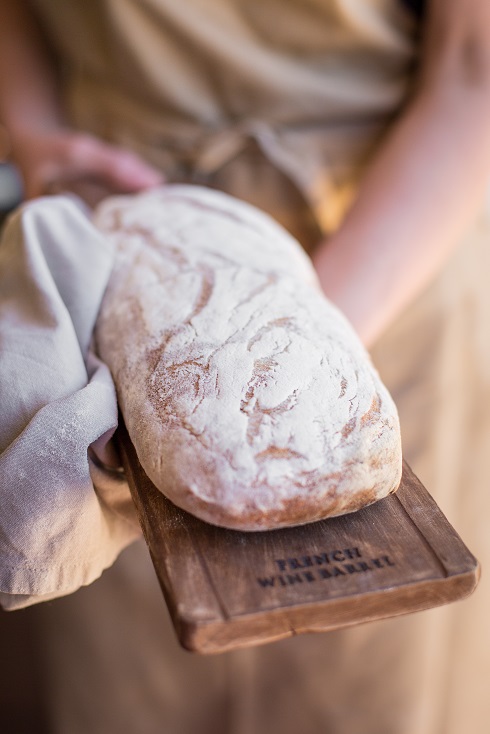 Ciabatta: Ingredients
For the "rustic poolish" (starter dough):
400 ml cold water
270 g bread flour
130 g unsifted wholewheat flour
3 g instant yeast (about 5 ml)
For the ciabatta loaf:
375 g bread flour
2 g instant yeast
375 g rustic poolish (see above)
10 g salt
240 ml iced water
Method:
For the rustig poolish, place all the ingredients in the bowl of your stand mixer, then mix well for a couple of minutes with your flat beater. Transfer the mixture to a plastic container, and cover with a damp cloth. Place in the fridge overnight for use the next day.
The next day, place the rest of the ingredients except the salt and water in the mixer. Mix for 3 minutes on slow speed while adding the iced water.  Mix for 4 minutes on medium speed.
Keep on mixing while you add the salt. Mix for a further 6 minutes on medium speed. Transfer to a clean, lightly oiled container, cover with a damp cloth, then leave in a warm area in the kitchen to ferment for 2 hours. Fold the dough after 4o minutes, and again after 80 minutes.
Turn out the dough onto a flour-dusted work surface. Dust the surface of the dough with flour, using a sieve to avoid any lumps. Gently stretch the dough into a rectangle using your hands.
Carefully divide the dough into 2 portions. Roll the pieces very gently in the dusting flour so that they are evenly coated. Place the dough portions on a well floured cloth and prove for 60 minutes.
Place a terracotta baking stone (if you have one) in the oven, and preheat the oven to 250 C for at least an hour before baking.
Transfer the breads onto a teflon sheet. Mist the oven with water using a spray bottle, before loading the loaves on the hot stone in the oven (I don't have a baking stone, but I preheated a normal baking tray). Bake for 15 minutes, then reduce the temp to 220 C for a further 10 minutes. The bread should be golden brown. Remove from the oven and let it cool.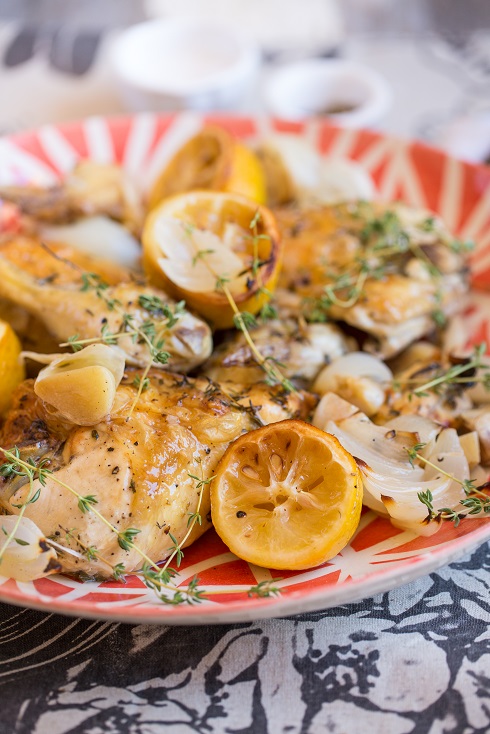 Chicken, lemon & thyme roast:
1 whole head of garlic
10 free-range chicken thighs and breasts on the bone (I used a mixed pack of chicken pieces)
75 ml good quality olive oil
small bunch fresh thyme
salt and pepper
2 lemons
2 onions, peeled
Method:
Pre-heat the oven to 200 C.
Cut the head of garlic in half horizontally. Use it to rub the skin of the chicken pieces. Break up the head of garlic but do not peel the cloves.
Place the chicken pieces and garlic in a bowl. Add the olive oil, thyme and seasoning. Cut the lemons in half, and cut the onions in 1/8 segments. Add the lemons and onions to the bowl, then use your hands to gently toss all the ingredients together. Tip it out onto a flat roasting tray lined with foil, then spread them out in a single layer, chicken pieces skin side up.
Roast for 25 minutes until the chicken is crisp, brown and juicy. (I turned down the oven to 180 C and roasted for another 20 minutes).
Remove the chicken from the oven, then use tongs to squeeze the caramelized lemon over the meat before serving.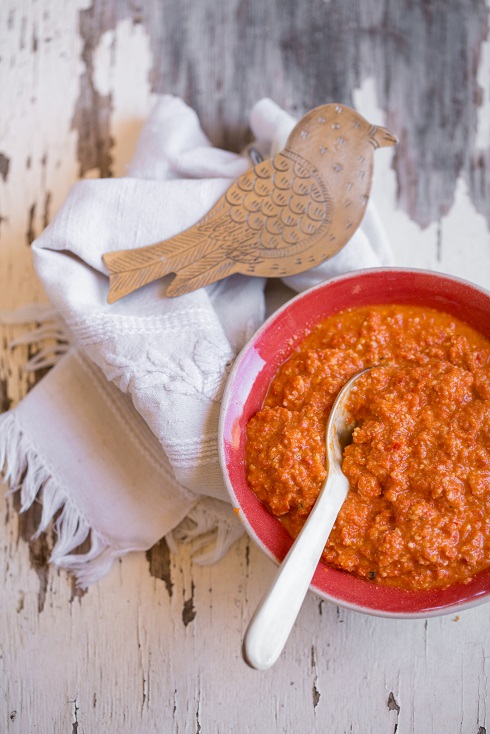 Roast tomato & red pepper pesto:
2 large red peppers, cored seeded and cut into quarters
2 ripe tomatoes, cut into quarters
15 ml olive oil for roasting
1 clove  garlic, peeled and roughly chopped
60 g parmesan cheese, finely grated
35 g pine nuts
25 g cashew nuts
5 ml balsamic vinegar
20 g basil leaves (optional)
100 ml good quality olive oil for blending
salt & pepper
1 lemon
Method:
Pre-heat the oven to 180 C.
Arrange the peppers and tomatoes skin sides down on a roasting tray. Drizzle with oil and roast for 15 minutes.
Place the garlic, cheese, pine nuts, cashew nuts, and vinegar in a food processor and blend together gently. Add the roasted peppers, tomatoes and basil (if using) and blend at low speeds.
With the processor running, slowly add 100 ml oil in a steady stream (depending on the thickness you require, adjust the amount of olive oil). Season to taste and finish off with a squeeze of lemon juice.
Place in an airtight container or in a sterilized glass jar in the fridge – it should keep for about 2 weeks in the fridge.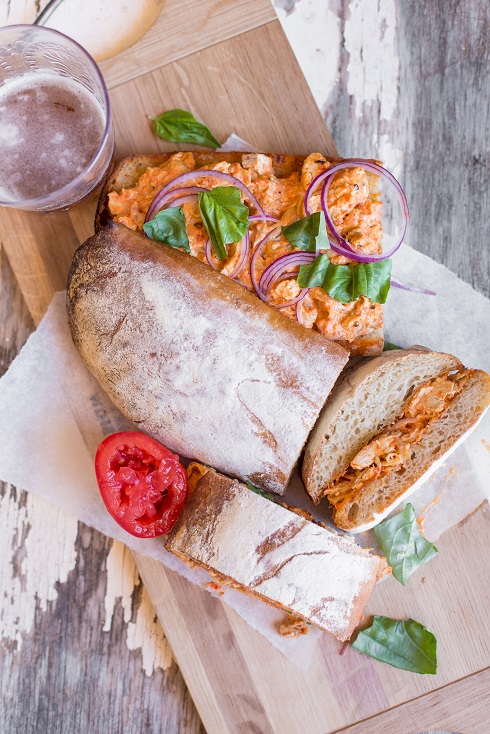 Roast chicken sandwich:
400 g lemon chicken & thyme roast (see above)
100 g roast tomato & red pepper pesto (see above)
100 g mayonnaise
10 g smoked paprika
salt & pepper
1 loaf ciabatta (see above)
100 ml good quality olive oil
1 garlic clove, peeled
1/2 tomato
1/2 red onion, finely sliced
a few basil leaves
a few gherkins
Method:
Flake the chicken from the bone, then add the pesto, mayo, paprika and seasoning. Mix well.
Slice the ciabatta in half lengthways. Drizzle the cut sides with olive oil and season with salt & pepper. Toast under a hot grill under golden brown.
Remove bread from the oven, then rub with garlic and then with the cut side of the tomato half.
Spread the bread with the chicken mayo mixture. Layer red onion and basil leaves on top and cover with the other half of the toasted bread. Slice into portions and serve with gherkins on the side.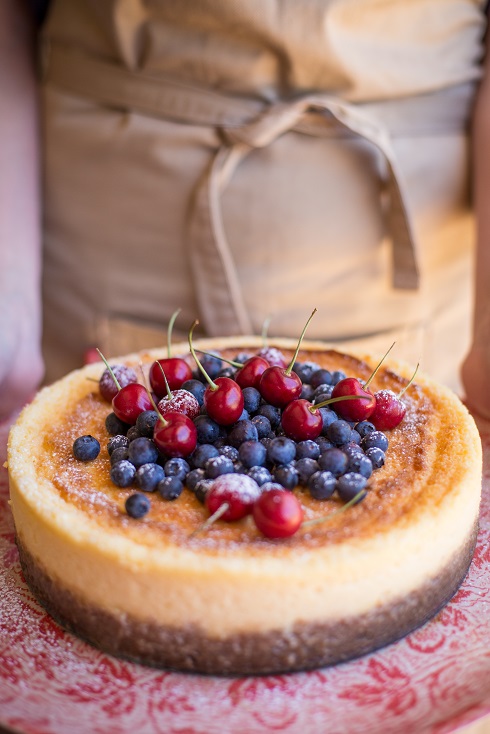 Baked white chocolate cheesecake:
200 g chocolate biscuits
90 g butter, melted
400 g best quality white chocolate
750 g full fat cream cheese, at room temperature
5 ml vanilla extract
230 g sugar
3 large eggs
250 ml single cream, chilled and whipped
mixed seasoning berries, to serve
Method:
Crush biscuits in a food processor, then mix in the melted butter. Press mixture firmly into the bottom and sides of a well-greased 23 x 8 cm springform cake tin.
Pre-heat oven to 150 C.
Break chocolate into chunks and place in a glass or metal bowl. Melt gently over a pot of simmering water.
Beat cream cheese lightly with a hand blender. Add vanilla extract, sugar and melted chocolate and mix well.
Beat in the eggs, one at a time, and then fold in the whipped cream. Pour onto the prepared biscuit crust, then bake for 1 hour.
Switch off the oven and allow the cake to cool completely in the oven before removing from the tin.
Serve with seasonal berries.
Credits:
All recipes by Evan Faul, from his book Café Food at Home.
Food preparation & text: Ilse van der Merwe of The Food Fox
Photography: Tasha Seccombe
Styling: Ilse van der Merwe & Tasha Seccombe
Homeware: Poetry Stores