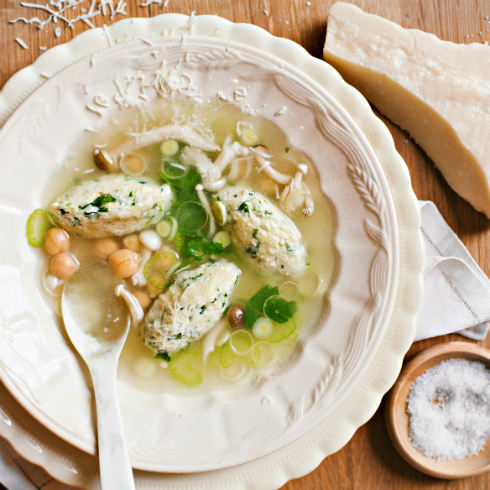 Although most people associate soups with substance and texture, there is something strangely mesmerizing about an understated, translucent broth. This fragrant liquid can pack surprisingly bold flavours and is a fantastic vessel for carrying beautiful treasures like bright vegetables, botanical herbs, curly noodles or delicate dumplings.
My recipe for spinach & ricotta dumplings in a chicken & herb broth is actually 2 dishes in one. The dumplings are cousins of Italian gnocchi – a comforting dish that I usually serve with a bright red pommodoro sauce and grated parmesan cheese. The broth is a light version of traditional American chicken soup that is often associated with "getting better soon", but also fabulous as a flavoursome home-made stock for making risotto.
This is one of the most comforting meals that I can possible imagine, especially in the cold weather that we're experiencing in the Cape Winelands. Serve it as a light lunch/dinner with grated parmesan cheese and some buttered toast to soak up the broth.
TIP: Make the broth first, then keep it warm while you cook the gnudi. The broth also freezes well.
For the chicken broth: (serves 6)

1,5 litres (6 cups) water
400 g frozen chicken necks, thawed
1 large knob of ginger, sliced
2 cups sliced leeks
3 celery sticks, sliced
1 onion, sliced
1 carrot, peeled & sliced
a handful of parsley stalks
1 clove garlic, sliced
1-2 chicken stock cubes, crumbled
salt & pepper
Method:
Place all the ingredients for the broth in a medium stock pot and bring to a boil. Turn down the heat and cover with a lid, then simmer for 30 minutes. Remove from heat and leave to infuse for another 30 minutes, uncovered, then strain through a sieve. (Keep the solids for processing with your next soup or use in your next stew.)
For the gnudi/dumplings:
15 ml olive oil
200g baby spinach leaves
450-500g ricotta cheese (about 2 cups)
1 large egg, lightly beaten
1 large egg yolk, lightly beaten
1/2 teaspoon (2.5 ml) salt
1/2 teaspoon (2.5 ml) freshly ground black pepper
1/2 cup (125 ml) finely grated Parmesan cheese (preferably Parmigiano Reggiano, or Grana Padano) plus more for serving
1/2 cup (125 ml) all-purpose flour plus more
1/4 cup finely chopped Italian parsley (optional)
Method: In a large pan, heat the olive oil and sauteé the spinach over medium heat for about 5 minutes until just wilted. Remove from heat and set aside to cool slightly. In a large mixing bowl, add the ricotta, egg and yolk, salt, pepper, parmesan and flour. Roughly chop the cooked spinach, then add it with the parsley to the rest of the ingredients. Mix well with a wooden spoon until it starts to form a coarse-looking ball. Lightly dust a rimmed baking tray with flour. Using 2 large dessert spoons, shape heaped tablespoonfuls of dough into football shapes, then place on the floured tray and dust with a little more flour (you should have about 30). Bring a large pot of salted water to the boil. Carefully add the gnudi, then cook for 4 minutes until cooked through and tender (gnudi will quickly float to the surface; continue cooking or they will be gummy in the center). Using a slotted spoon, remove gnudi from water and divide among bowls.
To assemble:
1 batch chicken broth
a cup of finely chopped mixed vegetables (leeks, celery, mushrooms)
1-2 teaspoons finely grated ginger
1 small clove garlic, finely grated
a handful of parsley leaves
1 can chickpeas, drained & rinsed
cooked gnudi (about 4 per person)
finely grated parmesan cheese
Method: Bring the broth to a slow simmer. Add the finely chopped vegetables, ginger, garlic, parsley & chickpeas, then remove from the heat and let it stand for 5 minutes. Ladle into bowls with the freshly cooked gnudi, then top with grated parmesan. Serve immediately.
Credits:
This post was originally written for The Pretty Blog.
Text & recipe: Ilse van der Merwe
Photography & styling : Tasha Seccombe
Venue for shoot: the demo KITCHEN