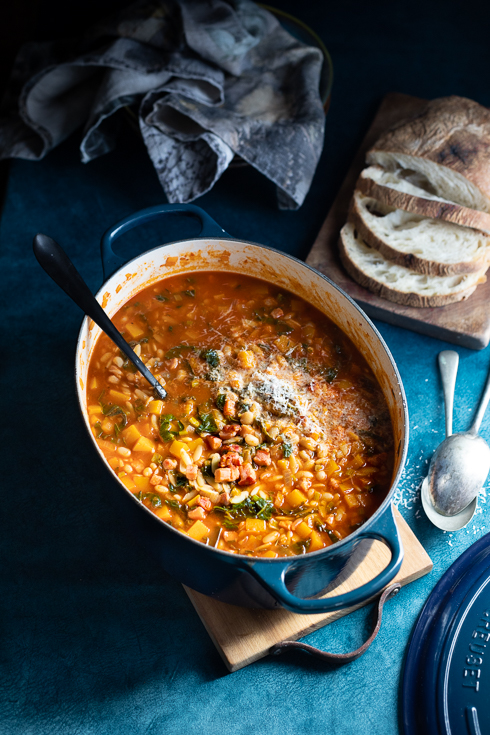 While completing the last batch of photographs for my new cookbook with Tasha Seccombe during February this year (due for launch in September), I collaborated with Le Creuset SA in providing me access to the most beautiful array of cast iron casseroles and ceramic servingware for styling purposes. One of the items that I particulary fell in love with, was this beautiful 31 cm (6,3 liter) oval casserole in Agave – a mesmerizing blend of dark teal and inky navy that seems to change in different lighting. It is probably the most beautiful Le Creuset casserole I've ever seen, to be honest. Mysterious, intense, regal.
For my cookbook, I used it to showcase a ridiculously tasty pulled pork dish (more to be revealed later), but in the meantime, I've reserved a few dishes to try in this new oval addition to my Le Creuset kitchen family. I baked an enormous oval mosbolletjie pull-apart potbread for Easter, which was so good I didn't even take photos, we just gobbled it down with lashings of farm butter and a crowd of friends. This is the kind of casserole that you pull closer for special occasions and larger feasts, not only because of the size but also because of its royal look and feel.
On a recent visit to my favourite pork butchery & deli, I laid my eyes on some smoked kassler steaks, a beautiful bunch of seasonal kale and freshly picked butternut. I wanted to make a seasonal meaty smoky Italian-style vegetable soup – the kind of feel-good food that makes me excited about simple ingredients, about local produce and about cooking from scratch. Glugs of extra virgin olive oil to serve, generous gratings of aged parmigiano, fresh ciabatta for dipping. Life cannot get more delicious in these moments.
Here's my easy recipe for a simple, seasonal, hearty, smoky and meaty minestrone using small haricot beans and rosmarino pasta. The yield is large, so if you don't have a bunch of friends over you'll be able to freeze numerous batches for when you're too lazy too cook – trust me, you'll thank me later. If you also own a very large cast iron casserole, this is the recipe to make it shine.
Ingredients: (makes about 4,5 liters; serves a crowd)
Note: All veg are peeled before dicing/chopping. You're looking for a small dice of maximum 1 x 1 cm for best results, but to speed things up you can certainly also pulse in a food processor.
45 ml extra virgin olive oil (plus extra for serving)
about 450 g boneless smoked pork, diced (I used kassler steaks, but you can also use neck steaks or even thick cut bacon)
2 onions, finely chopped
a small bunch kale, stalks chopped separately, leaves shredded separately
2 large carrots, diced
4 cloves garlic, finely chopped or grated
2 tablespoons smoked paprika
1 small/medium butternut, diced
2 x cans whole tomatoes, pureed in a blender
2 stock cubes, dissolved in 1 liter boiling water (chicken or vegetable flavour)
2 x cans cannelini beans, drained
250 g dried rosmarino or orzo pasta
salt & pepper, to taste
up to 1 liter boiling water extra, according to desired thickness
grated parmesan cheese, for serving
Using a big cast iron casserole (I used a 31 cm oval Le Creuset casserole with a capacity of 6,3 liters) over medium high heat, heat the oil and add the cubed pork. Fry until lightly brown, then add the onions, kale stalks and carrots. Fry for another 2 minutes, then add the garlic and smoked paprika, stirring for a minute. Add the butternut, pureed tomatoes, dissolved stock cubes in water and beans, and bring to a simmer. Cook for 10 minutes, then add the pasta and shredded kale leaves, seasoning generously with salt & pepper and stirring well. Return to a simmer for 10 minutes, stirring often as the pasta tends to stick to the bottom easily, then remove from the heat and leave to stand for 10 more minutes. Taste and add more salt & pepper if necessary. Add more boiling water if you soup is very chunky (I added a full extra liter of water, as the pasta continues to absorb water on standing). Serve hot in bowls with a generous grating of parmesan and a drizzle of extra virgin olive oil, with or without bread for dipping. Note: The soup freezes and reheats very well – freeze in smaller portions for easy midweek access.