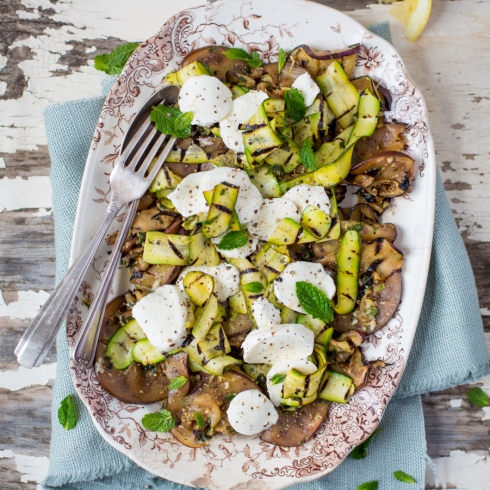 One of my go-to tapas when I entertain friends, is a simple dish of grilled aubergines, marinated in olive oil, lemon juice, garlic and fresh mint. I have served it so many times, mostly as a topping on brushetta, and everytime without fail people ask me how I make it. It is just a hit!
I have decided to take this popular dish to new heights by turning it into a larger salad with the addition of grilled courgettes and bocconcini (or fior di latte). This way, you can serve it as a side dish accompanying a main meal, or even just with some sour dough bread as a light lunch. This salad contains quite a bit of fresh garlic, and I love the way it makes me long for the Italian countryside! But if you don't really like garlic, you can leave it out completely.
You'll be amazed by how far you can stretch 1 or 2 aubergines with this recipe. You are also welcome to add some fresh rocket leaves or other salad leaves of your choice.
Ingredients: (serves 6)
1 large aubergine (or 2 medium)
6 courgettes
125 ml extra virgin olive oil
juice of 1 lemon
about 1 teaspoon finely grated lemon rind
2-3 garlic cloves, finely crushed
a handful of fresh mint, finely chopped
1/2 teaspoon of dried mint (optional)
salt and freshly ground black pepper
Method:
Use a mandolin cutter to finely cut the aubergine into very thin slices. The key to this dish is the thinness of the slices – it should be paper thin. Use a knife or a vegetable peeler to finely cut the aubergines into strips (they can be slightly thicker than the aubergines because their texture is easier to work with). Set them aside.
In a small mixing bowl, mix the olive oil, lemon juice & rind, garlic and mint.
Heat a griddle pan over high heat until it is very hot – takes about 5-8 minutes. Now grill the slices of aubergine/courgettes one batch at a time (without adding any oil), not overlapping the slices, turning them once, until they have brown griddle marks on each side (it takes 1-2 minutes a side). Remove with tongs, then place them on a plate next to each other, but not overlapping. Add another batch of slices to the pan and grill.
While you are waiting for your next batch to grill, use a tablespoon to spoon some of the marinade over the grilled aubergines/courgettes on the plate, then season lightly with salt and pepper. Top with more grilled aubergines, then spoon over more marinade and season. Repeat until all the slices have been grilled and all the marinade have been spooned over. At this stage, you can cover it and refrigerate until later.
Assemble the salad: use a fork to arrange slices of the vegetableson a large platter – because they are so thin, it looks great to fold them and stack them loosely. Top with slices of bocconcini / fior di latte (fresh mozzarella), and serve with good quality fresh bread like sour dough or ciabatta. A few extra wedges of lemon and a few mint leaves complete the picture. Enjoy!
Credits:
This post was especially written for The Pretty Blog by Ilse van der Merwe from The Food Fox.
Recipe, food preparation and text: Ilse van der Merwe.
Photography: Tasha Seccombe.
Styling: Nicola Pretorius & Tasha Seccombe.