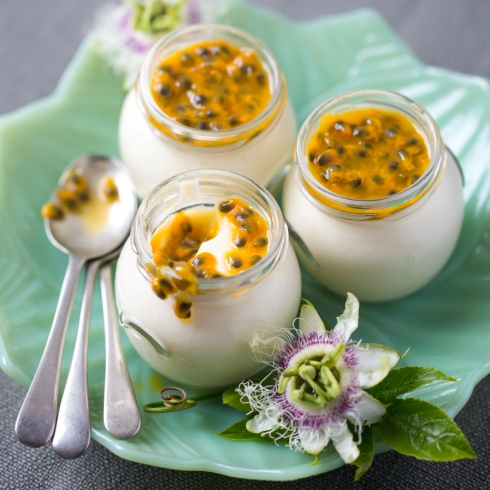 With the promise of Summer in the air, most of us are abandoning heavier baked puddings for a lighter version of delight. Pannacottas are great for entertaining, because they can be made in advance, and they are usually served as individual portions (I love getting my very own bowl or glass of dessert).
These easy pannacottas are made with Greek yoghurt instead of cream or milk, and I love the extra tang that it provides. Knowing that you're eating yoghurt and fresh fruit for dessert is such a comfort for the upcoming warmer (lesser clothed) months, because you don't have to feel guilty for a second!
These little smooth pots look, smell and taste like summer in a jar – pure bliss.
Adjust the sugar content to your taste, and according to the sweetness/tartness of the passion fruit pulp that you are using.
Ingredients:
(recipe adapted from Katie Caldesi's The Italian Cookery Course, available from Poetry Stores)
1 sachet (15 ml / 10 g) powdered gelatine
½ cup cold water
½ cup passion fruit pulp (from about 6 or 7 passion fruits, or use canned passion fruit pulp)
100 g caster sugar (or less if the passion fruit is already very sweet)
750 ml (3 cups) Greek yoghurt
Method:
Mix the gelatine powder and cold water, and leave to sponge (about 5-10 minutes).
On the stovetop using a small saucepan, heat the passion fruit & sugar over medium heat and stir until the sugar has dissolved. Now add the sponged gelatine and stir until the gelatine has dissolved completely. Don't let it boil – turn the heat down to very low.
Strain the warm passion fruit mixture through a sieve to remove any seeds. Then add it to the yoghurt and stir well.
Pour the mixture into moulds or glasses – pannacotta don't need to be turned out, so I like to serve it in beautiful glass jars or glasses. Refrigerate for a few hours or until set, then top with more passion fruit pulp before serving.
Credits:
This post was especially written for The Pretty Blog by Ilse van der Merwe from The Food Fox.
Recipe adaptation, food preparation and text: Ilse van der Merwe.
Photography: Tasha Seccombe.
Styling: Nicola Pretorius & Tasha Seccombe.