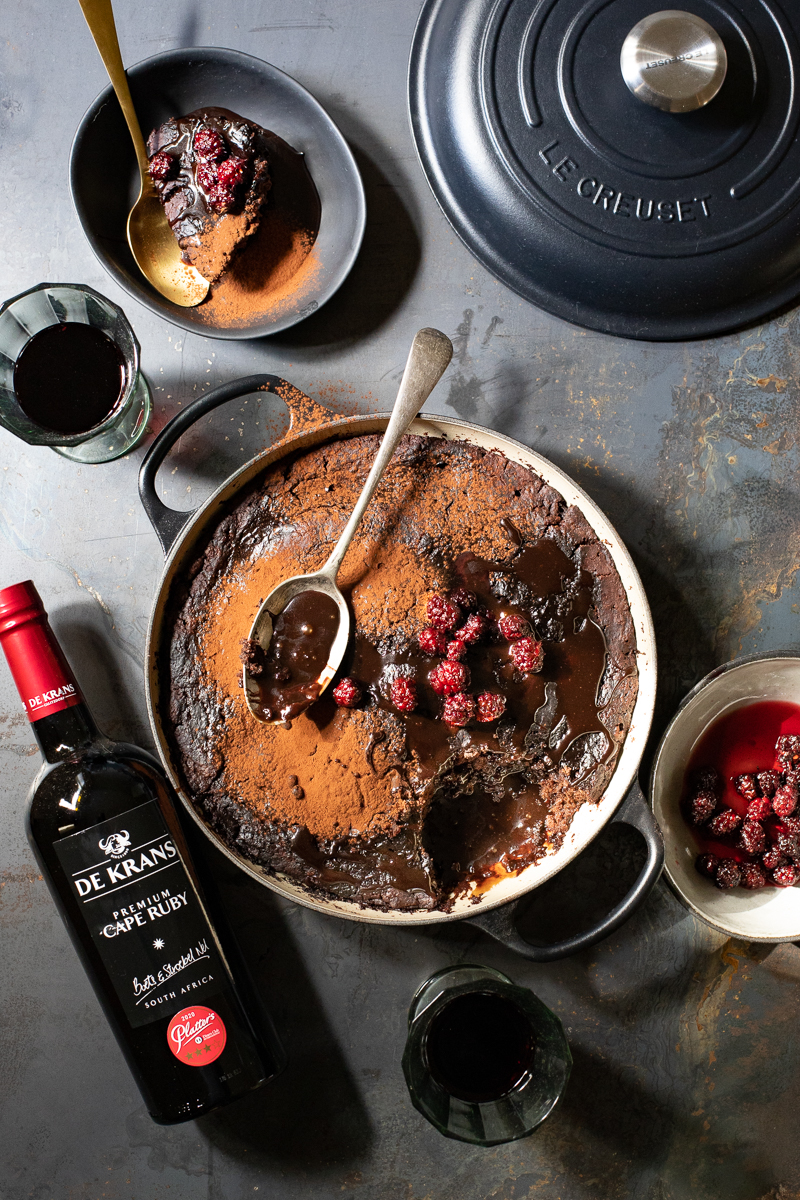 Winter has arrived in full swing and with it comes the urge to cozy up and indulge in a few comforts. Two of my favourite winter comforts in the Boland are steamy baked puddings and fortified wines. But if I can combine the two, I'm in heaven.
I've seen quite a few recipes for baked puddings with Cape Tawny, but I haven't yet come across a baked pudding featuring Cape Ruby. De Krans makes one of the best Cape Ruby's out there – an award winning wine that doesn't come with a debilitating price tag. At R85 a bottle it's affordable, and once opened it can last on the shelf for a few months. I've created a self-saucing chocolate pudding featuring De Krans's Cape Ruby in the sauce. The result is a dark, sultry chocolate pudding with the underlying flavour nuances of fortified red fruit – amplified with the addition of a glass of Cape Ruby on the side.
It's easy to make and you can optionally serve it with vanilla ice cream and/or some poached red fruit like mulberries, black figs, cherries or plums (canned fruit is also fine) – even quince or pears will work.
This is a wonderful pudding to make for this weekend's upcoming Father's Day celebrations. Remember to rather underbake this pudding (like a fondant) than overbake it – otherwise the saucy business at the bottom will disappear. For extra sauce lovers, I've included a simple chocolate sauce recipe at the bottom that you can use to elevate the sauce levels upon serving.
Hope you're staying safe and warm this winter.
Note: While most self-saucing chocolate pudding recipes serve 6, I'm always looking for leftovers. That's why this is a bigger pudding – not necessarily to serve more people, but to have more servings for the few who are already enjoying it.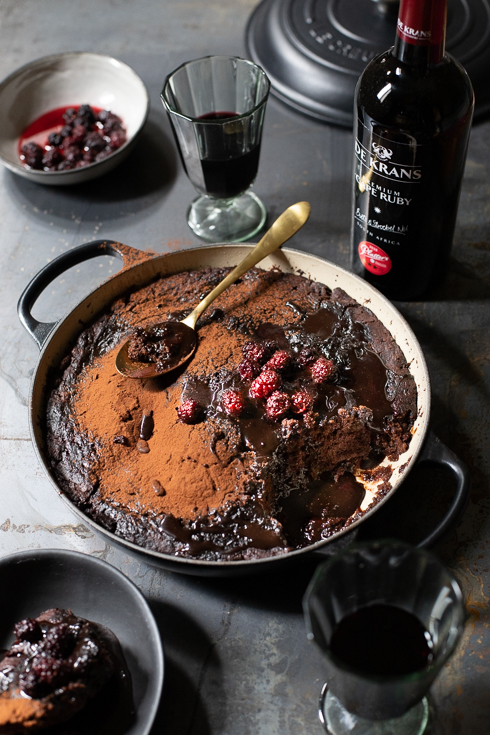 Ingredients: (serves 8)
For the batter:
1,5 cups (185 g) cake flour
1,5 (7,5 ml) baking powder
1/2 teaspoon (2,5 ml) salt
3/4 cup (150 g) light brown sugar
1/3 cup (40 g) cocoa powder
90 g butter, melted
3/4 cup (180 ml) milk
5 ml vanilla extract
1 XL egg
For the topping:
1 cup (250 ml) De Krans Cape Ruby
1/2 cup (125 ml) water
1/3 cup (40 g) cocoa powder (plus more for dusting, optionally)
1/3 cup (70 g) caster sugar
Method:
Preheat the oven to 160 C and grease a large deep baking dish (about 2 liter capacity) with non-stick spray.
Make the batter: In a large bowl, stir the flour, baking powder, salt, sugar and cocoa powder together. In a second bowl, whisk the melted butter, milk, vanilla and egg together, then add it to the dry ingredients and stir until well mixed. Pour into the prepared dish and smooth the top.
In a small pot over stovetop, heat the Cape Ruby and water to boiling point. While it is heating, mix the cocoa powder and caster sugar together and spoon all over the top of the batter. When the Cape Ruby and water mixture reaches boiling point, pour it all over the cocoa sugar topped batter. Place the baking dish in the oven and bake for 35-40 minutes or until the top is solid and the inside is a little still soft.
Serve warm, dusted with a little cocoa powder, with (optionally) poached/macerated fruit and vanilla ice cream.
For an even saucier option, make a simple chocolate sauce on the side:
60 g/ml butter
1 cup (200 g) white sugar
3 tablespoons cocoa powder
3/4 (180 ml) cup water
5 ml vanilla extract
a pinch of salt
In a small saucepan over medium heat, melt the butter, then add the sugar and cocoa powder and stir until well mixed. Add the water and stir well, then bring to a simmer. Stir often and simmer for 2 minutes, taking care not to let it boil over the sides. Remove from the heat, then add the vanilla and salt and stir to mix. Serve warm over ice cream and puddings. Will keep regfrigerated for at least a week.