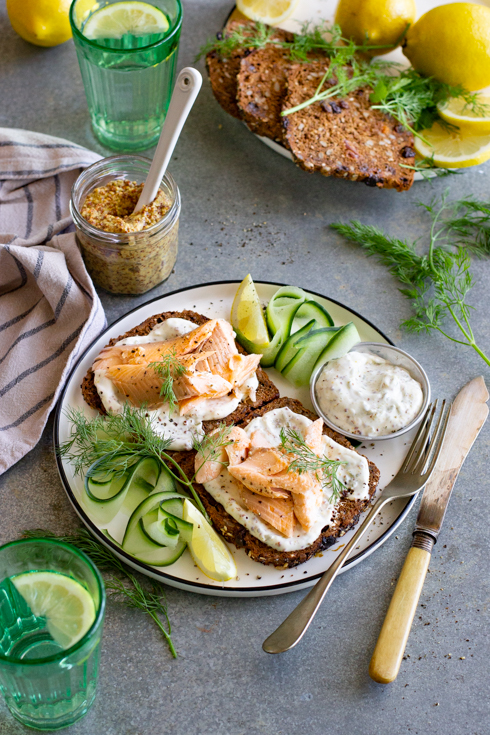 There are few things as delicious as hot-smoked trout. Perfectly flaky, buttery and tender, with a deeply aromatic smoky flavour. Hot-smoking is a technique that uses medium high heat and smoke to cure and cook fish simultaneously (different from cold-smoking that cures meat without cooking it), adding depth of flavour unlike regular cooking techniques like baking or pan-frying. 
As many of you know, my brother-in-law Gerhard Compion is a trout farmer on Lourensford Estate. Like so many other farmers, he's been severely affected by Covid19 circumstances and has had to adapt his fish crop for 2020 to a much smaller projected demand for harvest season later this year. This means that he had to prematurely harvest a large quantity of plate-size fish recently, in order to cut his losses in feeding these little guys into becoming big fish later this year (with possibly no market for them). These stunning, premium quality plate-sized trout have been gilled and gutted, vacuum sealed and flash-frozen in packets of about 1 kg each (2-3 fish per packet; some packets weighing slightly more than 1kg, but not less). 
Gerhard's beautiful trout are now available for sale at the Coffee Company at Lourensford Estate in Somerset West at R120 per 1kg packet – they have an online shop section and they deliver daily in immediate surrounds and weekly in Cape Town. Lourensford Estate will officially open to the public from next week Monday, so then you'll be able to buy & collect the fish directly from their coffee shop's freezer, if you prefer. 
The fish will only be available while stocks last for a limited time of up to 3 weeks, so stock up! Trout freeze exceptionally well.
Below is my step-by-step guide for how to hot-smoke trout at home. If you're not into hot-smoking, the fish can also be braaied over medium-hot coals over a grid (stuffed or not) or baked in the oven at 200 C for about 15-20 minutes.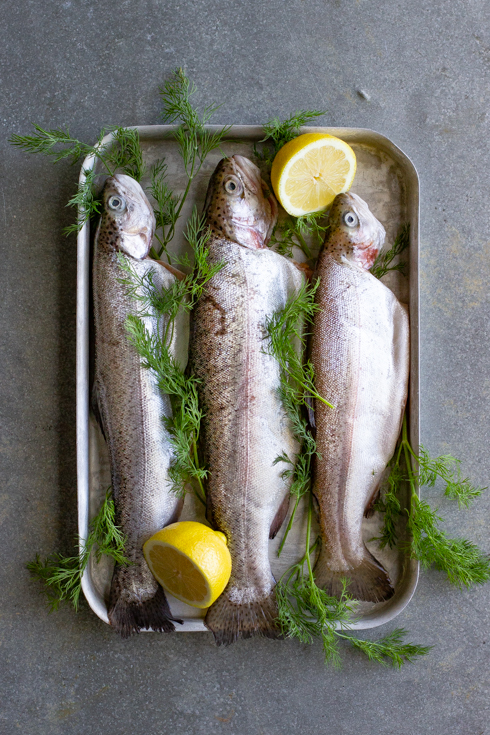 Start with clean, fresh trout that are gilled and gutted. If your trout are still frozen, place the vacuum-sealed packet of trout in a bowl/basin filled with room temperature to slightly tepid water for about 20-30 minutes — this is the best way to thaw it. Now open the packet, rinse the trout under running cold water and pat dry.
1.Using about 1,5 cups regular table salt or medium grain salt (a 500g bag of salt is very cheap, mostly under R10), sprinkle a thin layer of salt in a roasting tray, then place the trout on top. Cover the fish generously with more salt, also generously salting the insides of the bellies. Leave to "cure" for 20 minutes, then rinse the trout again and pat dry. Note: this process firms up the flesh and gives it more flavour.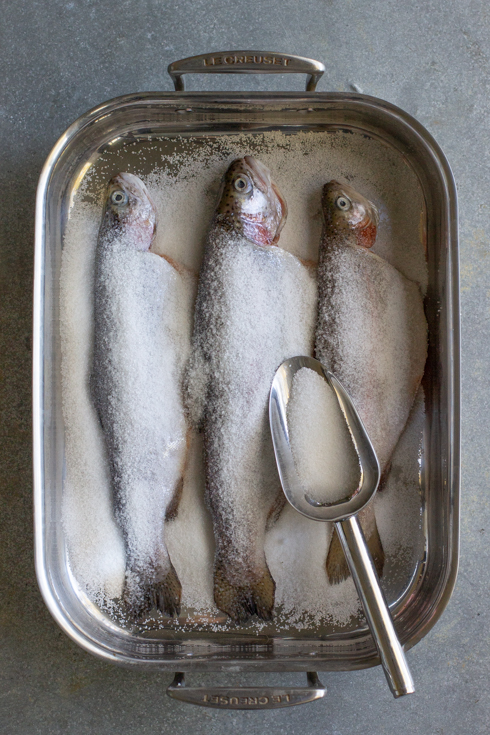 2. Prepare your smoking tray: using a regular steel roasting tray, line it with foil. Sprinkle a thin layer of sawdust ("French Oak Wine Barrel Sawdust" is sold at many supermarkets in the braai section – it costs around R47 and will last you a long time). Place a steel rack (regular cooling rack for baking) on top.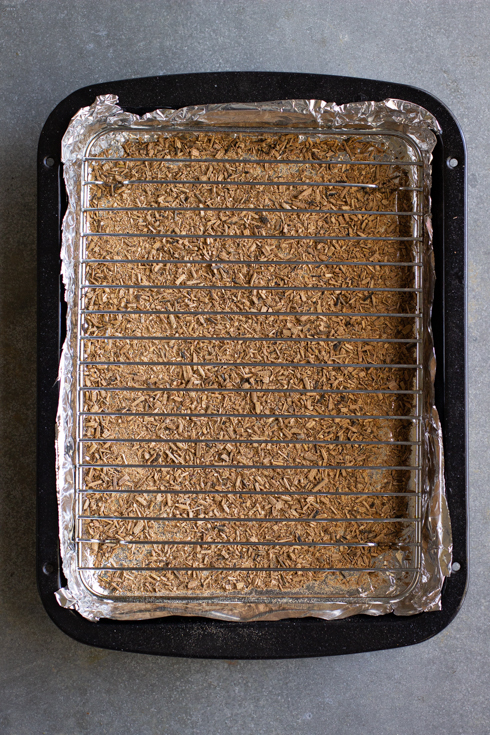 3. Lay the trout on the rack, and cover the tray tightly with foil.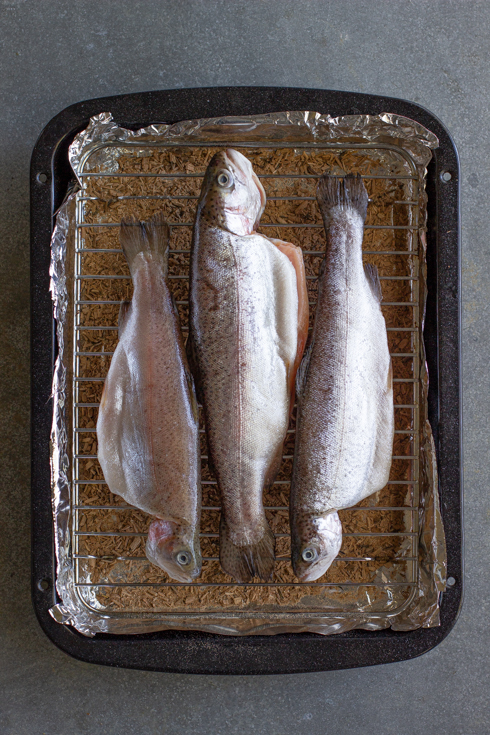 4. Place the prepared tray over direct heat (like a gas flame or oven hob) and heat until the sawdust starts to smoke – if you're doing this in your kitchen on the stove, make sure you have extraction, otherwise rather do it outside on a camping-style gas hob or over a fire in your braai place. Turn the heat down to medium-low, and smoke for 20 minutes in total without removing the foil cover. Throughout this process, you'll see some whifts of smoke escape from the sides of the foil – if the smoke disappears, just turn the heat up a litle until it starts to release more smoke. The skin of the fish will turn a deep copper colour when cooked.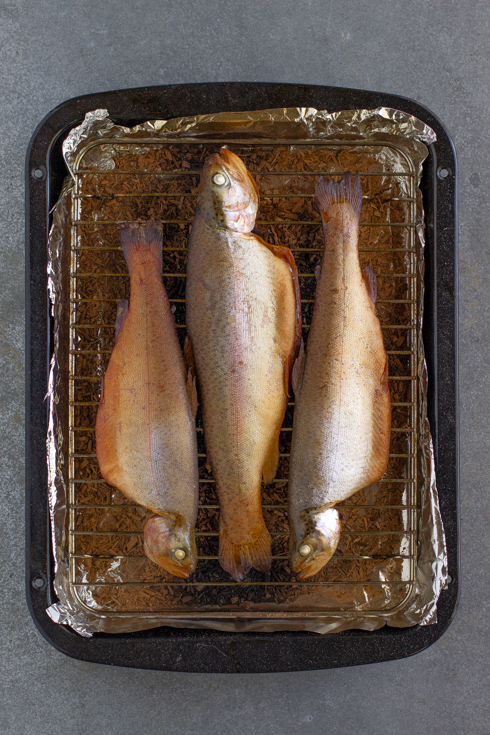 5. Carefully transfer the fish to a plate and peel the top layer of skin away. Moving with the grains of the bones, scoop the cooked flesh outwards to achieve boneless chunks. Enjoy as is, or with a salad, or on a sandwich, or in a pasta.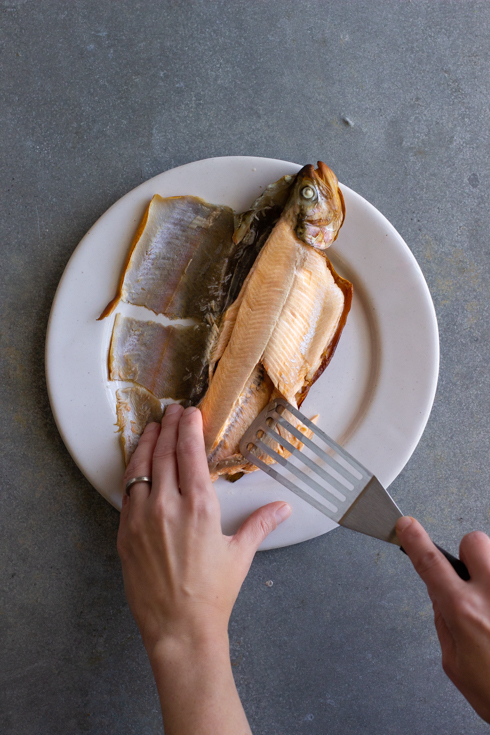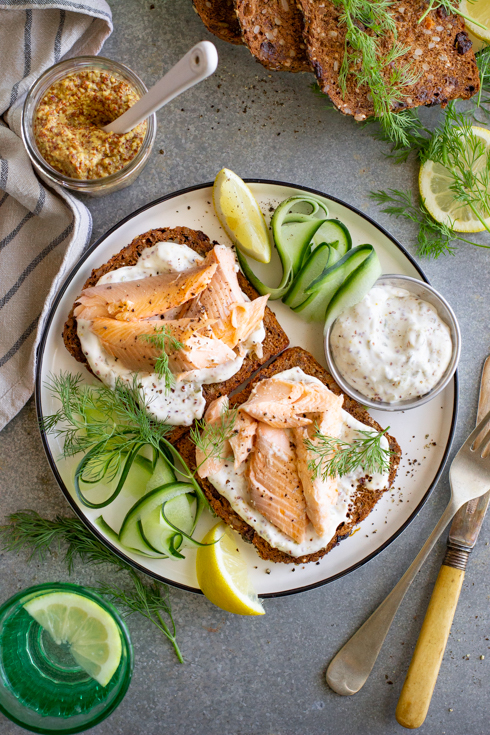 Here's an easy recipe for enjoying your hot-smoked trout on open sandwiches with tartare sauce:
For the easy tartare sauce: (makes about 1 cup)
3/4 cup mayonnaise
1 heaped teaspoon wholegrain mustard
2 tablespoons grated gherkins
Method: Mix together and refrigerate until needed.
For the sandwiches: (serves 6)
12 slices seed loaf, buttered if needed (or bread of your choice)
a few dollops of tartare sauce (see above)
a few chunks hot-smoked trout (see step-by-step how-to above)
fresh dill, to serve
fresh lemon slices, to serve
salt & freshly ground black pepper
Method: Lay the slices of bread on plates, then top with tartare sauce, trout and some dill. Finish with a squeeze of lemon juice, a sprinkle of salt and some freshly ground black pepper.