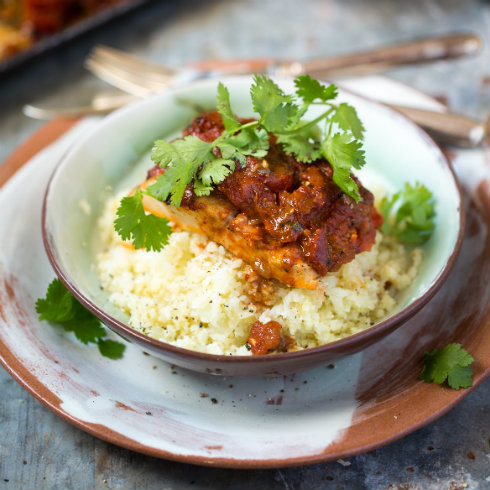 This whole food revolution (banting diet, paleo, whatever you want to call it) hasn't exactly caught my attention. Maybe it's because I'm a sugar loving pastry addict, to be honest.
To me, healthy eating involves balance and care when it comes to choosing ingredients. I don't eat salad all day, but I also don't cook with over-processed goods. Still, I do admire the fact that butter, cream and bacon fat has become such popular items in househoulds all over the world. Those three have been on my list of favourites for years.
I bought Tim Noakes's book a few months ago, and to my surprise I was delighted by the content. The recipes were simple, full of flavour and very much the stuff that I love to cook at home. Of course some ingredients were slightly different (like the wheat flour substitutes), but the dishes were beautifully photographed, had great variety and looked delicious.
At The Demo Kitchen people often ask me for low-carb menus, so I was forced to start paying attention. This recipe is inspired by Dr Noaks's book – fresh hake fillets baked in a spicy tomato sauce that include home-made harissa paste. The harissa keeps for weeks in the fridge and is great on almost anything. I especially also tried his cauli-rice, as so many of my friends love eating it.
This is a great, flavourful dish for anyone – banter or non-banter. Serve with couscous or rice if you don't like cauliflower.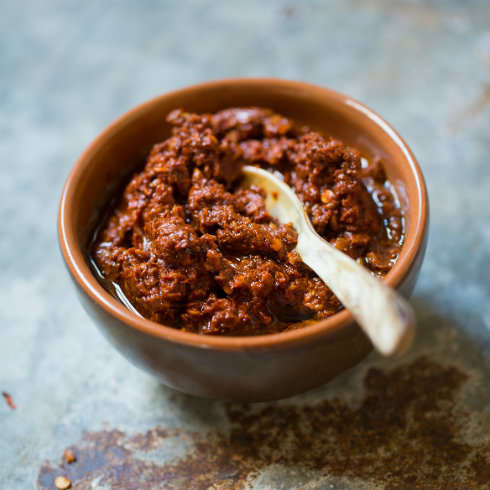 Ingredients for harissa paste:
40g dried smoked red chillies, soaked in 125 ml boiling water for 10 minutes
2 cloves garlic
15 ml ground coriander
15 ml ground cumin
15 ml fennel seeds
2,5 ml salt
60 ml olive oil
Method:
In a small food processor bowl, process all the ingredients together to get a slightly chunky paste. Place in a glass jar, cover with a little extra olive oil, then cover and refrigerate until needed. Will keep for at least 2 weeks in the fridge.
Ingredients for spicy tomato sauce:
30 ml olive oil
30 ml butter
1 onion, finely chopped
2 cloves garlic, finely chopped
2 teaspoons (10 ml) cumin
1/2 teaspoon (2,5 ml) cinnamon
2 teaspoons (10 ml) smoked paprika
2 cans whole tomatoes, diced, or processed to a pulp
2 tablespoons (60 ml) harissa paste
rind of a small lemon, finely grated
salt & pepper
Method:
In a medium saucepan, heat olive oil and butter, then fry onions over medium heat until soft.
Add garlic and fry for a minute. Now add spices and fry for another minute.
Add tomatoes and harissa paste, then bring to a slow simmer and simmer for 15 minutes, stirring often.
Add lemon rind and season to taste with salt & pepper. Set aside.
For the baked hake:
1.5 kg white fish fillets, portioned into individual pieces
1 batch spicy tomato sauce (see above)
fresh coriander leaves, to serve
cauli-rice or cous-cous or rice, to serve (optional)
Method:
Grease or line a large baking tray, then lay the fish portions out without them touching one another. Cover with a generous layer of sauce, then baking at 200 C for 15-20 minutes, depending on the thickness and size of the fish. Do not overbake.
Serve hot topped with fresh coriander leaves.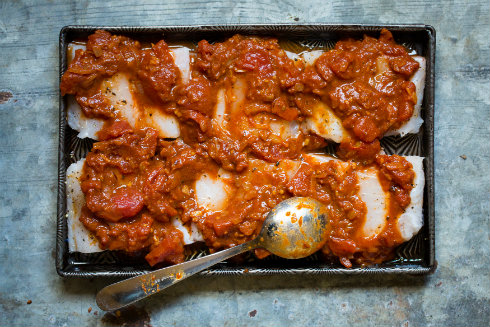 Credits:
This post was originally written for The Pretty Blog by Ilse van der Merwe from The Food Fox.
Recipe, food preparation and text: Ilse van der Merwe
Assistant: Elsebé Cronje
Photography: Tasha Seccombe
Venue for shoot: the demo KITCHEN