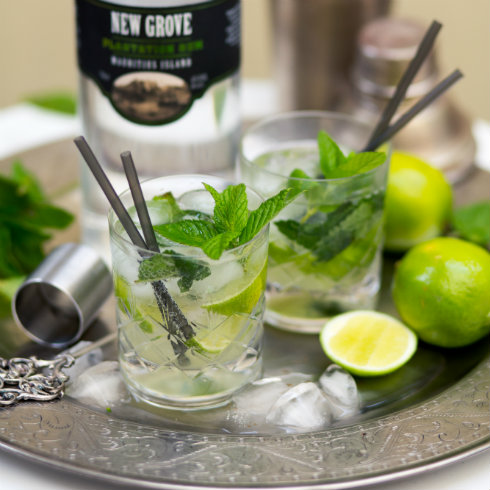 Silly season is upon us. I can feel it in the warm air here in Stellenbosch, and smell it on the slight breeze that is blowing through the bright green oak trees. It's a feeling of "the year is almost over and it's time to let your hair down".
Although we live in wine country, my friends and I just love a good cocktail to start a relaxed dinner party. Some cocktails have a reputation for being "chick drinks", but not a mojito. Classic mojitos are loved by pretty much everyone. They are just so intensely fresh tasting with all the mint and lime muddled in there, and I love the way that they're mostly served in whiskey glasses. You can make yours as strong or as sweet as you want, or add a little more soda and it's a light and refreshing spritzer.
When limes aren't available, we just substitute them with lemons. Cheers to the summer season everyone!
Ingredients (makes 1 mojito, adjust according to taste):
about half a lime, cut into small wedges
about 4 mint leaves
1 teaspoon sugar
25-50 ml white rum
ice cubes
soda water
Method:
Add the lime wedges, mint leaves and sugar in a short glass. Use a muddler (or back of a wooden spoon) to crush the mixture slightly and release the lime juice.
Add a few blocks of ice, then add the rum and top with a little soda water. Mix with a spoon or straw, and serve at once.
Credits:
This post was originally written for The Pretty Blog.
Text, recipe & food preparation: Ilse van der Merwe
Photography: Tasha Seccombe
Venue for shoot: the demo KITCHEN