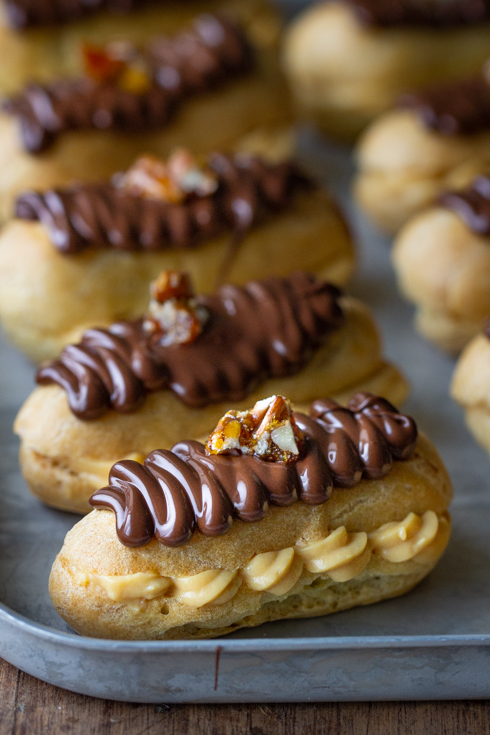 During lockdown, many of my readers have shared how they are cooking recipes from my blog. It's such a wonderful feeling – to know that my recipes can provide others with a little pleasure and inspiration during a very uncertain and serious time! Thank you so much for all of your feedback, photos, comments and shares. It makes me feel warm and valued, and it is a shining beacon carrying me through this uncertainty with all of you.
I am at a point where I'm searching for recipes that will bring the most amount of joy, for the least amount of money. With a limited spectrum of recreation and entertainment available during lockdown, baking and cooking has become just that: a recreational activity. Yet with limited funds because of limited (or no) work opportunities, many of us need to get really creative in making the most of what we have, while still feeding our families. Every now and then, a special homemade treat can provide some kind of light hearted escape from the gloom that otherwise hangs over all of us. And for me, in allowing myself this special joy, I choose hope.
One of my friends, Anele Horn, recently sent me a photograph of her homemade chocolate eclairs – she used a recipe from my blog that I haven't made in years. Then I remembered that basic eclairs (choux pastries) are made of a handful of very simple ingredients: water, flour, eggs, sugar, salt. I also remembered that a custard filling can be made of very simple ingredients too: milk, eggs, sugar, vanilla, cornstarch. I found a recipe online for making salted caramel flavoured custard, because hey, it sounded like a good idea. With the addition of a simple caramel syrup (made from sugar and a little water) and some salt, I made a salted caramel custard perfect for piping into the choux buns, without buying a single exotic ingredient. So when my husband went to buy a few essential fresh supplies, I asked him to buy 2 slabs of the cheapest dark chocolate he could find (they costed R11,99 each) for the topping. I found a handful of pecan pieces in our cupboard (the last of my "lockdown" nut supply) and with a little extra effort I made a simple nut brittle (using just sugar and the nuts) that I chopped up for decoration at the end.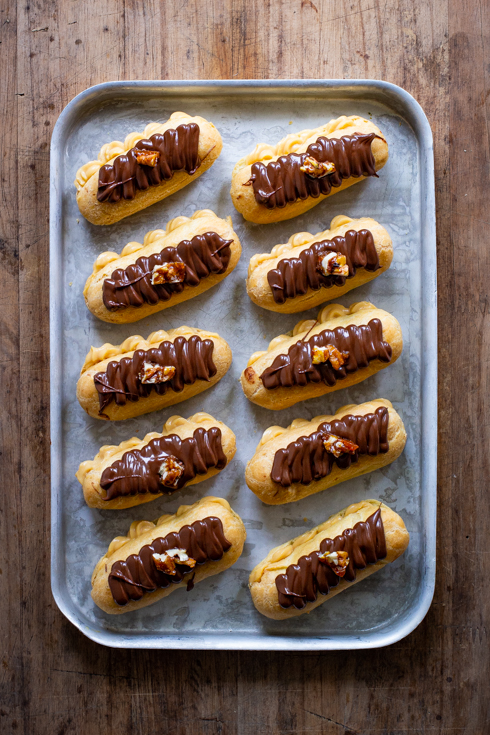 These were some of the best sweet treats we've had the pleasure of enjoying in the past 5 weeks, and we only spent R24 (excluding the cost of the basic ingredients that we had in the house). The recipe makes about 21 medium size eclairs. I do hope that you'll try it – SO worth the effort!
Notes for substitutions: You can also use whipped sweetened cream to fill the eclairs, and a very economical cocoa glaze for the top (if you have cocoa powder and icing sugar in your pantry). And yes, you can certainly also use cheaper peanuts for the brittle!
Notes on effort/skill levels:
The choux buns are moderately easy to make, but the following tools will make the process easier: a digital scale, an electric mixer (stand mixer) and a piping bag. Without these, you're going to apply some decent elbow grease for mixing, and you won't be able to pipe rows (just use two spoons instead to create round choux "balls").
The salted caramel custard requires medium skill levels and time. It is best to make it the day before you want to make the eclairs, to split the effort into 2 days. Make the caramel first, let it cool, and then use it to make the custard. Let the custard cool completely before making the choux buns.
The nut brittle requires medium skill levels, but only because you're working with very hot melted sugar that requires timing – otherwise it's a simple recipe with only 2 ingredients. It is an optional extra, but I promise you it delivers BIG on added texture, luxury and flavour.
To melt chocolate: I do it in the microwave, so it should be easy enough. Just follow the instructions and be patient.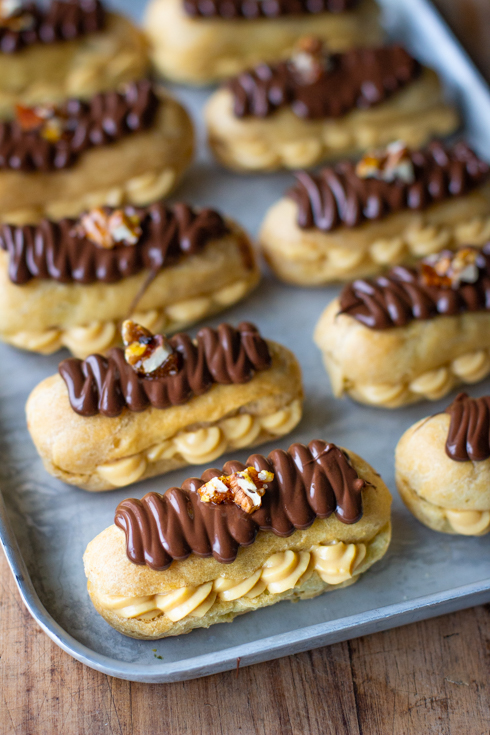 Ingredients: (makes about 21 medium size eclair buns)
For the salted caramel custard filling: (recipe adapted from Jo The Tart Queen)

200 ml (170 g) white granulated sugar
60 ml (1/4 cup) tap water
80 ml (1/3 cup) hot water from a recently boiled kettle
500 ml (2 cups) milk, preferably full-cream
5 ml vanilla extract
125 g egg yolks (about 7 XL yolks)
50 g (about 7 tablespoons or 105 ml) cornflour
50 g butter, cubed
salt, to taste (I used about 1/2 teaspoon salt flakes, but if you're using fine salt, use less)
To make the caramel: place the sugar and tap water in a small saucepan over medium-high heat. Let it come to a boil without stirring, only tilting the pan now and then. Boil until it changes colour to a light golden, and get your hot water ready. When it reaches a darker amber caramel colour, carefully add the hot water all at one (if will splutter!), then remove from the heat at once, tilting it from side to side to mix. Set aside to cool completely – you'll use it later for the custard.
To make the custard: Place the milk and vanilla in a medium size pot over medium heat. While it is heating, whisk the yolks with the cooled caramel in a mixing bowl, then add the cornflour and whisk again to mix well. When the milk just starts to simmer, pour it carefully into the yolk mixture, whisking constantly. Now pour the mixture back into the pot and place over medium heat. Stir constantly, until the custard starts to thicken. Continue stirring until it makes a few slow boiling bubbles, then lower the heat to very low and cook for at least another minute or too until it becomes very thick. Remove from the heat, then  stir in the butter.  When melted, season with salt – you don't want the salt to be overpowering, but you want to taste it. Transfer the custard to a wide container and cover with a layer of clingfilm to prevent a skin from forming, then leave to cool fully. Keep refrigerated until ready to use (will keep for up to 5 days in the refrigerator).
For the choux pastry:
250 ml (1 cup) water
2,5 ml (1/4 teaspoon) salt
10 ml (2 teaspoons) sugar
65 g (1/4 cup plus 1 teaspoon) butter, cubed if cold
140 g (250 ml / 1 cup) white bread flour or cake flour
3 XL eggs
Method:
Preheat the oven to 220 C. Add water, salt, sugar and butter to a small saucepan. Heat until the butter melts, then bring to the boil. As soon as the mixture starts to boil, add the flour all at once and stir vigorously with a wooden spoon, cooking the paste until it thickens and pulls into a ball (it takes about 20 seconds for the mixture to form a ball). Remove from the heat at once and transfer the ball to the bowl of an electric mixer (if doing by hand, transfer to a large mixing bowl). With the K-beater fitted, turn on the mixer on medium-low, releasing steam from the hot flour mixture. Now add the eggs one at a time, mixing until it comes together before adding another (it will look like it is splitting at first, but be patient, it will come together). Continue until the mixture is smooth and glossy but still stiff enough to hold shape. Transfer the mixture to a piping bag, then pipe buns of about 8 cm long and 2,5 cm wide on a greased/lined baking sheet, leaving enough space between them for swelling (or use two spoons to drop balls of paste on the baking sheet). Bake in a pre-heated oven at 220 C for 10 minutes, then reduce heat to 160 C for 25-30 minutes (smaller buns will take 10-15 minutes) until the buns are golden brown and crisp to the touch. Remove from the oven and pierce with a small sharp knife to allow steam to escape. Leave to cool completely before filling.
For the nut brittle: (optional)
1/4 cup white sugar
1/3 cup chopped pecan nuts
Have a small baking tray ready, lined with non-stick baking paper. Place the sugar in a small pan or pot over moderately high heat. Leave until the sugar starts to melt (without adding any liquid), gently tipping the pan from side to side. When the sugar has melted, it will change colour. Watch it carefully, gently tipping the pan now and then, until it is a deep amber colour. Remove from the heat and add the nuts at once, tipping the pan to coat all over (only a few seconds). Tip out on the lined baking tray, using a silicone spatula to remove from the pan (work quickly before the caramel hardens). Use the spatula to flatten the brittle slightly. Leave to cool completely, then chop into smaller pieces for topping your eclairs. (Preferably don't make this too long ahead, as it will become sticky again on standing. Keep in an airtight container, when completely cooled.)
For assembly:
about 150-180 g dark chocolate, broken into pieces
Remove the cooled custard from the fridge, use a whisk to mix it to a smooth consistency, then transfer to a piping bag. Cut the buns open on one side horizontally, then pipe the filling into each one. To melt the chocolate, place it in a microwave-safe bowl and heat for 30 seconds at a time, stirring inbetween with a spatula. After about the third or fourth session, it should be warm enough and fully melted. Spread each bun with chocolate on top (or transfer the chocolate to a small plastic bag or piping bag, and snip off the one corner to neatly pipe onto the buns). Top with a few shards of brittle. Store any leftovers in the refrigerator.