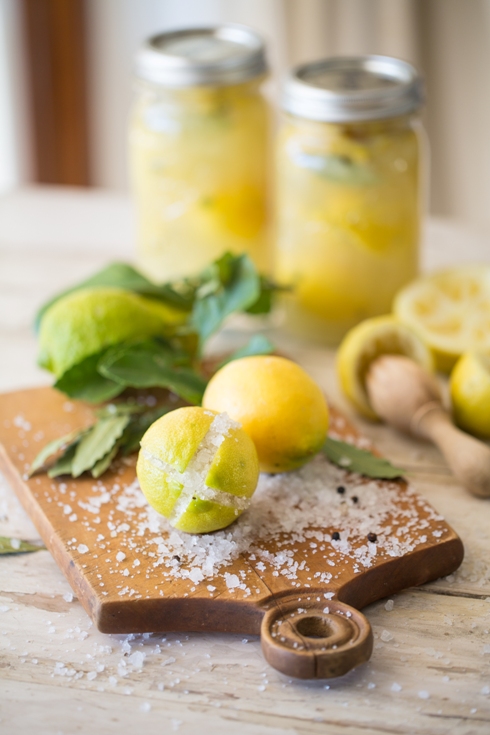 I recently did a post on a fragrant Moroccan lamb tagine that was served with preserved lemon. The whole food team that was involved in this shoot was so overwhelmed by the amazing preserved lemon, that we decided to do a special feature on how to make your own.
The preserved lemon that we used for the shoot was made by a Japanese woman called Kazuki (she's a good friend of my friend Francille). She lived in Italy for many years, and has learnt the art of cooking like a real Mediterranean Mama. She said that the jar of lemons we used was already a year old – the lemons were just intensely dark yellow and almost syrupy – not sweet, but very salty.
Kazuki kindly sent us her recipe for making Moroccan preserved lemons. The sealed jars need to mature in a dark, cool place for at least 1 month before ready to use, but it just gets better with age. I have to say the 1 year old vintage was just amazing – an ingredient that will give a whole new intense lemony dimension to your cooking.
The amount of lemons, salt and other ingredients will all depend on the size of your lemons and the size of your jars. I filled two jars of 1 litre each. Be sure to pack the lemons as tightly as you can, as they will soften with maturation.
Ingredients:

at least 10 small/medium organic lemons (make sure they are unwaxed)
100-200g coarse sea salt (Kazuki uses Himalayan salt)
2 fresh bay leaves per jar (or dried, if you cannot find fresh)
7 black peppercorns per jar
1 stick of cinnamon per jar (optional)
Method:
Sterilize 2 large wide-mouthed jars and leave it to cool slightly.
Start by cutting a deep cross into the top of a lemon (about 3/4 way through) with the base still joined. Use a teaspoon to pack about 2 teaspoons of salt into the slits, then place the lemon inside the jar. Cover with 1 teaspoon of salt, then repeat with more lemons until the jars is full. Pack the lemons as tightly as possible (I could only fit 3 lemons per jar).
Add the bay leaves, peppercorns and cinnamon stick.
Squeeze the juice of 2 extra lemons per jar, then add it to each jar. Top it up with cooled boiled water, then seal it tightly.
Store in a cool, dark place, and gently shake the jar every few days for the first month to make sure the salt dissolves fully. The lemons will be ready for use within 1 month,, but will develop in intensity with age. Once opened, refrigerate immediately.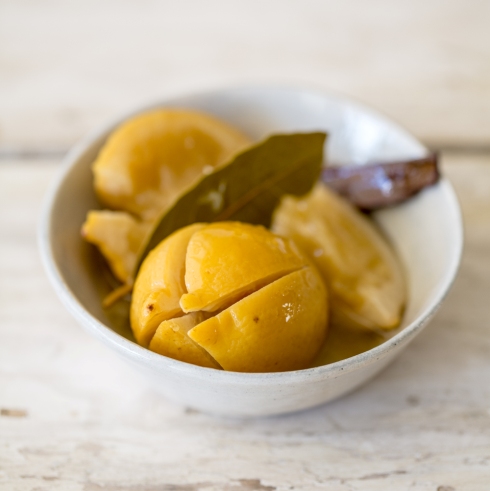 Credits:
This post was especially written for The Pretty Blog by Ilse van der Merwe from The Food Fox.
Food preparation and text: Ilse van der Merwe.
Photography: Tasha Seccombe.
Styling: Tasha Seccombe & Nicola Pretorius