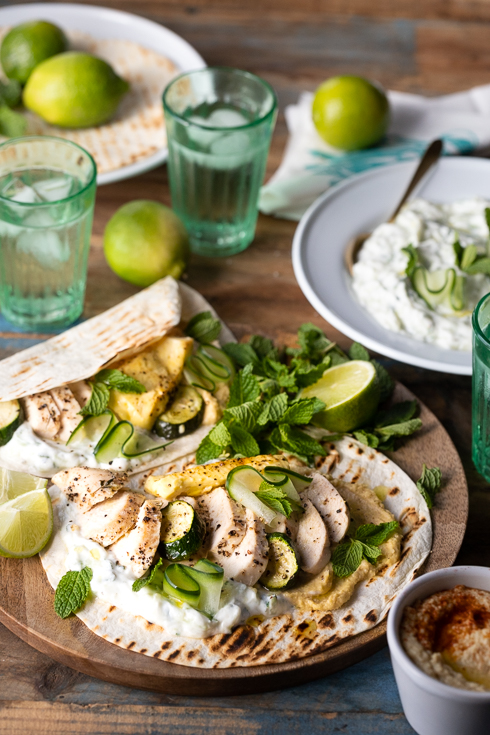 If a midweek meal is easy to make, doesn't take long to cook and really packs a punch in flavour, its going to be a winner. This is one of them: free range chicken breasts baked with thinly sliced limes, slabs of feta, chunks of courgettes, some fresh thyme and a generous drizzle of extra virgin olive oil – totally a meal on its own, but then sliced and transformed into Greek-style wraps with the addition of tzatziki and hummus. It is juicy, salty, tangy, creamy and crunchy, all at the same time. Another great thing is that it is family friendly (most kids love chicken and cucumber and hummus and tortillas) and it is also great for next day lunch boxes, either as an assembled wrap or as individual snacks and dippers.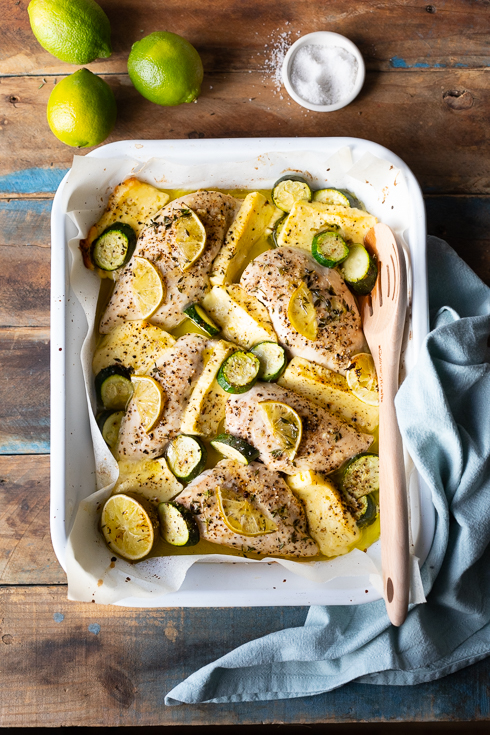 All of the ingredients (plus the beautiful white enamel baking tray and plates, the wooden spoon, the paring knife and the printed protea paper napkins ) were shopped from Joostenberg's deli – they even stock ready-made hummus, which is really convenient for your next snack platter or quick lunch. I used Dalewood's new feta – not all feta turn out great when baked, but this one bakes spectacularly well. It turns golden on the edges and slightly oozy without losing its shape too much, and the flavour becomes more procounced. The thin lime slivers caramelize in the oven and can be enjoyed skin-and-all with the chicken – they're packed with flavour. Do let me know if you try this at home!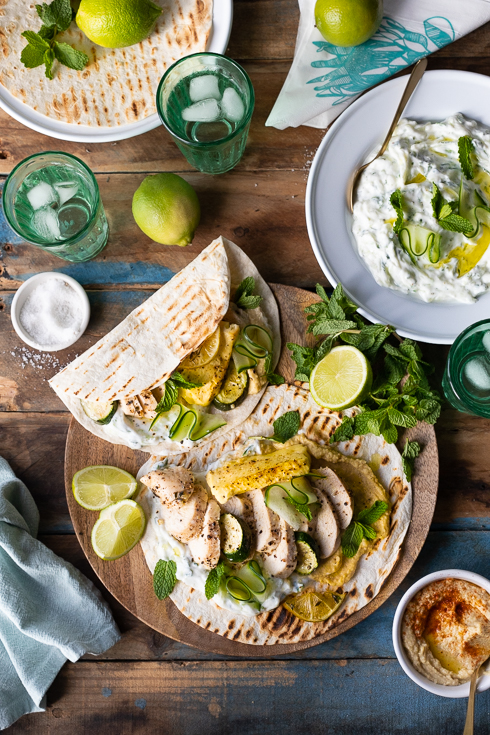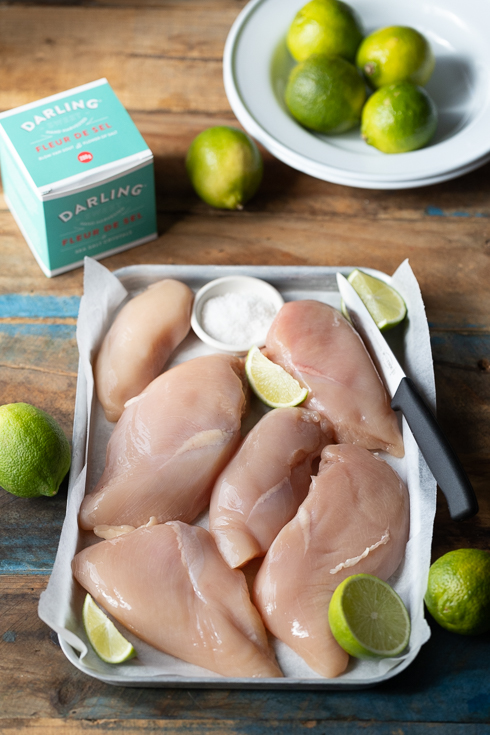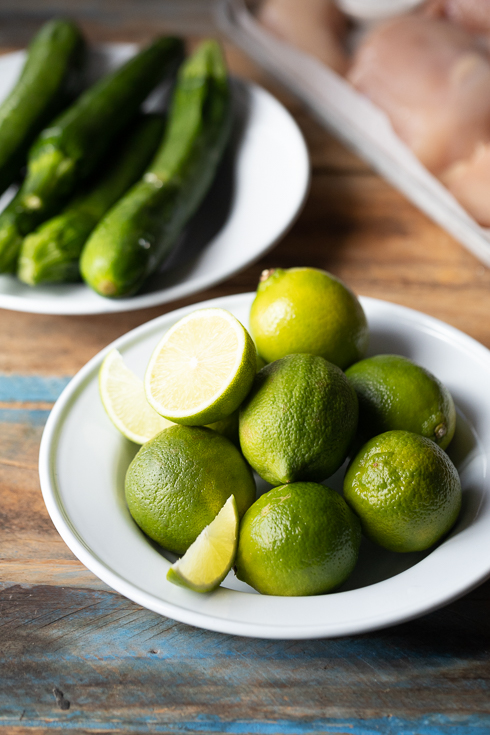 Ingredients: (serves 6)
6 medium size free range boneless skinless chicken breasts
about 200-300 g feta, sliced into thick disks
1 lime, thinly sliced (use a mandolin if you can), plus 2 more for juicing
a few courgettes, sliced into chunks
a few sprigs thyme, leaves only
1/4 cup (60 ml) extra virgin olive oil
salt & pepper
Preheat the oven to 200 C. In a deep roasting tray lined with non-stick baking paper, arrange the chicken, feta and courgettes. Top the chicken with slices of lime, then scatter with thyme and season generously with salt & pepper. Drizzle all over with olive oil and the juice of two limes. Bake for about 25 minutes until the chicken is fully cooked and the feta turns golden on the edges, then remove and leave to rest for a few minutes before serving. Serve with a side salad, or turn into tortillas with the addition of fresh tortilla wraps (toasted), hummus and tzatziki.
To make your own tzatziki:
500 ml double cream yoghurt
1/2 English cucumber, seeds removed and roughly grated
1 small clove garlic, finely grated (optional)
a small bunch mint leaves, finely chopped
salt & pepper, to taste
1 tablespoon extra virgin olive oil
Add the yoghurt to a medium mixing bowl. Squeeze the grated cucumber in a clean cloth to get rid of the excess juice, then add the shreds to the yoghurt along with garlic and mint. Season with salt & pepper, add the olive oil and mix well. Cover and refrigerate until ready to use.
Find Joostenberg on the R304 (GPS: 33 82' 66 21 S / 18 79" 55 15 W) in the Muldersvlei area outside Stellenbosch. This post was created in proud association with Joostenberg.
Tel: 021 884 4303
Email: [email protected]