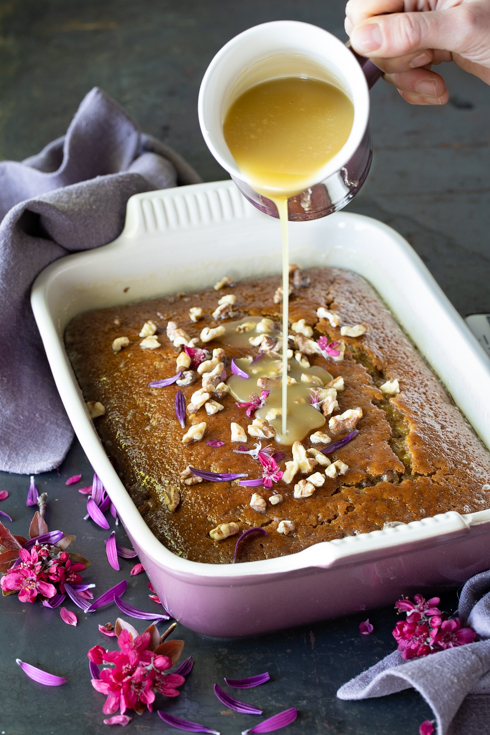 A week ago, Le Creuset SA launched their brand new colour, Fig: a warmer shade of violet with beautiful brownish hues – you can see the colour best (in its full glory) in the signature cast iron pots with lids. They sent me a stunning package with a selection of fig-coloured Le Creuset products (rectangular 30 cm heritage roaster, 400 ml coffee mug, medium spatula etc.) as well as a recipe card and ingredients for a decadent sticky baked pudding with dried figs and toasted walnuts.
I gave their recipe a whirl using my new Fig cookware and what a stunning pudding! Even though fresh figs are not in season, dried figs are easily rehydrated in boiling water before baking and they work incredibly well here. The walnuts also provide a welcome soft crunch and some deeper toasty notes. It's a large pudding that will feed a crowd of up to 12 people (I suppose you can easily half it, using a smaller baking dish). Warm and comforting, soft and spongey, sticky and saucy – the stuff winter pudding dreams are made of.
I've added a few touches of my own with the addition of salt in the pudding battter and in the sauce, a few less walnuts for the final topping and some other suggestions. You can definitely also substitute the dried figs for dried dates – they will work just as well.
Ingredients: (makes one large pudding that will serve up to 12 people)
Note: Slightly adapted from Le Creuset's fabulous recipe for "Sticky Fig & Walnut Pudding".
For the pudding batter:
200 g dried figs, roughly chopped
5 ml (1 teaspoon) bicarbonate of soda / baking soda
400 ml recently boiled water
100 g butter, softened
200 g light brown sugar
4 x free range eggs (or just use large)
5 ml vanilla extract
350 g self-raising flour
2,5 ml (1/2 teaspoon) salt
100 g (about 1 cup) walnuts, roughly chopped
Preheat the oven to 180 C and spray a large rectangular deep baking dish (I've used Le Creuset's 30 cm heritage dish) with non-stick spray. Place the chopped figs in a bowl with the bicarb of soda and top with the recently boiled water. Stir and set aside to steep.
In a separate bowl, mix the butter and sugar with electric beaters. Add the eggs one by one, mixing well after each addition. Add the vanilla and mix – the mixture will look slightly curdled, don't be alarmed. Add the flour and mix well, then add the walnuts, steeped figs, and all the liquids of the steeped figs. Mix to a runny batter, scraping the sides. Pour into the prepared baking dish and bake for 30-35 minutes at 180 C or until fully cooked and golden brown. While the pudding is baking, make the sauce (you'll pour it over the pudding as soon as it comes out of the oven).
For the sauce:
350 g light brown sugar (or use demerara for a darker result)
150 g butter
400 ml fresh or longlife cream
5 ml vanilla extract
about 1/4 cup chopped walnuts, toasted, for topping (optional)
Add all the ingredients into a saucepan and heat gently, stirring, until the sugar has dissolved (watch it carefully as it can easily start boiling and will boil over the sides). Remove from the heat. Pour half the sauce over the freshly baked pudding as soon as it comes from the oven, then serve the remaining sauce on the side. Serve the pudding warm, optionally also with vanilla ice cream or whipped cream on the side.