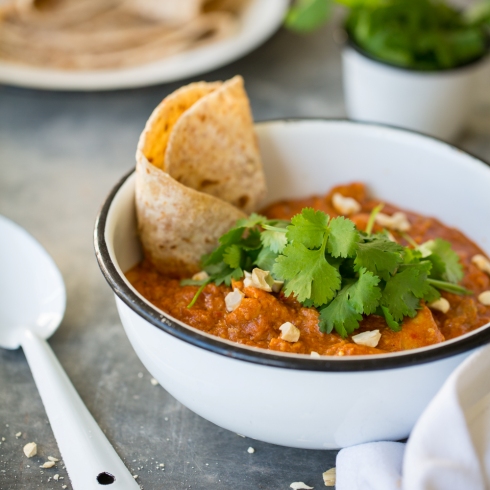 Of all the butter chicken recipes I have come across over the years, this one remains my absolute favourite. I have made it many, many times at home, and everytime I am amazed at how easy it is to create such a fragrant and satisfying feast.
Butter chicken curry is a mild, rich dish. It is made with lots of butter, ground cashew nuts, and cream – definitely not for the calorie conscious! But the result is an absolutely dreamy mixture of fragrant exotic spices (especially cardamom), rich gravy and succulent boneless chicken. It is fantastic served on basmati rice, but also great served with naan bread or wrapped up in a roti.
Tasha, our photographer, told me that they had recently used butter chicken curry as a filling for soft white rolls on a road trip. Now that sounds brilliant! Don't forget the fresh coriander, it adds a welcome fresh touch to the richness of the sauce.
Ingredients: (recipe adapted from Huisgenoot magazine, 16 April 2009)
1 kg boneless chicken thighs (or breasts)
45 ml grated fresh ginger
5 ml salt
5 ml ground turmeric (or 2,5 ml yellow food colouring)
125 g butter plus 15 ml vegetable oil
30 ml butter
10 ml ground fennel (barishap)
1 onion, finely chopped
2 cloves garlic, finely chopped or crushed
5 ml minced red chilli (I use John West, but you can also just cut up a fresh small red chilli, very finely chopped)
100 ml raw cashew nuts, finely processed (reserve a few whole nuts for decoration, if you want to)
1 can (410 ml) tomato puree (NOT tomato paste)
5 cardamom pods, skins removed and seeds crushed in a pestle & mortar
250 ml fresh cream (or Ideal Milk or plain yoghurt)
salt and pepper
fresh coriander leaves, to serve
cooked basmati rice or naan bread, to serve
Method:
Cut the chicken into bite size pieces and place it in a large mixing bowl.
Add the ginger, salt and turmeric, then mix well to coat the chicken.
Add the 125 ml butter and oil to a large pan over medium heat. When the butter has melted, add the chicken and fry until it has changed colour but not cooked through all the way – about 5-7 minutes. Use a slotted spoon to remove the chicken from the pan and set it aside until later.
In the same pan, add another 30 ml of butter. Add the fennel and onion, then fry over low to medium heat until the onion is soft and translucent (very important to not do this over high heat).
Now add the garlic and chilli paste, and fry for 1 minute. Add the cashew nuts and tomato puree and stir well. Turn the heat up slightly and bring the mixture to the boil.
Now add the chicken pieces and cardamom seeds, and lower the heat to a simmer. Add the cream, then stir through and simmer for 5 minutes.
Season to taste with salt (if necessary) and black pepper. Remove from the heat, top with coriander leaves and serve with rice or bread.
Credits:
This post was especially written for The Pretty Blog by Ilse van der Merwe from The Food Fox.
Food preparation and text: Ilse van der Merwe.
Photography: Tasha Seccombe.
Styling: Nicola Pretorius & Tasha Seccombe.