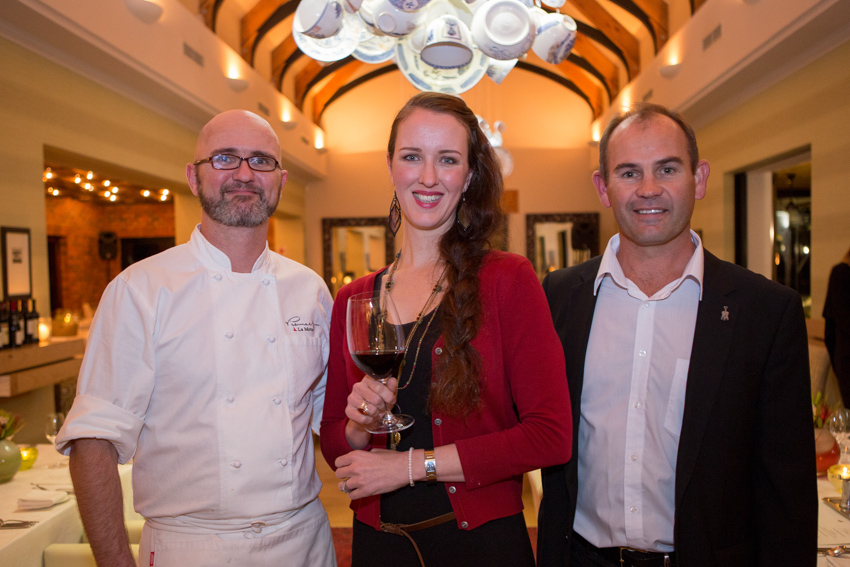 Last week I was invited to attend a Vintage Wine and Venison evening at La Motte Wine Estate in Franschhoek. I had the pleasure of sharing a table with the cellar master Edmund Terblanche, his wife Hetta (culinary consultant at La Motte), as well as Michael Olivier and his wife Maddie. I also finally got to meet Chef Chris Erasmus, one of South Africa's most respected chefs and a master of Cape Winelands heritage cuisine.
With about 70 guests seated at the Pierneef Restaurant at La Motte, Chef Chris Erasmus told us more about South African venison, and his favourite ways to cook different cuts of meat. He spoke about the best traditional ways of preparing venison in South Africa: from marinating it in buttermilk to serving it with quinces. Then cellar master Edmund told us more about the vintage wines that we were about to enjoy with the venison dishes – 2 wines with each course. It was a rare opportunity to be sampling wines that were so gracefully mature, some even dating back to 1989.
The feast began, and we were served 4 amazing courses: from a delicate Kudu consommé to a fragrant Impala curry and a robust berry roasted Wildebeest loin. Here is the full menu for the night, along with the wine pairings:
VINTAGE WINE & VENISON MENU at LA MOTTE, Thursday 1 August 2013: (R490/person)

Braised Kudu shank consommé with root vegetables
paired with 2004 La Motte Shiraz
and
1997 La Motte Limited Release Merlot
Cape Winelands Impala curry with pomme puree
paired with 2004 La Motte Pierneef Shiraz Viognier
and
1997 La Motte Millennium
Berry roasted Wildebeest loin, pomegranate glazed red cabbage, honey roasted sweet potato and buttermilk jus
paired with 2004 La Motte Millennium
and
1995 La Motte Shiraz
Pumpkin tart, quince, nuts and spices
paired with 1989 La Motte Noble Late Harvest
and
La Motte Straw Wine
(click on the images below to view a larger picture)
The dessert was an absolute delight – especially with the different textures on the plate, and their Straw Wine remains one of my all-time favourite dessert wines. The food and wines were all outstanding, and the evening was a royal treat! It seems that La Motte will be hosting this event annually, so get in touch with the restaurant management to find out more ([email protected]). This dinner cost R490 per person, and some of the vintage wines were on sale after the event.
Thank you very much to the amazing staff, management and PR representatives of La Motte for this inspiring food and wine experience.
(All pictures courtesy of La Motte Wine Estate.)