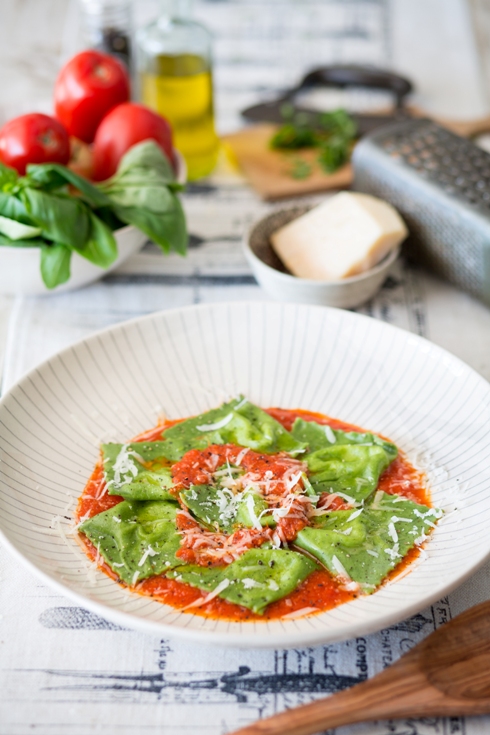 This Friday we'll be celebrating Women's Day – a day where we are reminded that women played a big role in South Africa's human rights history.  Back in 1965, a group of very brave women staged a silent march in Pretoria in front of the Union Buildings, against legislation that required African people to carry a special identification document which curtailed an African's freedom of movement during the apartheid era.
It's amazing how far we've come since 1965. Today, Women's Day celebrates the respect, love and appreciation of women throughout South Africa. To me, it is not a political day, it is a day where we can treat each other with a little extra care and indulgence, just because we deserve it!
With the help of Poetry stores, I chose a recipe from the amazing book The Italian Cookery Course by Katie Kaldesi (available from Poetry). Being very sceptical of Italian cookery books (because everyone claims to cook like the Italians!), I approached this book with caution. But after spending a few minutes paging through the beautiful recipes and stories, I realised that this book is very authentic. I just couldn't put it down. It might be my favourite recipe book of 2013 so far – a real inspiration for anyone who really enjoys traditional Italian recipes and ingredients.
Katie Caldesi was nominated for many awards after writing this book, and I can see why. She captures the soul of the people that feature in the book, and it translates onto the recipe pages. I look forward to spending much more time with this amazing book, and I'll surely feature more recipes in the near future.
The recipe that I chose to feature for Women's Day from The Italian Cookery Course, is part of a masterclass feature in the book: "Spinach pasta stuffed with smoked mozzarella with fresh tomato sauce". It's a bright green spinach pasta, filled with smoked mozzarella cheese and ricotta, topped with Giovanna's fresh tomato sauce and freshly grated parmesan cheese. It is simply sublime in flavour, rich from the cheese filling, yet light from the fresh tomatoes in the sauce. It is a beautiful plate of Italian goodness, perfect for a Women's Day celebration.
May every lady out there feel special on Friday. I love being a woman!
Ingredients for Fresh Tomato Sauce: (serves 6)
1kg fresh, ripe and very red tomatoes, quartered
10 basil leaves
1 medium red onion, peeled and quartered
5 tablespoons extra virgin olive oil
2 garlic cloves, crushed or finely grated
salt and freshly ground black pepper
1 heaped teaspoon caster sugar (optional)
grated parmesan cheese, to serve
Method:
Put the tomatoes, basil, and onion in a large heavybased saucepan over medium heat (no oil!). Cover the pan, shaking it frequently, and leave on the heat for 45 minutes until the tomatoes have released their juices and softened. Remove the basil leaves.
Use a stick blender and whizz up the tomatoes to a smooth puree, skins and all.
Heat the oil in a pan and add the garlic. Fry over medium heat until it becomes fragrant, then add the pureed tomatoes.
Bring to the boil, then simmer uncovered for 30-45 minutes until the mixture has reduced and the flavour has become concentrated. Season to taste with salt, pepper and sugar.
Ingredients for Smoked Mozzarella Filling:
250 g smoked mozzarella (or scamorza)
150 g ricotta
a good pinch of ground nutmeg
salt, to taste
Method:
In a mixing bowl, mix all the ingredients well. Be careful with the salt as the mozzarella is already salty.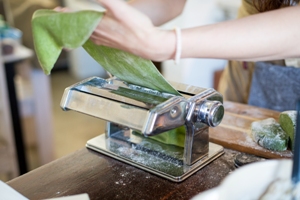 Ingredients for Spinach Pasta Ravioli: (I have adapted this recipe by mixing the dough in my food processor, but you can also mix it by hand)
200 g fresh spinach (or 100g cooked spinach)
2 XL eggs
300 g flour, plus a little extra
Cook the spinach first: I like to sautee the spinach leaves with olive oil in a large pan until it has wilted, then remove from the heat and let it cool. Spinach will lose about 50% of it's weight after being cooked, so we are looking for about 100g cooked spinach for the rest of the recipe.
When the spinach has cooled, place it in a small mixing jug with one of the eggs, then blend with a stick blender to a smooth green paste.
Add the flour, remaining egg, and green paste to your food processor, then mix until you get a ball of dough that starts to come together (it only takes about 20-30 seconds).
Remove the dough from the processor bowl, then place it on a floured wooden board and press together into a ball. Wrap in clingfilm and leave to rest for 20 minutes.
Using a pasta machine, roll out the dough, one piece at a time, to a thickness of about 1mm (almost thinnest setting). Lightly dust the pasta while working with it.

Placing balls of filling on the pasta sheets (photography by Tasha Seccombe)

Lay out the sheet of pasta on a lightly dusted surface to prevent sticking. Place heaped teaspoons of stuffing on one side of each sheet (lengthways), then fold it over and press down to stick the 2 layers together. If your pasta sheets look dry, use a pastry brush and water to make the surface a bit sticky before folding it. Make sure to press out any air bubbles around the stuffing.

Fold the pasta sheets over the filling, then press down around it to get rid of air pockets before cutting it into squares (photography by Tasha Seccombe)

Use a fluted pastry cutter (or pizza wheel cutter) to cut the ravioli into squares, aiming to leave about 2cm between the end of the filling and the edge of the pasta square. Place the ravioli on a lightly floured tray, spaced apart in a single layer. Set aside until ready to cook, but not longer than an hour otherwise it will start to stick to the surface. You can also freeze them at this stage.

Bring a large pot of salted water to the boil.  Cook the ravioli for 3-5 minutes (until al dente), then drain through a colander – the filling will completely melt on the inside, so don't be alarmed if the ravioli look "deflated", just handle with care! Serve with the fresh tomato sauce (see recipe above) and top with grated parmesan cheese.
Credits:
Photographer: Tasha Seccombe
Food preparation: Ilse van der Merwe
Styling: Tasha Seccombe & Ilse van der Merwe
All recipes from: The Italian Cookery Course by Katie Caldesi, available from Poetry stores at R295
Bracelet: Poetry stores, R30 (Poetry supports the Ikamva Labantu programme to empower women. Proceeds from this handmade bracelet provide earnings and upskilling for local bracelet-makers as well as enterprise development opportunities in South Africa.)
Large plate, smaller bowls and wooden spoon: Wonki Ware from Poetry stores (ranging from R65-R399)