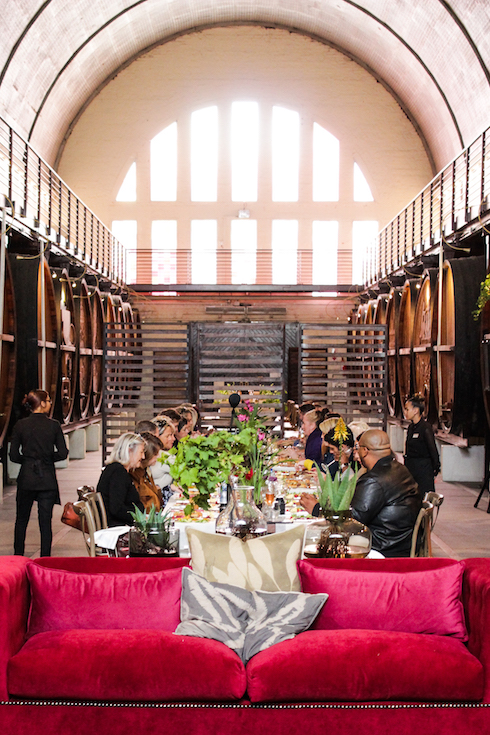 Yesterday, I attended the launch of Mynhardt's Kitchen at Cathedral Cellar, KWV Wine Emporium. Chef Mynhardt Joubert is no stranger to the Paarl community and he's been acting as brand ambassador for iconic Paarl wine producer KWV for numerous years. He has just fitted the breathtaking Cathedral Cellar at KWV with a state of the art kitchen and the venue is now open for functions.
In celebration of KWV's 100 year celebrations in 2018, from today onwards anyone will be able to book a memorable dining experience in Cathedral Cellar, for groups of 20 up to a 100. Guests will be seated at long tables, flanked by imposing, 12000 ℓ stuk-vats, some showing historical wine making scenes carved by father and son, Karl and Karl-Heinz Wilhelm in 1969 and 1970. On either side of the impressive hall are large coloured windows – in tones of blue and green on the one side, and red and orange tones on the others side, resembling the Paarl mountain in the east and the setting sun in the west.
To celebrate the launch of this unique facility, Mynhardt treated us to a vegetarian menu with a "roots" theme, serving a visually striking, colourful starter course of root vegetables on paper (which was rolled up after – no washing up, very water wise). For mains we enjoyed deep fried risotto balls (arancini) on a creamy mushroom sauce made with a rich root vegetable stock, and for dessert he served cheesecake mousse with fig ice cream. All plates were made of paper and thus compostible. The food was accompanied by impeccable wines by KWV and Laborie.
The drama of this space is just unrivaled, and I can only imagine what evenings in this space must look and feel like with the added lighting that they've installed to make the most of the cathedral's vaulted ceiling and massive wooden vats all around.
Enquire about Mynhardt's Kitchen at Cathedral Cellar for your next dinner or function at [email protected] or 076-033 1839. Thank you Jeanri Tine van Zyl of Feed That Bird Communication for the invitation. Thank you to Chef Mynhardt, KWV, Laborie, Montagu and XTN Family Farm for the fabulous lunch and the beautiful gift box.