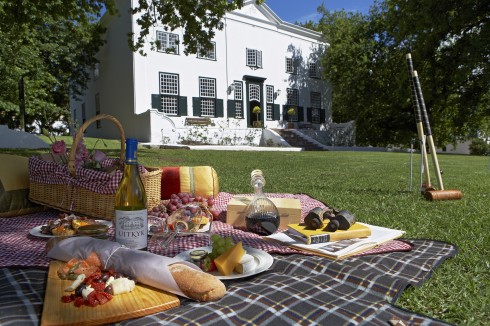 Last week, I was invited to Uitkyk Wine Estate on the R304 outside Stellenbosch for a Georgian picnic. I confirmed the date for Thursday morning the 6th of February and took my husband along for the experience.
The picnics at Uitkyk cost R350 per basket and is perfect for two people to share. It includes a bottle of Uitkyk wine (you have a choice of about 5 wines and we chose the wooded Chenin Blanc) and mineral water, as well as a wide selection of charcuterie, cheeses, pâté, olives, fruit, smoked salmon with giant capers, dips, artisanal bread and decadent chocolate brownies. The picnic is beautifully presented in a classic picnic basket with an extra table cloth (if you'd like to make use of the tables) and a picnic blanket for the lawn.
The atmosphere at Uitkyk is absolutely serene. Their expansive lush lawn stretches out in front of the historical and beautifully restored manor house. This 18th century Georgian neo-classical double-story building was completed in 1788, and is one of only three such houses left in the country.
With many more wine farms presenting visitors with a picnic option these days, Uitkyk certainly impresses with the tranquillity of their estate, the natural beauty of their lawns and ancient trees, and the value for money that you receive on booking this picnic. Not only is this a fantastic option for a romantic or lazy lunch, but you can also play a game of boules or croquet – completely free of charge. The full experience has an air of timeless beauty and relaxation, and it is a great way of discovering the magic of Stellenbosch's wine country.
Picnic bookings must be made 24 hours in advance. Call 021-884 4416 or email [email protected] for more information. Upgrades are possible to include Uitkyk's MCC Glass Memoires and other exclusive wines from their collection. Uitkyk is a child-friendly venue.
Uitkyk is situated on the R304 between Stellenbosch and Paarl. Thank you very much to Uitkyk and Manley Communications for this delightful experience.