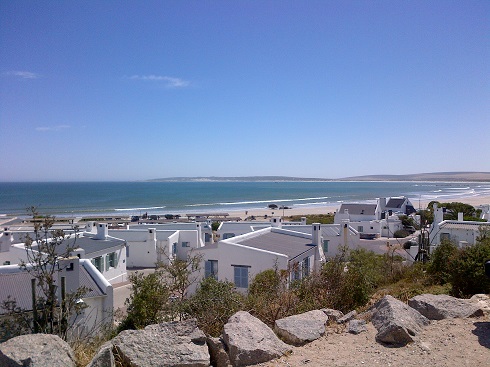 A few weeks ago I received an invitation to spend the night at Abalone House & Spa in Paternoster on the 9th of November 2013. The invitation allowed me to bring my (lucky) husband along, to receive a treatment at their Healing Earth Spa and also to dine at the brand new inhouse Reuben's Restaurant. We happily accepted the invitation and couldn't wait to hit the road to the beautiful West Coast.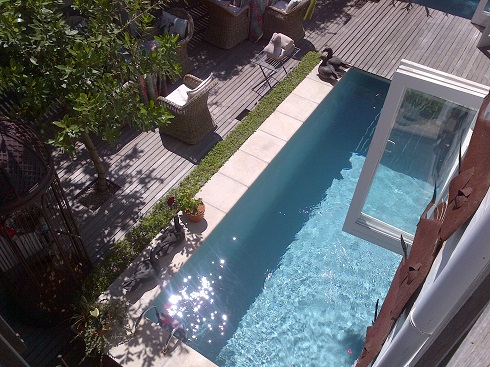 Abalone House is a 5 star luxury boutique guesthouse situated in the very quaint town of Paternoster. It was only recently that they opened their new Reuben's Restaurant and Healing Earth Spa, and we were some of the first guests to experience these luxurious and decadent treats. After booking in and settling into our beautiful room, we opted for a glass of bubbly in the jacuzzi on the upstairs deck. Then it was time for our afternoon tea, served in the downstairs lounge area.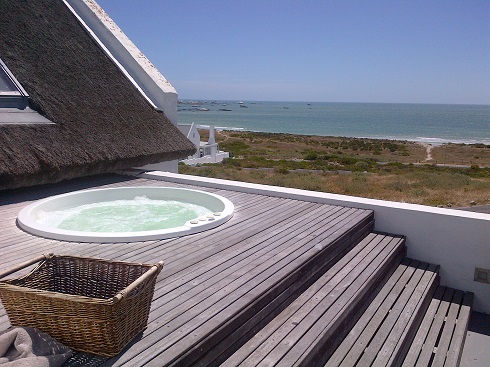 Personally, I just love a proper afternoon high tea. At Abalone House you are served a tray full of individually crafted treats – both sweet and savoury. Along with a cup of Earl Gray tea, it was the perfect introduction to an opulent evening.
Afternoon tea menu:
Butternut cheesecake, caramelized ginger
Apple tart, cinnamon, butterscotch
Eclairs, amarula cream
Scones, vanilla cream, strawberry jam
Blue cheese & caramelized onion, maketaan
Biltong pate, brioche
Smoked snoek springroll, apricot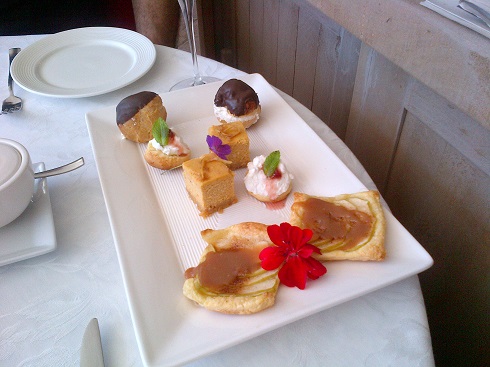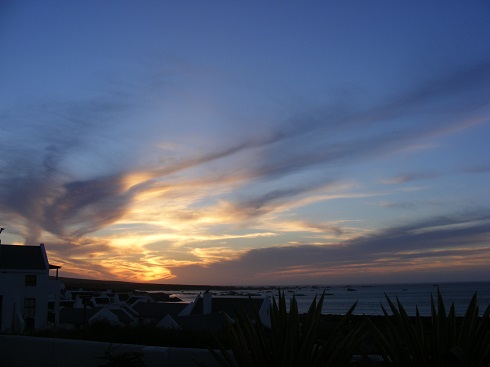 That evening, we gathered for more fizzy drinks in the lounge as the sun set dramatically over the West Coast ocean. The surrounding buildings and scenery reminded me a lot of Greece and some of it's smaller islands – a very tranquil, almost Mediterranean setting. After being seated inside the cozy new Reuben's, we were welcomed by Lise Manley who then introduced us to chefs Reuben Riffel and Aviv Liebenberg – the spectacular culinary team that would cook for us that night. Reuben told us about his love for Paternoster, and how he would actually love to settle here. His passion for the West Coast and it's produce was the inspiration behind this new restaurant's menu, a menu that will keep on changing according to the season and the availability of local produce.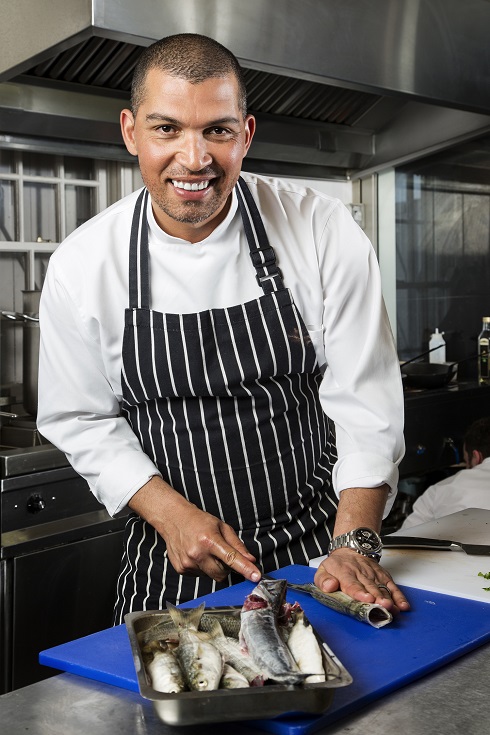 And then the feast began! Reuben's in Paternoster is the 4th restaurant in the Reuben's franchise (others are situated in Franschhoek, Cape Town and Robertsons). We were served 5 courses:
1. West coast fishcake Caesar salad, parmesan, quail egg, brioche
2. Asian style prawn cocktail, spicy mayo, wasabi, avo, sesame & ginger daikon
 3. Crayfish risotto, mussels, tarragon, basil & chilli
 4. Slow roasted sirloin, blue cheese and biltong croquettes, braised spinach, Japanese curry sauce
 5. Dark chocolate pave, ginger mousse, strawberry & mint granita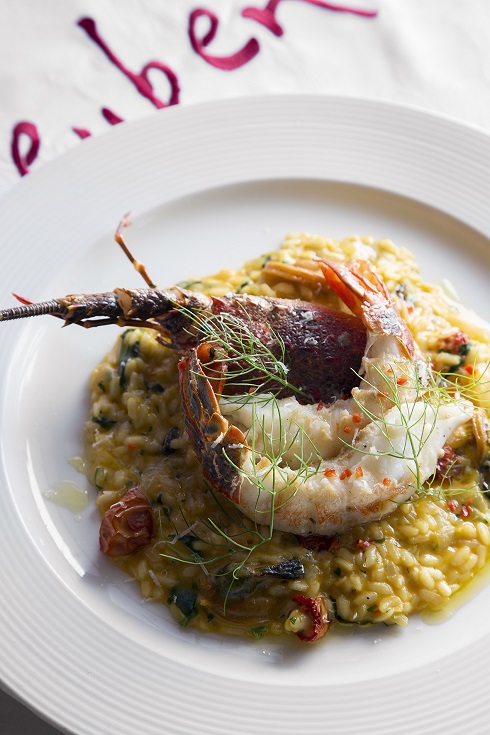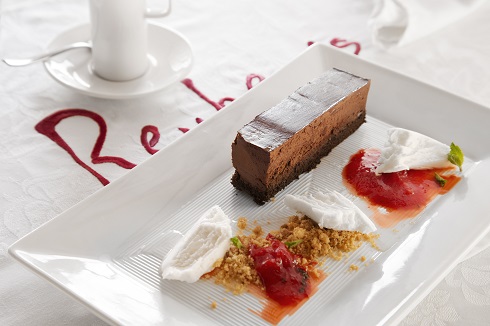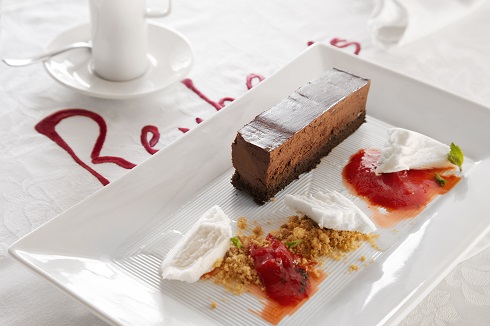 This was one of the best meals I've had in 2013 – absolutely spectacular in every way. Reuben just showed us again why he is rated one of SA's top chefs, and how his understanding for local ingredients is key to creating magic with great produce. I would love to experience more of this Paternoster flavour journey, hopefully we'll be back very soon.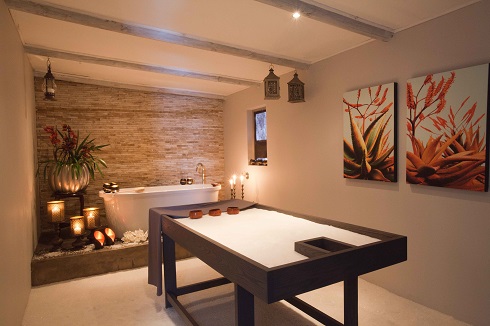 The next morning I was treated to an hour pampering session at the tranquil Healing Earth Spa – what a fantastic way to start the day! Their unique Healing Earth products include the Earth Soul range, which uses indigenous ingredients such as Marula and Kalahari Melon, and the Pinotage Grape range – a vinotherapy range with powerful anti-oxidant qualities that is also thoroughly South African. A must-do experience when visiting Abalone House. Refreshed, we headed downstairs for a full breakfast, complete with bloody mary cocktails – a very welcome touch!
A special mention must be made about the incredibly friendly, professional staff – they really made our stay effortless and our dinner even more memorable. I think there's something magical about real West Coast hospitality…
Thank you very much to the owners and staff of Abalone House for an unforgettable experience, as well as to the Manley Communications team for the invitation and for treating us like royalty.
Contact Abalone House for more information on 022-752 2044 or 087-820 5974. For accommodation rates, have a look at their e-brochure. Restaurant prices range from R55 – R165 per dish, and the restaurant is open for breakfast, lunch and dinner 7 days a week. Tea is served between 15h00 and 16h00 daily.