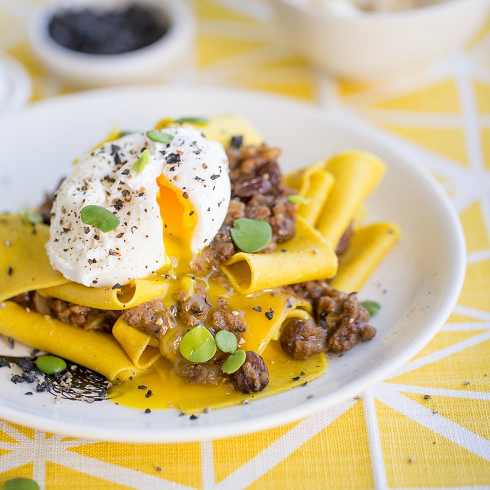 This month we are celebrating Cape Town as the World Design Capital for 2014. One of the four themes of design month is "Beautiful Things. Beautiful Spaces." It's a celebration of all the beautiful things from our beautiful continent: inspiring and original architecture, interiors, landscaping, food, furniture, fashion, jewellery, craft, art, publications, illustration, film, photography and creativity. And the colour scheme: yellow.
In that light, I've decided to take an old classic – bobotie, and put a new jacket on it. Bobotie with yellow rice is synonymous with Cape Town and the Bo-Kaap. Most of us grew up with this fragrant, fruity beef mince dish, and it is still a favourite in so many households. Instead of yellow rice, I've made bright yellow pappardelle pasta, and topped it with a softly poached egg instead of the traditional layer of baked egg custard. Not only does it look beautiful, but it will certainly put a smile on anyone's face that realises that this is their much loved bobotie with a new dress on.
My favourite recipe for a traditional bobotie comes from Huisgenoot's Top 500 Wenresepte, called "Lekkerbekbobotie". It contains a seemingly long list of ingredients, but every single one of them is necessary in creating a slightly sticky, fragrant, fruity meat dish that is just scrumptious. I've made this bobotie many many times over the past 7 years, and it is fool proof.
For this recipe twist, I don't transfer the bobotie from the pot to a baking dish, and I don't cover it with a layer of baked custard. I simply dish it up on the pappardelle, top it with a soft gooey poached egg and serve it with sambals as usual. The colour of the turmeric-stained papperdelle is just gorgeous, and your guests will love this new approach to a South African classic.
For the bobotie: ("Lekkerbekbobotie" from Huisgenoot Top 500 Wenresepte, compiled by Carmen Niehaus)
Serves 8 with papperdelle
30 ml vegetable oil
2 large onions, finely chopped
2 cloves garlic, finely chopped
15 ml finely grated fresh ginger
15 ml curry powder (mild or spicy, whatever you prefer)
5 ml each turmeric powder, ground coriander, ground cumin, ground ginger, ground cinnamon
1 kg lean beef mince
salt and freshly ground black pepper
30 ml lemon juice
30 ml fine apricot jam
60 ml fruit chutney
30 ml soft brown sugar
30 ml Worcestershire sauce
30 ml tomato paste
2 slices white bread, processed to crumbs and soaked in water
250 ml seedless raisins
250 ml grated apple
1 bay leaf
Method for bobotie:
In a large heavy based pot, heat the oil and sauté the onions until they are soft and translucent.
Add the garlic and ginger and fry for another minute.
Add the dry spices and fry for another minute.
Now add the beef mince in small batches, breaking up any lumps and frying until it changes colour from pink to pale brown, taking care not to let it brown too much. Season well with salt & pepper.
Now add the rest of the ingredients, stir well, and bring to a simmer. Turn down heat to very low, then cover and cook for about 30 minutes, stirring ever now and then to prevent it from burning. Remove from heat and set aside.
For the papperdelle:
500g cake flour
15 ml turmeric powder
5 XL eggs
15 ml vegetable oil to prevent sticking, drizzled over pasta after cooking
Method for pappardelle:
Place the flour, turmeric and eggs in a food processor. Process until the mixture resembles large couscous grains, then turn it out on a wooden surface and press into a ball.
Using a pasta machine, roll the dough out in batches, making long thin sheets (I roll it out to my thinnest setting). Use extra flour if necessary. Place each sheet on a lightly floured surface, then cut into wide strips. If you are not going to cook them immediately, hang the strips on a rack to prevent sticking.
Bring a large pot of salted water to a rolling boil. Add pasta all at once, then cook for about 3-4 minutes until al dente (do not overcook). Drain and lightly drizzle with flavourless oil (like canola) to prevent sticking. NB: Don't leave it unattended, it is best served at once.
For serving:
1 softly poached egg per person
freshly sliced banana
desiccated coconut
fruit chutney
To serve: Place two strips of pappardelle on a plate, then top with a spoonful of bobotie, then another strip or 2 of papperdelle and another spoonful of bobotie. Top with a softly poached egg and serve with freshly sliced banana, desiccated coconut, and fruit chutney.
Credits:
This post was originally written for The Pretty Blog by Ilse van der Merwe from The Food Fox.
Recipe, food preparation and text: Ilse van der Merwe
Photography: Tasha Seccombe
Prop Styling: Nicola Pretorius