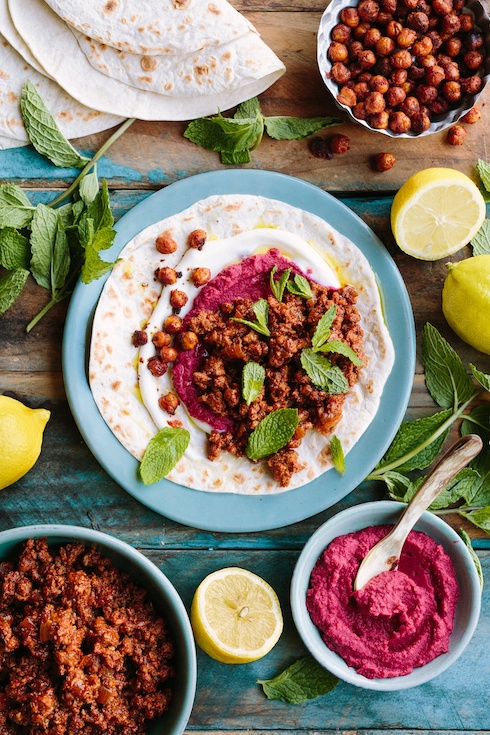 Lamb mince is usually ground from boneless leg of lamb and is therefor more expensive than most other mince options, but oh so tasty. The best you can do is to stretch it by using it as a topping for tortillas alongside a few other basic additions like hummus, fresh herbs and creamy yogurt, to turn into a fabulously light and festive lunch.
You can save a lot of time by buying ready-made beetroot hummus from some supermarkets, or make your own by pureeing a cup of ready-made regular hummus with a few cooked baby beets. Alternatively use any other hummus of your choice.
For the spicy mince: (serves 6, on tortillas)
30 ml (2 tablespoons) olive oil
1 onion, finely chopped
500 g lamb mince (ask your butcher)
15 ml (1 tablespoon) dry harissa spice mix (use more if you like it really spicy)
15 ml (1 tablespoon) ground smoked paprika
30 ml ( 2 tablespoons) tomato paste
30 ml (2 tablespoons) water
salt & pepper
For the crispy chickpeas:
1 x 410 g can chickpeas, drained
45 ml (3 tablespoons) olive oil
salt & pepper
10 ml (2 teaspoons) ground smoked paprika
To assemble:
6 large flour tortillas, warmed in a hot dry pan
1 cup (25 ml) beetroot hummus
1 cup (250 ml) double cream plain yogurt (or sour cream)
a small bunch fresh mint (and/or coriander leaves)
a small red onion, finely sliced
Method:
Make the mince: Heat the oil in a medium pot and fry the onion until soft and translucent. Add the mince and fry over high heat, stirring often and breaking up any lumps. Continue to fry until the meat is brown and starts to catch on the bottom. Add the harissa & paprika and stir for another minute, then add the tomato paste, water and season with salt & pepper. Stir well and continue to fry for another 5 minutes. Remove and set aside.
Make the chickpeas: Heat the oven to 220 C. In a medium mixing bowl, add the drained chickpeas, olive oil, paprika and season generously with salt & pepper. Toss to coat all over, then transfer to a shallow baking tray in a single layer. Roast for 15 minute, then stir with a spatula. Return to the oven for another 15 minutes or until dark and toasty. Remove and set aside.
To assemble: Arrange a spread in bowls and on plates in the middle of your table so that guests can help to assemble their own tortillas – hot tortillas, hummus, yogurt, herbs, red onion and the warm mince and chickpeas. Every tortilla should have a little of everything, with a healthy scoop of spicy mince. Enjoy at once.
This recipe was created in collaboration with SA Lamb & Mutton.