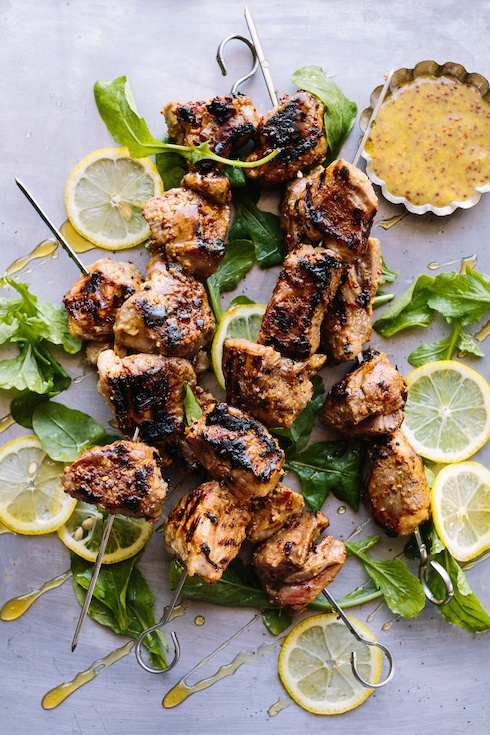 As we are enterting festive season, most of us would just want to light a fire and spend some time outdoors with the promising smell of something amazing on the hot coals. These lamb sosaties are easy to braai and really deliver on the flavour factor – sweet and tangy honey mustard with fresh lemons and garlic.
The marinade will also work well on lamb/mutton chops, or even on chicken. Enjoy the start of your holiday (if you're lucky enough to have some time off), put your feet up and exhale!

Ingredients: (serves 6)

1,2-1,5 kg boneless leg of lamb
juice and finely grated rind of 2 small lemons
1 garlic clove, finely grated
1/4 cup extra virgin olive oil
2 tablespoons (30 ml) honey
2 tablespoons (30 ml) wholegrain mustard
1 tablespoon (15 ml) Dijon mustard
salt & pepper
Method:
Cut the lamb into bitesize cubes of about 2,5 x 2,5 cm and set aside.
Make the marinade: In a deep glass bowl of about 1,5 liter capacity, add the juice and rind of the lemons, the garlic, olive oil, honey, mustards and season with salt & pepper. Mix well, then add the meat cubes and stir to coat.
Cover the bowl with plastic wrap or a lid, and marinate for 1-3 hours in the refrigerator.
Remove the meat from the fridge and skewer the blocks on sosatie sticks to make 6 or more skewers. Braai over hot coals until charred on the outside and slightly pink on the inside. Serve hot with more lemon wedges, and a side salad or braai broodjie.
Another festive collaboration with SA Lamb & Mutton.