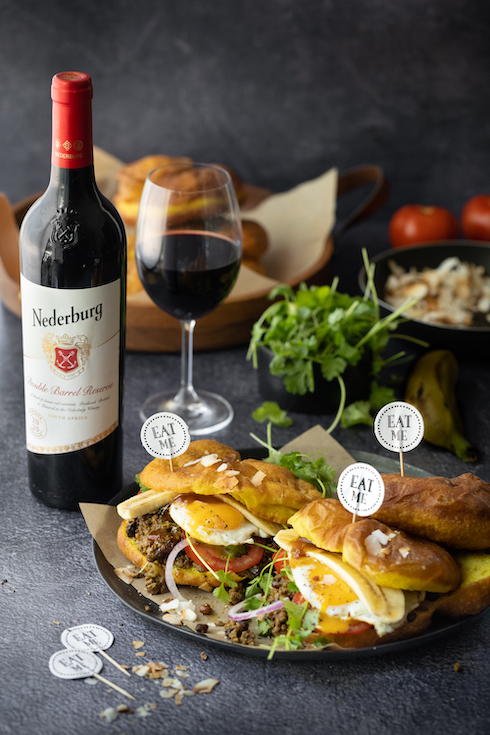 Vetkoek with curried mince is a popular South African bazaar & street food item – you'll even find it in some supermarkets as a daily lunch option. Bobotie on the other hand, is a heritage classic – a curried beef mince dish with delicate curry spices and plump raisins, sweetened with chutney and sometimes even apricot jam, baked with a layer of egg custard and served with yellow rice and an array of sambals. I've mashed up the two to bring you these bright yellow turmeric vetkoek topped with bobotie mince, sliced tomato and red onion, a soft fried egg, chutney and toasted coconut. It pairs beautifully with Nederburg's Double Barrel Reserve and celebrates the launch of Nederburg's brand new five-part food series, I'll Bring The Wine, on Youtube (hosted by Karen Dudley). Watch episode one here. #illbringthewine
Also, check out my video on how to make this vetkoek:
For the turmeric vetkoek: (serves 4)

I've used 500g of Eureka's 1kg vetkoek premix, but use whatever premix you can find and follow the instructions on the packet, adding 1 teaspoon (5 ml) ground turmeric per 500 g dry premix, before adding the water etc. Follow the instructions, let the dough proof, and deep-fry portions in hot oil until golden and fully cooked. Drain on kitchen paper and set aside.
For the bobotie mince: (serves 4)
30 ml olive oil or vegetable oil
1 onion, chopped
5 ml ground cinnamon
5 ml ground ginger
5 ml ground coriander
5 ml ground turmeric
2,5 ml ground cumin
500 g lean beef mince
salt & pepper, to taste
30 ml Worcestershire sauce
60 ml fruit chutney
15 ml tomato paste
1/2 cup raisins
1/4-1/3 cup water
Heat the oil over medium heat in a medium size pot and fry the onions until they are soft but not dark. Add the cinnamon, ginger, coriander, turmeric, cumin and stir for a minute. Add the beef mince and fry, breaking up any lumps with a wooden spoon, until the meat has colour all over – don't go too dark. Season with salt & pepper, then add the Worcestershire sauce, chutney, tomato paste, raisins and 1/4 cup water. Stir well, cover with a lid and cook for 15 minutes, stirring now and then. Add more water if the mixture looks too dry. Taste and adjust salt & pepper, if necessary, then remove from the heat.
For assembly:
1-2 tomatoes, sliced
1 small red onion, sliced
a handful fresh coriander
4 eggs, fried in oil/butter (I prefer sunny side up with runny yolks)
chutney, to taste
1/2 cup coconut flakes, lightly toasted in a dry pan
1 banana, sliced (optional)
Slice the vetkoek open horizontally, then top with the hot bobotie mince, sliced tomato and onion, fresh coriander, fried egg, more chutney, coconut flakes and a few slices of banana. Serve at once.
(This recipe was proudly created in association with Nederburg Wines. )