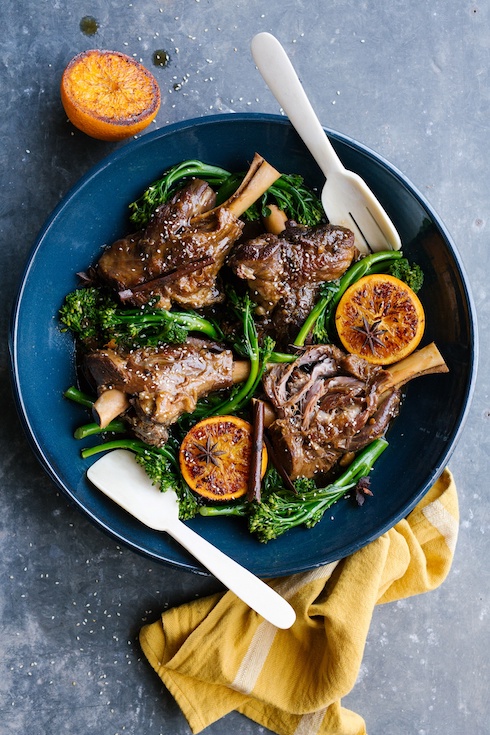 I'm one of those people that love my meat "saucy". Slow braising is thus a great choice – really tender meat that's been cooked in some liquid for a few hours, resulting in a really meaty sauce all around the meat. When the meat is fall-apart tender, you can just push it gently into the brothy liquid, absorbing all of the flavour-intense goodness.
The flavour combination of the aromatics and braising liquid is a firm favourite that I've been using for pork. I've tried it for the first time with lamb shanks, and what a successs! The familiar flavour of South African lamb with all the goodness of an Asian-style meat broth.
These shanks are perfect for entertaining during the festive season. Low effort, huge flavour, really rewarding. Take a look at my easy how-to video:
Ingredients: (serves 4-6)
45 ml olive oil
4 large or 6 medium lamb shanks (roughly 2 kg)
salt & pepper
15 ml cake flour
500 ml lamb/mutton (or chicken) stock
1/2 cup soy sauce
2 strips peeled rind and juice of a large orange
about 3 cm ginger root, finely grated
1/4 cup soft brown sugar (muscovado or demerara)
2 whole star anise
1 cinnamon stick
3 cardamom pods
Method:
In a large wide heavy based pot that can also go into the oven (with lid), heat the oil over high heat and brown the shanks on all sides. Season them with salt & pepper while they are browning.
Pre-heat the oven to 170 C.
Remove the shanks, then sprinkle the base of the pot with the flour and mix well. Add the soy sauce, stock, orange juice & rind, ginger, brown sugar and stir well to loosen any sticky bits. Add the star anise, cinnamon stick and cardamom, then replace the shanks and bring to a simmer. Cover with a lid and transfer to the oven to cook for about 2,5-3 hours (turning them over half way through), or until the shanks are tender enough to gently fall from the bone when prodded with a fork.
Serve hot with cauliflower puree or mashed potato or asian noodles, and steamed greens like broccolini.
This recipe is another festive collaboration with Lamb & Mutton South Africa.