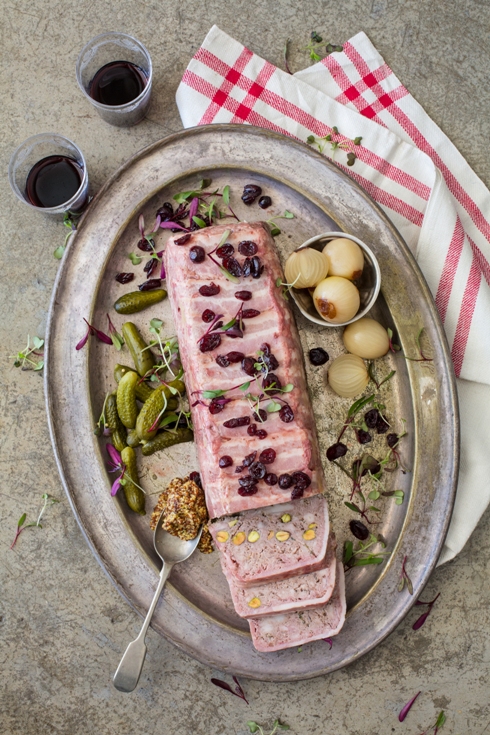 As I get older, I find myself eating more and more of the things that I despised as a child: things like gherkins, beetroot, pickled onions, capers and mustard. For some reason, our palates change over time. We find the beauty in tart olives, relish the texture of great liver pateé, and long for more "grown-up" foods.
That's exactly why I've been longing for a proper French-style pork terrine (terrine de campagne) over the last few months. It's not something that you'd generally find in supermarkets or restaurants, it's a speciality thing. But to me it is one of the most festive ways to entertain a crowd of meat lovers.
Pork terrine is not difficult to make, but it takes a little effort and some time. Make it a day ahead of your festive occasion, as the flavours really develop over time and the loaf needs time to completely set in the fridge. I used port instead of red wine or brandy to add some depth of flavour and sweetness (you can also use sherry), and added pistachios for some crunch. The pistachios look amazing when you slice the terrine – the green specs scattered like little treasures.
Be sure to serve this terrine with lots of different pickles and/or sweet jellies. I love serving it with gherkins, pickled onions, whole grain mustard and port-soaked cranberries. Add a loaf of your favourite bread and a glass of fortified wine, and this becomes a feast of epic proportions!
Ingredients: (recipe adapted from Sarie Kos and Epicurious)
(serves 10)
30 ml (2 tablespoons) butter
1 onion, finely chopped
3 cloves of garlic, finely chopped
3 sprigs of thyme, leaves only
6 sage leaves, finely chopped (optional)
250 g smoked streaky bacon
800 g rindless pork meat with some fat (pork loin/pork shoulder/pork rashers)
250 g chicken livers
250 ml (1 cup) port (I used Monis Cape Vintage)
5 ml (1 teaspoon) ground nutmeg
2,5 ml (1/2 teaspoon) ground all spice
10 ml (2 teaspoons) salt flakes
2,5 ml (1/2 teaspoon) ground black pepper
100 g pistachio nuts, shelled
Method:
Pre-heat your oven to 180 C.
Melt the butter in a pan over medium heat, then add the onions, garlic, thyme and sage and fry until the onions are soft and translucent but not brown. Remove and set aside to cool.
Line a 30 x 11 x 7 cm loaf pan with cling wrap (yes, you can bake cling wrap in the oven – it will be sheltered by a water bath), leaving some of the wrap hanging over the sides (it needs to be folded over the top later).
Arrange the streaky bacon inside the loaf tin, packing the tightly together over the width of the pan, not overlapping. There should be a few pieces left, save them for arranging over the top at the end.
Place the cooled fried onions, pork, chicken livers, port, nutmeg, all spice, salt and pepper in a food processor, then process until you get a coarse paste resembling minced meat. Transfer the paste to a mixing bowl, then stir in the pistachios.
Spoon the mixture into the loaf tin, and smooth the top with a spatula. Top with the last few pieces of bacon, then fold the hanging pieces of cling wrap over the top to seal the terrine. Use extra cling wrap if necessary. Now cover the top with foil.
Place the loaf tin in a larger roasting tray, then fill the roasting tray with hot water (hot tap water is OK). The water level should come up the sides about 2-3 cm from the top.
Bake at 180 C for 1 and a half to 2 hours – if you have a meat thermometer, the inside of the loaf should register 68-70 C (155 – 160 F). If you don't have a meat thermometer, just bake it for 2 hours to be sure the inside is cooked.
Remove the terrine from the oven, then carefully remove the loaf tin from the roasting tray. Place the tin on a cooling rack for another 30 minutes without removing the foil or wrap.
To weight terrine: cut a piece of cardboard the same size as the top of the tin, then place it on top of the tin with a few heavy objects on top (I used 3 cans of food). When the terrine is cool, place it in the refrigerator for at least 4 hours (with the weights on top).
When ready to serve, dip the bottom of the terrine tin in a basin with warm water for 5 seconds, then turn it out onto a board or serving tray. Carefully remove the clingwrap.
Serve with your choice of pickles and jellies or port-soaked cranberries.
For the port-soaked cranberries:
Place 100 g dried cranberries and 125 ml port in a small saucepan, then heat until boiling. Turn down the heat, then simmer over low heat for about 5-10 minutes or until most of the port is absorbed. Remove from heat and set aside to cool.
Please note: The terrine will keep well in the fridge for up to 2 weeks in an air tight container.
Credits:
This post was written especially for The Pretty Blog.
Recipe, text and food preparation: Ilse van der Merwe from thefoodfox.com
Photographer: Tasha Seccombe
Styling: Nicola Pretorius and Tasha Seccombe.
Save