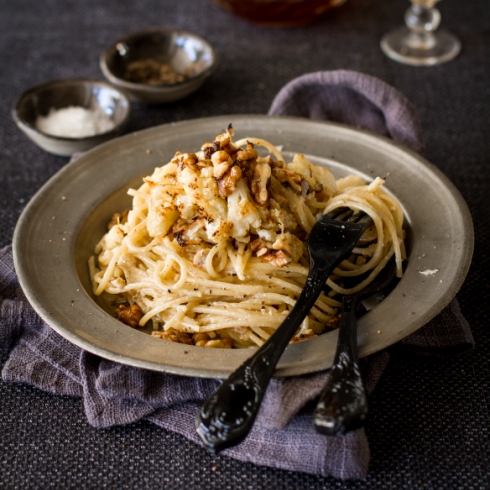 This dish was born out of a shameless craving for the taste of parmesan-roasted cauliflower, rich blue cheese and toasted walnuts. Not an everyday combo, I know. It could have also gone in a different direction (maybe a salad with baby spinach leaves, watercress, finely julienned cucumber, and the mentioned ingredients), but this time it became a super decadent pasta.
The trick is to cut the cauliflower into very small florets – about the size of your thumb, or smaller. I sprinkle the pieces with finely grated parmesan cheese, then roast them in a 200 C oven for about 15 minutes until they start to turn golden brown on the edges – it creates an amazing nutty flavour. I then blend half of the roasted florets to a smooth pulp with stock, and mix it with cream and blue cheese. Mix this sauce through the cooked spaghetti, then serve it topped with more roasted cauliflower en toasted walnuts.
I like to eat spaghetti with very rich sauces, because I like the mouth-feel of slurping the strands while some of the creamy sauce remain on my lips. Definitely not a dish for a first date, yet decadent enough for an anniversary dinner!
This pasta dish is best served immediately, as the pasta absorbs quite a lot of the sauce on standing, and thus can become dry. Make sure everyone's seated before you're ready to finish the sauce and mix it with the pasta – it makes a huge difference!
Ingredients:
250 g cauliflower head
about 30 ml olive oil
1/3 cup finely grated parmesan cheese
salt and pepper
250 ml chicken stock (or vegetable stock)
250 ml cream
100 g blue cheese
500 g spaghetti
50 g walnuts, roughly chopped and toasted in a dry pan
Method:
Pre-heat your oven to 200 C.
Cut the cauliflower head into small florets (about the size of your thumb or smaller), then sprinkle with parmesan cheese and season lightly with salt and pepper. Roast in the oven for 15 minutes or until the cauliflower start to turn golden brown on the edges.
Remove the roasted cauliflower from the oven, then place half of it in a medium-sized mixing bowl. Add the hot stock, then blend with a stick blender until you get a smooth soup-like consistency. If the mixture is too thick, add more stock or water, then mix again. Set aside.
In a small saucepan, heat the cream to boiling point. Crumble the blue cheese into the hot cream, then turn down the heat to very low and stir until melted. Now add the smooth cauliflower puree and stir well. Set aside.
Bring a large pot of salted water to the boil, then cook the spaghetti for about 7-8 minutes until al dente. Drain, then coat well with the sauce (I like to toss it in the warm pasta-cooking pot).
Dish up the sauce-coated spaghetti, then top with the remaining roasted florets and some roasted chopped walnuts. Serve immediately.
Credits:
This post was written especially for The Pretty Blog.
Recipe, text and food preparation: Ilse van der Merwe from thefoodfox.com
Photographer: Tasha Seccombe
Styling: Nicola Pretorius and Tasha Seccombe.